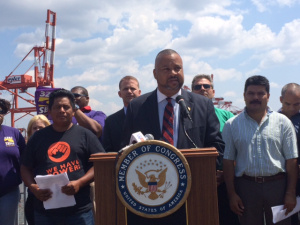 NEWARK – U.S. Rep. Donald M. Payne, Jr. (D-10) expressed dismay the day after a Saint Louis County, Mo. grand jury declined to indict Ferguson Police Officer Darren Wilson in the fatal shooting of 18-year-old Michael Brown in the Saint Louis suburb of Ferguson in August.
"As many others, I am deeply disappointed in the grand jury's decision not to indict Officer Darren Wilson for shooting and killing Michael Brown in Ferguson, Missouri," said Payne, Jr., of Newark, in a written statement on Tuesday. "This is a tremendous miscarriage of justice that reminds everyone, of every age and race, that we still have incredible hatred and prejudice to overcome in our nation.
"People in all communities – whether they are in Ferguson, Missouri or Newark, New Jersey – deserve to feel that they are being protected and are safe. We cannot let the death of Michael Brown be in vain; we cannot resort to violence and looting; and we cannot find comfort in despair and complacency. We must do as a nation what we always do, and that is to stand up for justice, fight for change, and not stop until we get it in a peaceful manner. Let us strive to embody the words and teachings of Dr. King, 'Darkness cannot drive out darkness; only light can do that. Hatred cannot drive out hatred; only love can do that.
"My heartfelt condolences go out to Michael Brown's family and to the people of Ferguson. I am hopeful that the ongoing federal investigation will bring justice to the Brown family. To the people who have continually fought for equality and justice in this country, the struggle continues, but let us never give up hope."