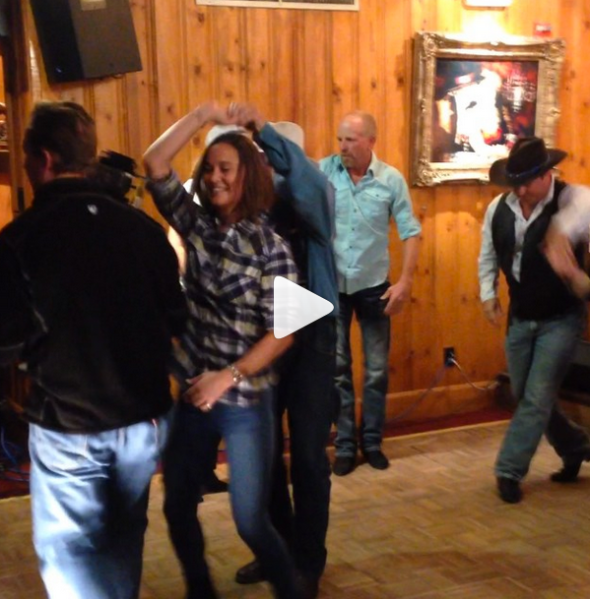 Pippa Middleton was in Jackson Hole earlier this week, wearing a plaid shirt and learning how to do-si-do, most likely as a test to land a gig as a contributor to the Today show, according to the New York Post. An interior designer posted a video on Instagram of Ms. Middleton's square dancing lesson, because that's basically what Instagram video was invented for. Earlier this week, the Post reported that Ms. Middleton was out west filming a test feature for NBC, which, "despite the network's weak denials," was planning to offer the royal-in-law a gig as a special correspondent on the Today show.
The aspiring lifestyle expert has made something of a "career" of explaining British things to Anglophiles as a contributing editor toVanity Fair. Her last piece, a guide to coordinating hats with horses was published in the magazine's June issue.
NBC isn't Vanity Fair, so sending a royal relative to Wyoming to learn American is probably a good move. In May, Ms. Middleton's stint as a columnist for The Daily Telegraph came to an end (although she does have a new monthly column in Waitrose Weekend, the upscale British supermarket's magazine).
The Post began speculating that Ms. Middleton would become a special correspondent on the Today show in June, after she was interviewed by Matt Lauer. "NBC's offer to Pippa could be for her to take a similar role as Chelsea Clinton's on 'Today,' appearing in special reports rather than dishing on her famous family," a source told the Post at the time.
Sure, it didn't work out that well for the once and maybe future first daughter. But then again, she did rake in $600,000 a year to do whatever it was she did. And Ms. Middleton, unlike Ms. Clinton, is clearly not press shy, so that shouldn't be a problem.
Besides, the younger Ms. Middleton, like Downton Abbey, plays well in America.