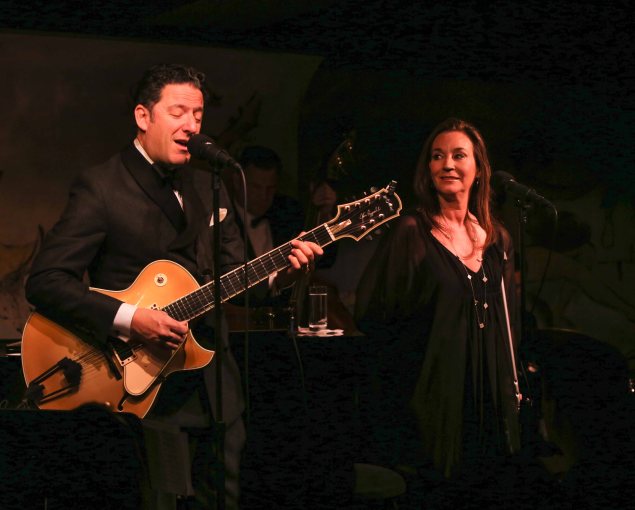 Fearing the recent spate of bad bookings and tone-deaf cabaret acts that eschew the kind of sophisticated music for which it has always been famous had just about relegated New York's Café Carlyle to a landfill of mediocrity, I am delighted to report that for the next month, brightness and good taste are once again as important to this bastion of tradition as its wine cellar. The polished silver crooning of jazz guitarist John Pizzarelli and Jessica Molaskey, his wife, soul mate and vocal partner in charm and musical savvy, have launched their eighth year in the spotlight, and with them, after a season of second-rate amateurs, it's nice to see the Café Carlyle has returned to talent. Bobby Short is surely smiling his approval.
Labeling their new show Grownup Songs, the Pizzarelli team lives up to the tag from start to finish as the hippest and most musically thrilling jazz duo since the legendary Jackie Cain and Roy Kral. This is as it should be, for much of their style and intelligence seems to be derived from Jackie and Roy, including their forays into vocalese, substituting musical instrumentation for lyrics in an explosion of joy. From the marital cynicism of Stephen Sondheim's "The Little Things You Do Together" to a rare collation of Sondheim and Paul McCartney, they explore musical possibilities with ideas that are both brainy and fearless. Who could imagine Adam Guettel's "Dividing Day" from Light in the Piazza as a counter melody to Billy Joel's "Lullabye"? The combinations are sometimes hummable and familiar ("You Made Me Love You" and "It Had to Be You") but more often startling (Irving Berlin's "Count Your Blessings" served lukewarm with a hot Jonathan Larson rock aria from Rent).
Yet they always land on their feet, firm and self-assured. Their risks pay off. The voices go together like Mamie and Ike, Joan Rivers and Spike. Sometimes Mr. Pizzarelli sails off on his own, infusing the night with pure jazz riffs by Bud Powell on "Parisian Thoroughfare" that make the sounds of the city come alive on his guitar, including a car horn. And there are always surprises: I especially liked "The Forecast is Love," a song the pair wrote about inclement weather that includes advice on "how to get out of those wet clothes and slip into a dry martini." A top-cabin trio of Kevin Kanner on drums, Martin Pizzarelli on double bass and ace pianist Konrad Paszkudzki help them every inch of the way.
There's a lightheartedly swinging "How High the Moon" and a gorgeous pairing of Sondheim's "Remember" from A Little Night Music and "The Road You Didn't Take" from Follies that I'll bet the composer never thought about himself. It works. Two voices, already as wedded to each other as rum and soda, play leapfrog like playful porpoises. This is fun. This is flawless. It's rare, but if you wait long enough, there is still bliss. He taught her how to swing. With her acting background in theatre, she taught him to feel the lyrics in addition to playing the notes. John Pizzarelli and Jessica Molaskey are the best supper show in town. What are you waiting for?