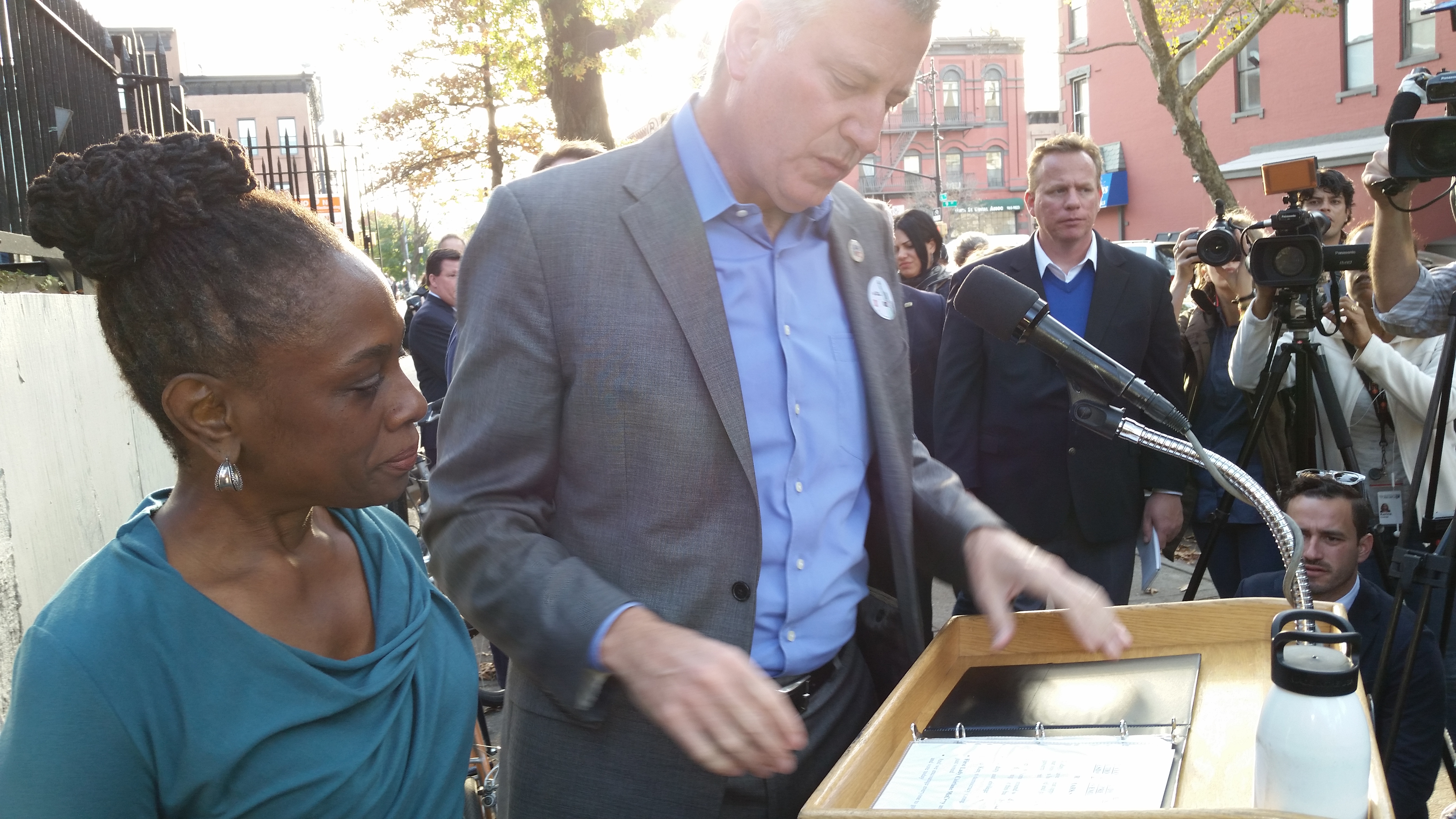 New Yorkers don't think Chirlane McCray should have a "major role" at City Hall — or that she needs a chief of staff, a new Quinnipiac Poll today found.
Just 24 percent of voters polled thought the mayor's wife should have a major role in shaping public policy, with 37 percent saying she should have a minor role and another 34 percent saying she shouldn't be involved at all.
The mayor often refers to Ms. McCray as his closest advisor; she heads the Mayor's Fund to Advance New York. While Ms. McCray is unpaid, her chief of staff, Rachel Noerdlinger, earned a $170,000 taxpayer-funded salary until she took a "leave of absence" on Monday following months of negative press.
The mayor has said he will replace Ms. Noerdlinger, but voters don't think that's necessary, according to the poll: 61 percent say the first lady does not need a chief of staff, with just 31 percent saying the position is necessary.
"Mayor Bill de Blasio is making his job a family affair and voters aren't enthusiastic. Most New Yorkers think the mayor's spouse should have a minor role in government – or none at all," Quinnipiac Polling Institute Assistant Director Maurice Carroll said.  "And voters don't think the mayor's spouse needs a chief of staff."
Mr. de Blasio said finding a replacement for Ms. Noerdlinger will be up to his wife — who he said needs a chief of staff to help coordinate her "very, very active role in this administration as chair of the Mayor's Fund" and as a "crucial advisor."
"I will say with great admiration for her, she's in demand in a lot of different places. So the notion of the chief of staff is to organize all of that work for greatest effect on behalf of the people of this city," Mr. de Blasio said Monday. "And my wife is a public servant who, for whatever reason, has chosen to take no money from the people of New York City to be a public servant, and she gives of herself for free, and she does a lot of work on behalf of the people of this city,  and I think she's doing a great job. So her chief of staff is the person who obviously organizes that work with her."
The poll was conducted between November 12 and November 17, the day Ms. Noerdlinger stepped down. It has a margin of error of 2.9 percentage points.