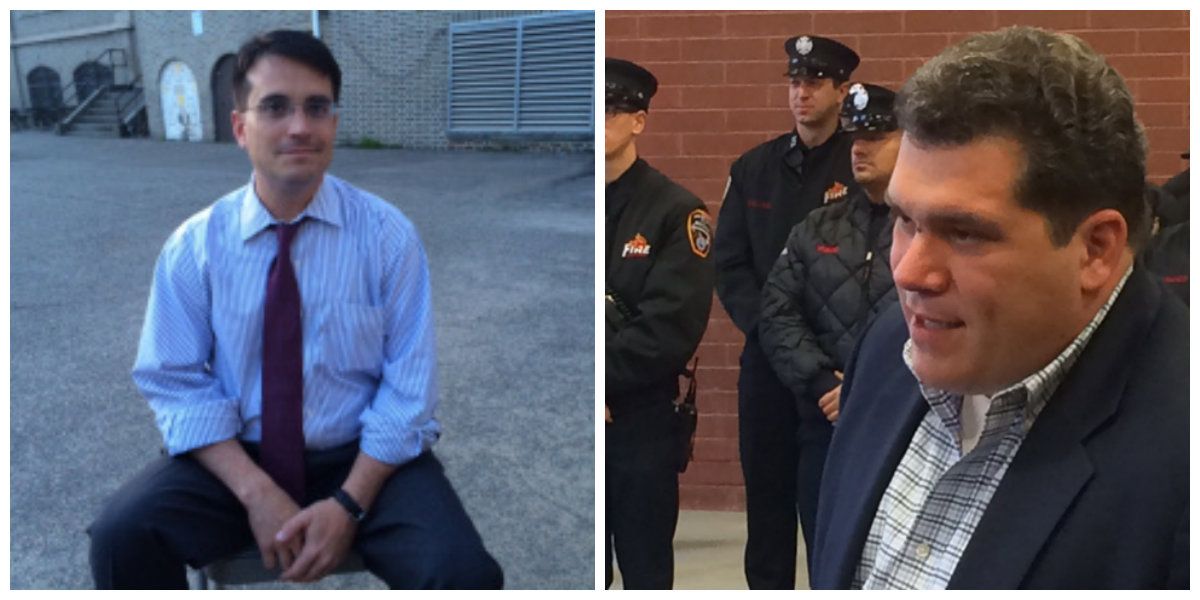 BAYONNE – In Bayonne's civic life, including its politics, there is no six degrees of separation. And when it comes to a potential 2015 primary fight in the 31st state Legislative District, which includes all of Bayonne, it could come down to two politicos from the close-knit Hudson County city who were once quite close.
In one corner stands incumbent Democratic Assemblyman Jason O'Donnell, 43, a product of Bayonne's St. Mary Star of the Sea elementary school, Bayonne High School, a city firefighter and a state legislator since 2010.
In the other corner potentially stands fellow Democrat Nicholas Chiaravalloti, 42, of Our Lady of the Assumption School in Bayonne and St. Peter's Preparatory School in Jersey City. An attorney who lives in Bayonne, Chiaravalloti served as state director for U.S. Sen. Robert Menendez (D-NJ) before resigning in 2007 to focus on an unsuccessful bid for the 31st LD Assembly seat. Chiaravalloti is the executive director of the Guarini Institute for Government and Leadership at Saint Peter's University.
The irony in Bayonne begins in that a prime reason why O'Donnell and Chiaravalloti could be set against each other is because of the same role O'Donnell played for two star-crossed Peninsula City candidates.
O'Donnell served as campaign manager for then-incumbent Mayor Mark Smith in the 2014 Bayonne mayoral election, in which Smith was defeated by insurgent candidate Jimmy Davis. O'Donnell also previously served as the campaign manager for another well-known, home-grown Bayonne candidate – Chiaravalloti in his unsuccessful 2007 state Assembly bid. Sources have told PolitickerNJ that Chiaravalloti played a critical behind-the-scenes role during the Davis campaign, and he was a visible presence in the Davis camp on the day of the June runoff election.
Davis told PolitickerNJ on Monday that he would announce his preferred candidate for the 31st LD Assembly race before the end of the month. The mayor of Bayonne traditionally plays the lead role in selecting one of the Assembly members from the 31st LD, which also includes parts of Jersey City. During the 2014 Bayonne mayoral race, the other LD 31 Democratic Assemblyman, Charles Mainor, also backed Smith over Davis.
Chiaravalloti was present along with Davis on Monday at the dedication of Bayonne's first new firehouse in decades. Neither O'Donnell nor Mainor were present, perhaps adding credibility to sources' reports that O'Donnell is considering a Bayonne mayoral run in 2018.
As for the erstwhile allies, PolitickerNJ does not yet know what the future holds. When asked what their intentions were regarding a potential Democratic primary for the LD 31 Assembly spots in 2015, both Chiaravalloti and O'Donnell had no comment at this time.