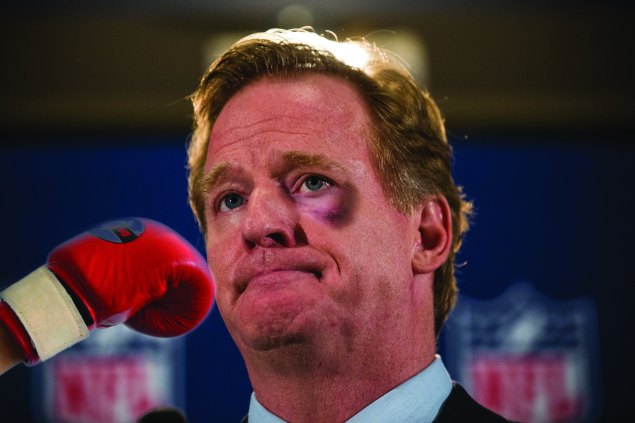 PR Battles of the Year: Winners, Losers and the Agencies Behind Them
LOSER OF THE YEAR: Roger Goodell and the NFL vs. human decency
Background: Ray Rice scandal cracks open culture of denial around domestic abuse in the NFL, starting with commissioner Roger Goodell.
Who said what? Among many low points, the Daily News illustrates Op-Ed with Photoshopped image of Mr. Goodell as Satan.
Decisive moment: At September press conference Mr. Goodell resorts to "parsing when not misleading altogether," according to Deadspin. An insider told us Mr. Goodell's performance was "idiotic … A joke."
Choice quote: "The NFL has never given a shit about women. Most people with half a brain and a little human empathy recognized the fuckery inherent in the NFL's appallingly tone deaf punishment, and its appallingly dumb meathead defense of said punishment."—Erin Gloria Ryan, Jezebel
PR rabbi: GOP-favored pollster Frank Luntz crafted Mr. Goodell's much-ridiculed messaging.
__________________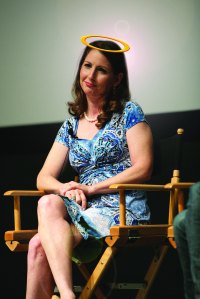 WINNER OF THE YEAR: Eva Moskowitz and Families for Excellent Schools vs. Mayor Bill De Blasio and the United Federation of Teachers
Background: Mayor Bill de Blasio takes on $475K/year Success Academy Charter Schools magnate Eva Moskowitz—and falls flat. Daily Beast headline: "Why Is Progressive Hero Bill de Blasio Throwing Charter Schools Out of New York City?"
Decisive moment: Massive, much-covered march in Albany last March to protest the mayor's cancellation of Success Academy contracts in public schools.  
Choice quote: "We are going to save charter schools."—Gov. Cuomo at March rally in Albany
PR Rabbi: Stu Loeser & Co. for Moskowitz and allies.
__________________

GWYNETH PALTROW VS. MARTHA STEWART (TIE)
Background: Venerable domestic diva vs. shiny-haired Goop founder engage in passive-aggressive public battle after former Stewart CEO hired at Ms. Paltrow's lifestyle company. Toronto Star headline: "Delicious new chapter in most childish, most entertaining feud of the year."
Decisive moment: Passive-aggressively bitchy pie recipe titled "Conscious Coupling" in Martha Stewart Living.
Choice quote: "I'm so psyched that she sees [Goop] as competition." (Gwyneth)
"If she were confident in her acting, she wouldn't be trying to be Martha Stewart." (Martha)
PR Rabbi: Stephen Huvane/Slate PR for Gwyneth; Susan Magrino/Magrino for Martha
__________________
UBER AND LYFT (WINNER) VS. TAXI INDUSTRY AND TLC
Background: Taxi industry and TLC try to fight disruptive car-service apps, but too late; New Yorkers worship Uber and Lyft. Daily Dot headline, "Why New York taxis are powerless against Uber's price war" seemed to capture the situation.
Decisive moment: Uber hires top TLC officials, one of whom is now under investigation for violating conflict-of-interest law; TLC hits back at Uber and Lyft by proposing a change in rules to restrict number of jobs drivers can take.
Rep: Stu Loeser & Co. (Uber) Triad Strategies (Lyft)
__________________
AIRBNB (WINNER) VS. NEW YORK STATE
Background: Avaricious lodging pirates or "sharing economy" pioneers? Airbnb spends massively on touchy-feely ad campaign profiling NYC "hosts"—and bangs drum relentlessly to paint opponents as Luddites out to destroy the "sharing economy" itself.
Decisive moment: Attorney General Eric Schneiderman grabs spotlight with October report claiming nearly 75 percent of Airbnb rentals are illegal.
Choice quote: Airbnb hoteliers are "regular people who simply want to share the home in which they live," Airbnb spokesman tells The New York Times.
PR rabbi: Political strategist Risa Heller and Edelman (Airbnb)
__________________
MCDONALD'S (LOSER) VS. STRIKING NYC EMPLOYEES
Background: Minimum-wage workers take on gigantic multinational corporation with multibillion-dollar profits
Decisive moment: Workers get handcuffed; an 81-year-old employee named José is arrested.
Quote: "[This was a] multimillion-dollar campaign engineered, organized and funded by national labor groups … where the vast majority of participants are activists and paid demonstrators," the National Restaurant Association alleges, cluelessly.
PR rabbis: 5WPR (McDonald's); Fight for $15 and Service Employees International Union (workers)
__________________
WALMART (LOSER) VS. TRACY MORGAN
Background: Walmart blames Mr. Morgan for his own injuries in crash allegedly caused by its own driver.
Decisive Moment: Mr. Morgan's media statement: "I can't believe Walmart is blaming me for an accident that they caused. My friends and I were doing nothing wrong."
Choice quote: Mr. Morgan's injuries "were caused, in whole or in part, by plaintiffs' failure to properly wear an appropriate available seat belt restraint device," Walmart court filing claims.
PR rabbis: Edelman and Golin (Walmart); Lewis Kay (Morgan)
__________________
NYPD (LOSER) VS. FAMILY OF ERIC GARNER AND SUPPORTERS
Background: Video nails police in chokehold death of unarmed Staten Island cigarette vendor Eric Garner, who pleads, "I can't breathe!" before dying.
Decisive moment: Garner's death ruled a homicide.
Choice quote: Patrolmen's Benevolent Association president Patrick Lynch: "I don't believe that was a chokehold … Sometimes the use of force is necessary. But it's never pretty to watch … It is outrageously insulting to all police officers to say that we go out on our streets to choke people of color."
PR rabbis: Al Sharpton and his National Action Network (Garner family and protesters)