Assembly Speaker Vincent Prieto on Friday announced he's appointed Assemblyman Benjie Wimberly (D-35) as the new vice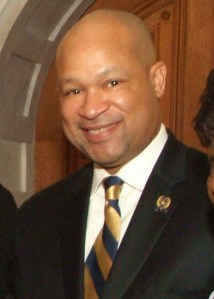 chairman of the Assembly Telecommunications and Utilities Committee.
Wimberly joins Committee Chairman Assemblyman Wayne DeAngelo (D-14) as the key committee's new leadership team.
"Assemblyman Wimberly has become a leading voice in New Jersey when it comes to advocating for consumers and creating a reliable and modern energy infrastructure," said Prieto. "I look forward to Assemblyman Wimberly bringing his expertise and enthusiasm to his new role and all the benefits it will bring to New Jersey's residents."
"I thank the Speaker for his confidence in me and vow to ensure New Jersey residents have an energy and telecommunications system they can rely on, especially in times of need," Wimberly said. "Superstorm Sandy taught us many things, including that our energy infrastructure needs marked improvement. I look forward to working with my colleagues to ensure this happens. Reliable energy and telecommunications will mean more jobs and economic development, which benefits everyone."
First elected to the New Jersey General Assembly in 2011, Wimberly received his Bachelor of Arts in sociology from Virginia State University and works as the Joint Recreational Coordinator for the Paterson Public Schools and the City of Paterson.
He and his wife, Kimberlynn, have four children: Justin, Jared, Jordan and Jaden.
The Assembly Telecommunications and Utilities Committee is responsible for monitoring all aspects of the telecommunications and utilities industries in New Jersey, overseeing issues affecting cable television, the Internet, public utilities, telecommunications technologies and the energy industry.