As one of the millions of young Americans who refused to pretend to feel enfranchised by bourgeois electoral politics this week, I've frequently been asked to explain precisely what it is I do believe in. I'm only being a little bit cheeky when I say I believe in radical grassroots culture like what I saw last night at Union Pool, for starters.
Organized by queer feminist agitator JD Samson at the erstwhile meat market (which has apparently grown so un-cool it's come around the other side and become cool again), the four-band bill reminded me of Kathleen Hanna's assertion (re: Pussy Riot) that resistance can, and should, be just as colorful and fun as the other side's seductive cultural propaganda.
Demonstrating her commitment to non-hierarchical values, resident "icon" Ms. Samson went first with her new duo The Soft Batch, which played yelping, disco bass-lined dance-rock in a similar vein to Ms. Samson's old band Le Tigre as (radical!) feminist words and images flashed across the screen. I counted Chelsea Manning, Emma Goldman and Sojourner Truth among the women depicted. (Hillary Clinton, Sheryl Sandberg and Lena Dunham were refreshingly absent.)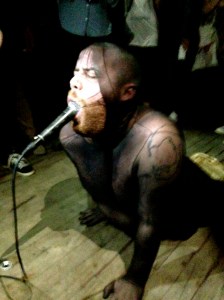 Next, Mexican-born, Brooklyn-based weirdo Raul de Nieves' art-punk group Haribo took the stage for a much more avant-garde (if less overly political) performance that blurred the line between music and performance art. Over lurching, noisy guitar and synths, he screamed like a man possessed, smoked a giant papier-mâché joint, and crooned in a creepy little voice about selling weed to children. "Say no to drugs, kids!" he yelled. "Otherwise you'll be stuck like me!" I like art that doesn't take itself too seriously, and this art certainly didn't.
Minneapolis riot grrl group Kitten Forever brought things back to a more danceable time signature with yelping, bouncy punk that had some of the dearly departed Mika Miko's silly slumber party vibe, down to their oversized telephone receiver microphone. The trio traded instruments frequently, giving everyone a chance to shine on each; the guitar-less set-up placed the emphasis squarely on rhythm, rhythm and more rhythm; and their playful, sisterly vibe made me think Minneapolis might be a fun place to visit.
Finally, the amazingly named Bottoms cranked the energy up even further with screamy, dance-y, electro-punk equally influenced by gay dance culture, '90s riot grrl, and late '90s/early 2000s Hot Topic-core. Clad in a blonde wig, flowing black skirt (which he frequently raised to expose his undercarriage) and sheer black body stocking, front-creature Jake Dibeler (full disclosure: a childhood acquaintance from summer arts camp) sucked us into his twisted world as he mugged for the camera and jumped around, singing in a surprisingly high-pitched voice about serious topics like H.I.V. and suicide. Like Mr. Dibeler's performance art work, it crammed a lot of stuff into a relatively small arena; unlike in his performance art, we got to watch him act out his impulses in real time. As he finished it out by writhing on the floor, Raul de Nieves joined him in a primal scream, and I left feeling warm and fuzzy about the artistic possibilities that remain even in this horrid, dystopian, decadent late capitalist, Taylor Swift-ified version of New York City.