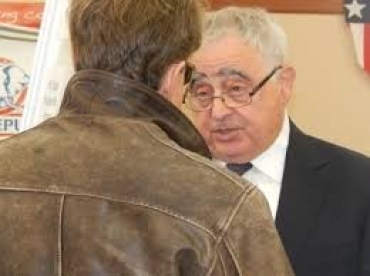 BERGEN COUNTY – Last week's election did not produce ideal results for the Bergen Republican Party: GOP incumbent Bergen County Executive Kathleen Donovan went down in defeat, as did the two Republican freeholder challengers.
Sources have told PolitickerNJ that several names are being discussed in the election's aftermath as potential replacements for Bergen County Republican Organization (BCRO) Chairman Bob Yudin.
The suggested names include Fernando Alonso, an attorney from Oradell who lost in a close race to state Sen. Bob Gordon (D-38) last year; John McCann, of Cresskill, an attorney for the Bergen County Sheriff's Office who ran unsuccessfully for both state Assembly in the 37th Legislative District in the 1990s and for BCRO chairman two years ago; Chuck Shotmeyer, a former BCRO finance chair from Franklin Lakes whose family owns a heating oil and air conditioning business; and Deirdre Woodbyrne, of Ramsey, a longtime Republican operative who is the executive director of Irish Network USA, an organization that encourages business and economic development between the United States and Ireland.
Alonso expressed disinterest in the position.
"I haven't thought about that, and it hasn't been any part of my plans. I'm busy with that I'm doing," said Alonso, 56, who is also the director of several programs for Hispanic students at Fairleigh Dickinson University. "Being chairman is a huge undertaking. Whether it's Bob Yudin or somebody else, the Republican Party has to get more into technology and work on its ground game to compete."
McCann had a more open-ended view of the position.
"My interest is in helping good people get elected to office. I'm more interested in people, not so much the politics of the party," said McCann, 54. "I've been helping people who are concerned about the real issues as opposed to the people who are trying to find careers in politics. I ran for chairman two years ago because I was hoping to bridge the splits in the party. The average voter doesn't identify with the party, they connect with the people who are running. The Republican Party in Bergen needs leadership that connects with people. [The next chairman election] is two years from now. I don't know what the future holds, but I'll continue to work to help good people in politics."
Shotmeyer seemed like he wants to stay out of the running for chairman.
"I'm a party guy, and my heart is with the BCRO," said Shotmeyer, 51, said. "I look forward to continue working as a part of the team. We clearly need to regroup and refocus and plan for the future."
While not immediately interested, Woodbyrne left the door open for a future BCRO chairman bid.
"I'm flattered that people have mentioned my name, but I would not be interested in any chairman's race unless the BCRO was truly united and really wants to work at the grassroots level in all 70 Bergen towns to build a strong foundation and win elections," said Woodbyrne, 44. "If there was an across-the-board movement that felt we could put the team in place to build a strong grassroots organization, I would contemplate it in the future."
Yudin, the Bergen Republican Chairman since 2008, preferred to look forward, not backward, when assessing his role in the party.
"There are a group of malcontents out there who are always dissatisfied," said Yudin, 75, of Wykcoff, whose two-year term as chairman ends in June 2016. "The defeat of Kathe Donovan and the freeholders had nothing to do with me. The fact that we lost is because of being on the wrong side of the [Bergen County Police and county Sheriff's Office] consolidation, the public fight with Sheriff [Michael Saudino], the lawsuits [involving the freeholder board], and the money that the Democrats wheeled in.
"My concentration right now is November 2015. We have an opportunity to take back the Board of Freeholders. We need a united party," Yudin added. "If these cancerous malcontents are successful with their malicious rumors and back-stabbing, and we are divided, we cannot win next November. If we have any problem, these malcontents should look in the mirror to see what it is. I repeat, we need a united party to win in November 2015."