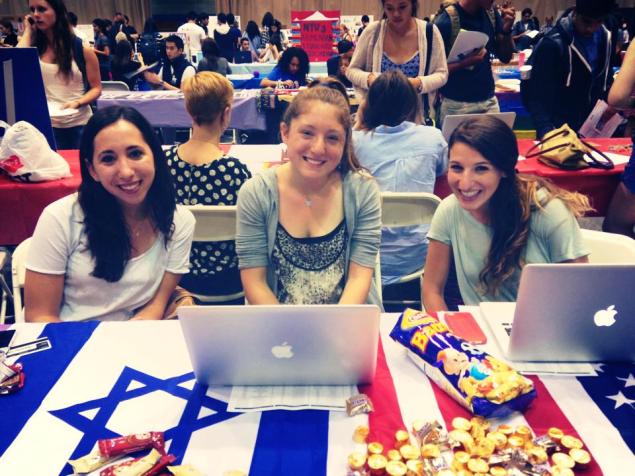 When we first saw Rabbi Shmuley Boteach's piece in the Observer on Monday, "Israel Must Be Defended on American Campuses," and its subtitle, "Nobelist Elie Wiesel Comes to Cooper Union to Stand Up for Israel—Even If NYU's Jewish Student Groups Won't," [emphasis added] we were confused. New York University is one of the most active pro-Israel campuses in the country, and we personally spearhead TorchPAC, NYU's bipartisan pro-Israel advocacy organization. The further we read, the greater our confusion grew. While we agree with Rabbi Boteach's core premise—that Jews need to recognize and stand up for the state of Israel—his sensational tone describes something far different from the NYU we know.
As Rabbi Boteach wrote, Mahmoud Abbas spoke to an audience of around 1,000 at the Grand Hall of Cooper Union in October. We're not sure where Rabbi Boteach got his information on what went on inside the building that night, but TorchPAC had members in the audience who can attest that many of his claims are patently false. Rabbi Boteach describes a tepid pro-Israel community that is afraid to stand up for its ideals.
The pro-Israel community's decision not to protest Abbas's speech was motivated not by fear, but rather by the knowledge that protesting would have been both counterproductive and hypocritical. How can Rabbi Boteach talk about how bad the Boycott, Divestment, and Sanctions movement is—and specifically how it silences the views of Israel—but then find it perfectly acceptable to encourage his son Mendy to boycott a speech by a Palestinian? If Mendy or the Rabbi had attended the speech, we are certain they would have heard President Abbas make claims they didn't agree with—we certainly did. But they would also have heard Abbas commend Jewish groups like J Street, calling them the seeds of peace. Part of the beauty of this country and our college community is that a diverse array of opinions get to be voiced.
Rabbi Boteach does not seem to understand the college environment. While Rabbi Shmuley chastises The Edgar M. Bronfman Center for Jewish Student Life at NYU (NYU's Hillel) and Chabad as apathetic towards Israel, the countless hours we've both spent in these communities tell a different story. The work these organizations do to advance the aims of the Jewish people and the Jewish homeland, Israel, is unparalleled. We've both had the privilege of serving as interns for The Bronfman Center, and we've been active in the pro-Israel community since our freshmen years; we've seen the working relationship between The Bronfman Center and Rabbi Boteach firsthand. The Bronfman Center emailed students and put fliers up advertising Boteach's event around the building. While Rabbi Boteach insists his son's efforts to promote his event were stymied by the Jewish community, TorchPAC personally invited Mendy to make an announcement promoting his event after our recent debate between Peter Beinart and Noah Pollak—a privilege denied to all of the debate's cosponsors (which he was not).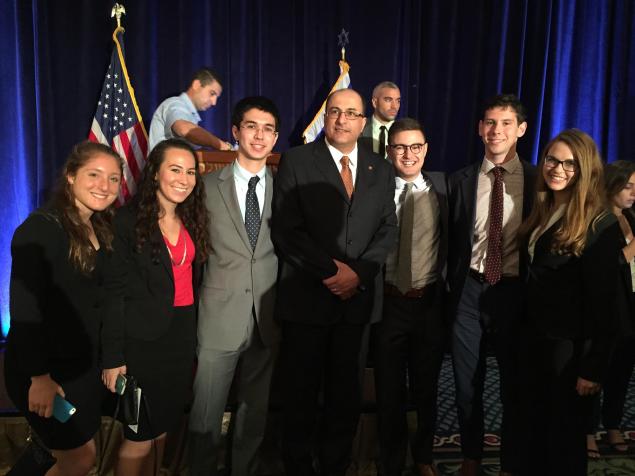 Atara Vogelstein, Laura Adkins, Ilan Nathanson, Ambassador Aharoni, Zak Kukoff, Zach Eckstein, Ayelet Petrover.
Rabbi Boteach's claim that our community is opposed to hearing from Elie Wiesel is preposterous. NYU's University Chaplain Rabbi Yehuda Sarna worked with Rabbi Boteach on an event last year featuring Elie Wiesel and Paul Kagame. Laura personally attended the event (and wrote an op-ed praising the event and quoting Mr. Wiesel afterwards), and the event was enthusiastically supported by NYU's Jewish community. In fact, Rabbi Boteach's current Facebook cover photo shows him under a banner of The Bronfman Center, which was on stage at the event due to the community's financial support. How could these unequivocal measures of support be misinterpreted?
The members of TorchPAC—and the entire pro-Israel community—work tirelessly to strengthen the US-Israel relationship. This work has resulted in strong ties between our organization and leaders from virtually every student group as well as several members of Congress. No students we know resemble those found in Rabbi Boteach's article. We invite Rabbi Boteach to spend a Shabbat at The Bronfman Center or our Chabad House. We would love to see him—or Mendy—at one of TorchPAC's weekly meetings or one of our events to experience firsthand the strength of our pro-Israel community.
NYU's pro-Israel community is growing, focused, and strong. What weakens the pro-Israel community most is not the activity of our detractors, but vicious mischaracterizations by supposed friends of our community and the work we do.
The authors are the President and Vice-President respectively of TorchPAC, an NYU student club dedicated to pro-Israel advocacy.