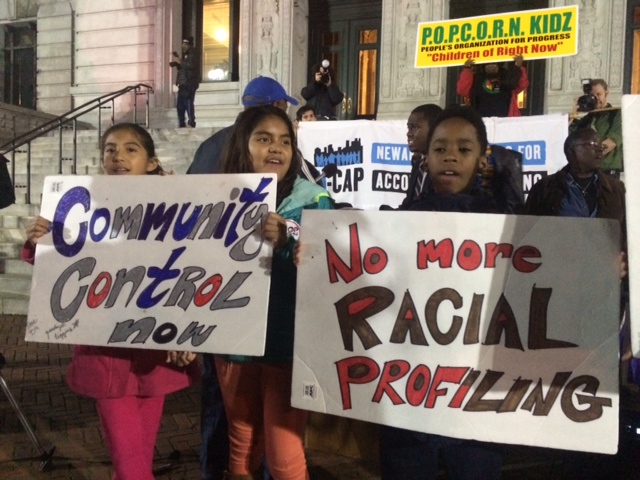 NEWARK – A group of more than 100 community members and activists rallied in front of Newark City Hall on Wednesday night, calling for continued efforts to reform the city's police department, New Jersey's largest municipal police force.
"We are all united in calling for a more accountable and transparent Newark Police Department," said Rashawn Davis, an organizer for the New Jersey chapter of the American Civil Liberties Union (ACLU) and a member of Newark Communities for Accountable Policing (N-CAP), a local community group that advocates the continued push for reform in the Newark Police Department. "For generations, residents of this city have been marching for reform and for the overhaul of the Newark Police Department, not because every cop in this city is bad, but because bad behavior in this department has gone unchecked. Misguided practices and policies have intensified the divide between the community and the department. The time for change is now."
Following the announcement in July of the results of a three-year federal investigation that revealed significant civil rights violations by the Newark Police Department, U.S. Attorney Paul Fishman announced that the force will be placed under federal oversight.
The joint investigation by the U.S. Attorney's Office for the District of New Jersey and the Justice Department's Civil Rights Division began in 2011, less than a year after a highly critical report from the ACLU questioned whether the Newark Police Department could effectively police itself.
The joint report revealed widespread violations of the Fourth Amendment, noting that up to 75 percent of stop-and-frisk pedestrian stops in Newark were unconstitutional. It also showed a pattern and practice of excessive use of force by police officers, and that African-American residents, who comprise 54 percent of Newark's population, constitute nearly 80 percent of police stop-and frisks.
Davis held up more than 1,300 petitions that N-CAP planned to hand to Newark Mayor Ras Baraka in support of ongoing reform efforts, including the creation of a community advisory board to work with Newark police as well as a civilian complaint review board. Baraka has publicly expressed support for the findings of the federal investigation and for community reform efforts.
Udi Ofer, the executive director of the ACLU of New Jersey, noted that the installation of a federal monitor for the Newark Police Department has been delayed while federal efforts have focused on the aftermath of the clash between police and protesters and police in Ferguson, Missouri in August. But Ofer noted what the priorities should be when it comes to police reform in Newark.
"The most important thing is to get it right, rather than to get it done quickly. Community members have been waiting for 50 years for these reforms," Ofer told PolitickerNJ. "Getting it right means a civilian, independent review board, with independent subpoena authority and independent disciplinary authority. That's what it means to have civilian oversight over the Newark Police Department that will outlast any one federal monitor."