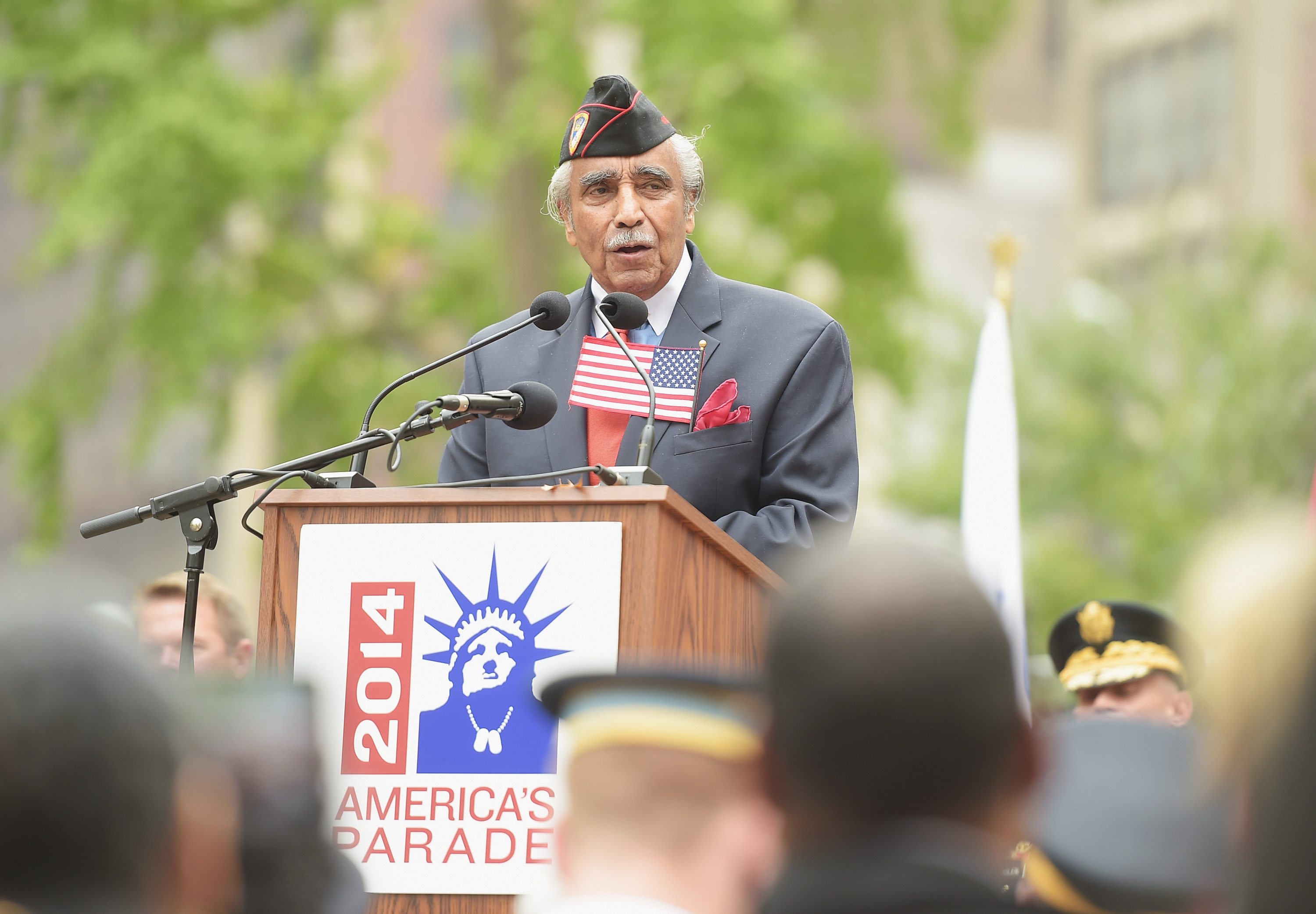 If President Obama can prove the Islamic State threatens his district, Congressman Charles Rangel is ready to do whatever it takes to defeat the extremists–maybe even don military fatigues himself.
The 84-year-old Korean War veteran, long opposed to military interventions abroad, claimed this morning that if Mr. Obama can show how exactly ISIS directly threatens his constituents, he'll volunteer for the war effort.
"If the president or anyone can prove that ISIS is a threat to the people of my block where I live or my congressional district, hell, I'll volunteer to do whatever I can … for the security of this country," Mr. Rangel said on AM 970 The Answer this morning.
"A lot of this started off because we wanted oil and because there were weapons of mass destruction in Iraq and I just don't believe that any governments have leveled with the American people when we send young men overseas and we bring them back with mental problems, physical problems," he added.
While Mr. Rangel is a proud supporter of President Obama and often rails against Republicans trying to block his agenda, the Harlem lawmaker is wary of sending American troops into combat overseas. He voted against the Iraq War and was one of the few local Democrats to oppose the president's recent plan to arm Syrian rebel fights to combat ISIS, an emboldened terrorist group which has seized large swaths of territory in Iraq and Syria.
Government officials fear an unchecked ISIS can eventually launch a terrorist attack on American soil, though there's no direct evidence that any attack is imminent. President Obama angered anti-war lawmakers like Mr. Rangel when he announced several days ago the deployment of 1,500 "non-combat" troops to Iraq to help Iraqi forces battle ISIS.
"This whole idea of presidents sending out men and women abroad, saying that here's issues of national security without having debate, without having the Congress declare war–to me is unconstitutional," he continued. "It's an insult to the American people when you say, well we're sending 1,600, we already got 2,000 there but we don't have boots on the ground."
Mr. Rangel said any American troops abroad are authorized to "defend themselves" and troops on foreign soil are immediately interpreted as aggressors to the native population. "If we have foreigners with guns in our country, we will consider them aggressors. If we are bombing countries, which we are, and something happens and God forbid the plane gets shot down, that's boots on the ground."
He also mocked Mr. Obama's strategy of training certain Syrian rebels to fight ISIS: "I don't see how the hell you can even select who you are paying in terms of which rebels are the one on our side. Most of them have been on both sides."
The Harlem lawmaker lamented that criticizing American foreign policy in Congress can still be difficult.
"It's an awkward thing, it's an appearance of a lack of patriotism," he said.