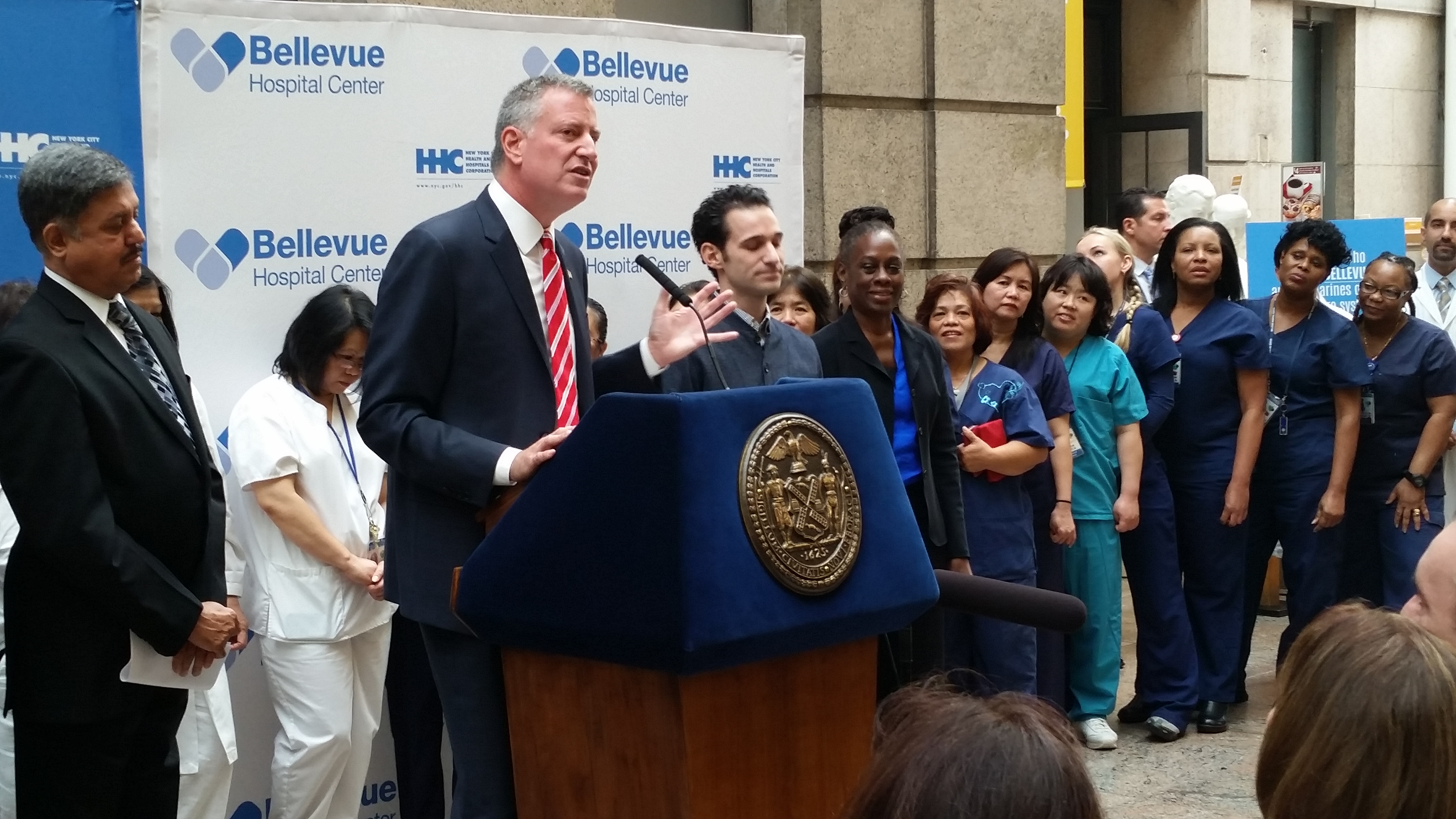 The Manhattan doctor once stricken Ebola will not be telling his tale to the city's hungry press corps.
Dr. Craig Spencer, who came down with Ebola last month after treating patients suffering from the deadly virus in West Africa, made a statement to the press this morning and announced he would not be conducting any further interviews with the media.
"I would like to thank in the advance the media for respecting my right and my family's right to complete privacy," Dr. Spencer said. He briefly spoke with the New York Times while undergoing treatment on November 1.
"I will not be commenting publicly beyond this statement and I urge you please to focus your attention on where it's mostly needed, at the source of the Ebola outbreak in West Africa," he continued.
Reporters staked out the doctor's apartment building in West Harlem anyway, not deterred by his statement.
Dr. Spencer spoke last at the press conference in Bellevue Hospital this morning, where he has been treated since he was admitted on October 23. Health officials announced yesterday the doctor was free of Ebola and ready to be safely discharged.
Mayor Bill de Blasio praised Dr. Spencer for traveling to Africa to help combat the virus, where it has killed thousands. Only one person has died from Ebola in the United States and every other Ebola patient has been successfully treated.
"It is a good feeling to hug a hero and we have a hero in our midst," Mr. de Blasio said, underscoring the fact that Dr. Spencer could now be touched and is not a danger to the public. "He has been an inspiration throughout the challenge he faced."
"Dr. Spencer is Ebola free and New York City is Ebola free," Mr. de Blasio triumphantly added.
Mr. de Blasio said Dr. Spencer cracked a joke at his expense when he spoke with the mayor on the phone while undergoing treatment for the virus. Alluding to Mr. de Blasio's much-mocked decision to eat pizza with a knife and fork in January, Dr. Spencer asked the mayor how he could be on the phone and "hold a knife and a fork at the same time."
Mr. de Blasio also urged New Yorkers not to spread misinformation about Ebola, get their flu shots and not stigmatize healthcare professionals who work at Bellevue or travel abroad to treat Ebola patients.
Dr. Spencer echoed Mr. de Blasio's sentiments, speaking with emotion about his time spent in Africa. He said Africans who he had treated successfully called his cellphone while he was being treated at Bellevue. Dr. Spencer urged the media to keep their focus on the disease there.
"While my case has garnered international attention, it is important to remember that my infection represents but a fraction of the more than 13,000 reported cases in the center of the outbreak," he said.