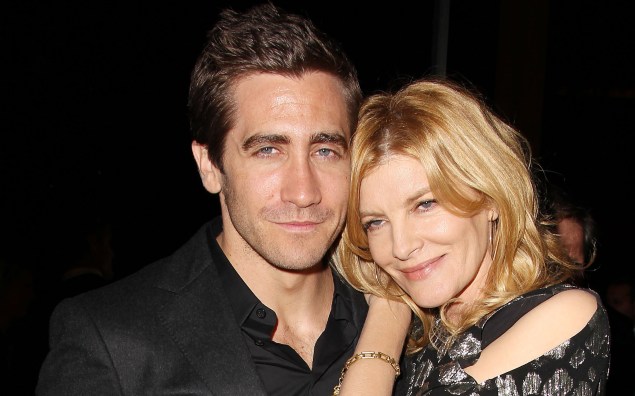 "The writing was really my source," Jake Gyllenhaal said to Shindigger at the premiere party for Dan Gilroy's Nightcrawler, after a screening that enticed bigwigs Beyoncé, Jay Z and 50 Cent.
"For lack of a better word, the character just bloomed," he went on, ensconced in the roped-off section at Stone Rose Lounge, where he was hanging out with co-actors Bill Paxton and Rene Russo.
"I had one drink early tonight," giggled a fabulously coiffed and radiant Ms. Russo, who stood beside Mr. Paxton. "I'm not sure I should have!"
Shindigger was drawn to Ms. Russo's blonde tresses, marvelous in the movie but even more gorgeous up close.
"I have someone spend an hour on my hair before I go anywhere," she disclosed. "Otherwise, it's in a ponytail."
An hour later, Shindigger scooted to another premiere cocktail party, this one at Jimmy, the sky-high rooftop with unbeatable views atop The James New York in Soho, hosted by RADiUS and The Cinema Society in honor of Horns, starring Daniel Radcliffe and Juno Temple.
And thank heaven for Ms. Temple, another starlet with glorious flaxen locks.
"It's all straightened, but I do have fabulous hair," Ms. Temple cooed.
---

$2M
Amount raised at the Park Avenue Armory 2014 Gala Masquerade


$10.44M
Opening weekend box office gross for Nightcrawler


---
"Any tips for up keeping such a wild mane?" we prodded.
"I never wash it," she promptly blurted. "Well … Every three weeks," Ms. Temple reconsidered, adjusting her head-to-toe Balmain. "Maybe I'll squeeze some lemon in it," she offered, before we ducked out.
Shindigger's highlight of the week was the black tie Park Avenue Armory gala honoring director Peter Sellars.
"I knew very little about what this would be," director Julie Taymor pondered of the Venetian theme as masked performers roamed the banquet hall playing stringed instruments and prancing about. Before we could move on, Shindigger enquired about her hairdo.
"This took literally five seconds," Ms. Taymor insisted. "I just washed my hair and put it up. Simple."
Gal about town Julie Macklowe was equally awestruck.
"The way the room looks, the dancer's reflections—it's right out of Eyes Wide Shut."
Noting her shiny Calvin Klein Collection dress, we asked her if she had an easy time getting into masquerade mode.
"I had my kids' Halloween party first, so I sort of jazzed it up after my can-can outfit, and I think the mask is a nice touch because it just sort of hides your bad hair," she snickered with a toothy grin.
Patrick McMullan, busy snapping the socialites and couture-clad patrons, suggested that Priscilla Zoullas, wife of shipping giant, Sophocles Zoullas, had the evening's best hair. Well, of course she did.
"I did it Grecian-style, myself," she admitted,  while slightly shifting her shimmery, metallic number by Oscar de la Renta.
"Every time we come here we see something amazing and experience something completely different," Mr. Sellars said, praising the Park Avenue Armory. He then dove into a 20-minute-long babble about America's lack of political and financial support of contemporary performing arts. It was as honorable as it was endless; we took to imbibing more vino. And in our boozy haze, we could only concentrate on Mr. Sellars' silvery, frosted hair that jetted straight up.
"Is that a Mohawk or a white man's flat top?" someone at our table inquired as Mr. Sellars' speech plowed onwards.
"I have no clue, but it is truly marvelous," came a response.