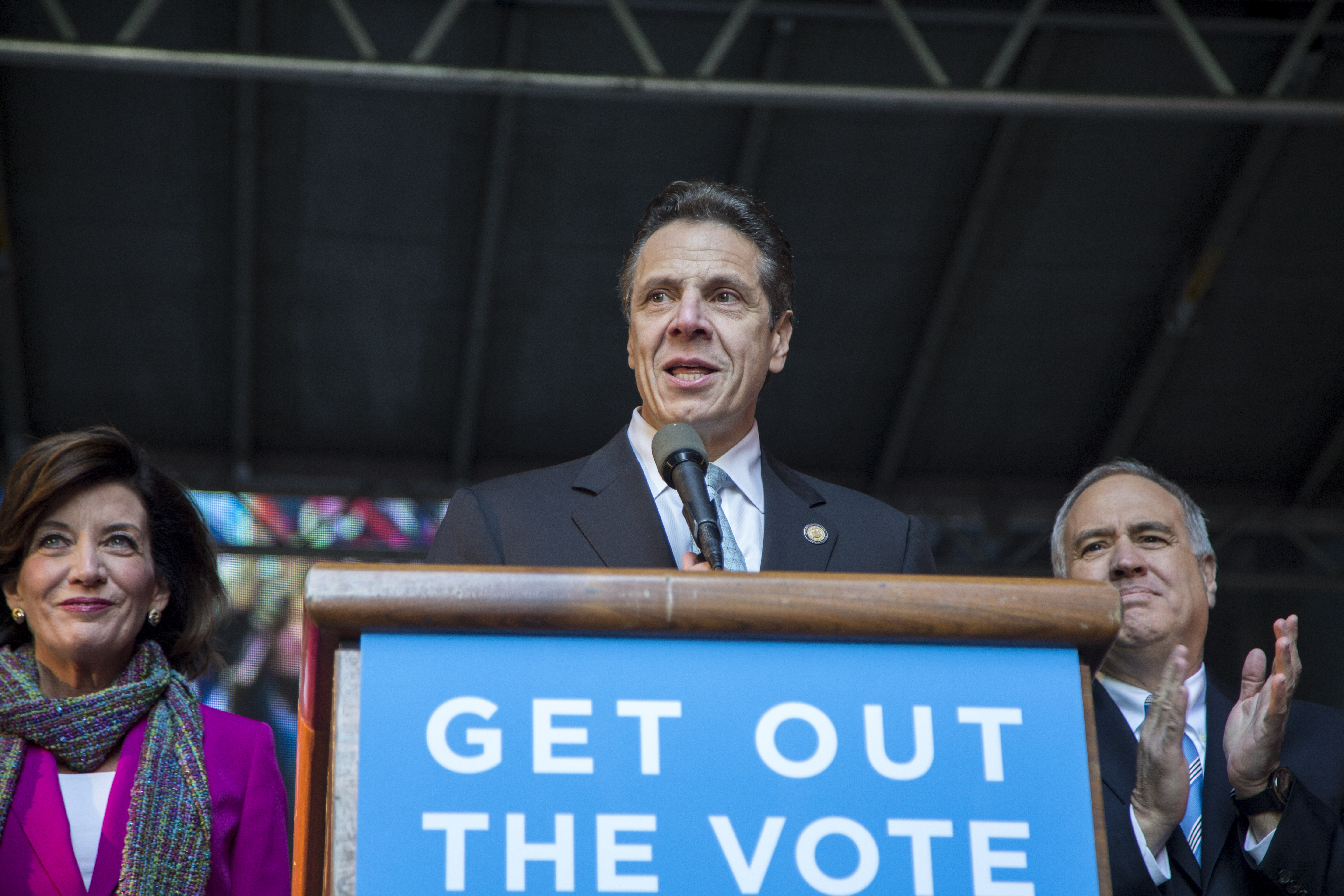 It wasn't a lazy Monday afternoon for Gov. Andrew Cuomo.
The governor, appearing at a large, labor-fueled rally in Times Square today, seized on a remark from a Republican assemblyman to fire up voters a day before he faces re-election. Mr. Cuomo joined Attorney General Eric Schneiderman and State Comptroller Thomas DiNapoli, along with an array of state and federal lawmakers, to deride the assemblyman, an ally of Mr. Cuomo's rival, for calling New York City voters "lazy" at a campaign rally Sunday.
"They said something yesterday that summed up the whole campaign for me. They said, well you know, we're gonna win because those people in New York City are lazy. Did you hear them say that?" Mr. Cuomo declared.
The centrist Democrat, who at times has angered liberals and expressed skepticism about the government's ability to heal social and economic ills, attacked Rob Astorino, the Republican Westchester County executive and gubernatorial contender, for promoting a version of Social Darwinism.
"Their politics is about dividing people. Their politics is very simple: Their story is, it's every man for himself, it's every woman for herself, that you're on your own, get what you can–that we're all competing [against] one another," he continued. "And the way they do that is by trying to divide us. They try to divide us upstate from downstate. They try to divide us white from black. They try to divide society and that's how they think they're going to win."
Mr. Cuomo, calling Republicans "conquerors" for promoting a "divide and conquer" ideology, said his theory was "not every man for themselves, us together."
"We believe in the collective. We believe in community. We believe in helping one another. We believe the sweetest success is shared success," Mr. Cuomo all but shouted.
The rally, though not billed as another labor-related event for Mr. Cuomo, corralled hundreds of members from three of the state's major unions–1199 SEIU, 32BJ SEIU and the Hotel Trades Council–into several pens on Seventh Avenue around 41st Street to hear the Democrats, who spoke from a stage above the crowd. A deafening public address system and a large, elevated screen carried the message to the thousands of New Yorkers ambling by, many of whom were tourists unable to vote in tomorrow's elections.
In between the speeches, a funk-inspired band crooned "Cuomo is really working hard, baby."
Democrat after Democrat tore into the "lazy" comment, which Assemblyman Steve McLaughlin, a known Cuomo antagonist, uttered at an event for Mr. Astorino yesterday. "This is going to be an historically low turnout. But not for us. Not for upstate New York it isn't!" Mr. McLaughlin reportedly said. "I think personally that New York City, as lazy as they are, they're not going to show up to vote."
Democrats on Sunday immediately pounced on the remark and even accused Mr. McLaughlin of race-baiting. As enthusiasm for Mr. Cuomo seems to be in short supply, Cuomo surrogates are hoping revulsion of Mr. Astorino's alleged "ultra-conservative" agenda can motivate voters to block the Republican from seizing the governor's mansion.
"You know what Rob Astorino reminds me of? He reminds me of the 12 years of George Pataki," said Keith Wright, a Manhattan assemblyman, referring to the former Republican governor. "We don't want to go back to the future. Our future is now."