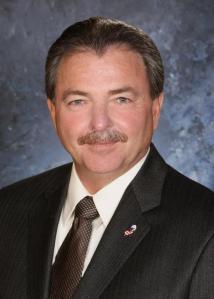 In what will be one of the most watched legislative districts in NJ 2015 politics, at ground zero of an ailing casino industry, Atlantic County Freeholder and labor leader Will Pauls today announced he will seek the Republican nomination for General Assembly for the Second Legislative District.
"We are now at a moment in time when our region is facing some of the highest unemployment in the state. We have a lot of families in Atlantic County who are hurting right now," said Pauls, veteran president of the South Jersey Building Trades Council. "I am offering my experience and talents, so together we can restore the American dream for the hard working families of Atlantic County."
Born in Newark, Pauls worked in his family's steel business and was a member of the Ironworkers Shop Local. In 1978, he joined the Ironworkers Local 350 of Atlantic City as a journeyman and served on the Executive Board and as an Apprentice Instructor. He has served as Business Manager and Financial Secretary for the Ironworkers Local 350 of Atlantic City for over 16 years, and is a Trustee to the Ironworkers Philadelphia District Council & Health Pension Fund, Chairman of the Ironworkers Annuity and Vacation Funds and Chairman of the Joint Apprentice Committee. He is a member of the Executive Board of the AFL-CIO Central Labor Council of Atlantic City, and a member of the Greater Atlantic County Chamber of Commerce, and a former member of the Atlantic County Planning Board.
"In my positions of leadership, I have balanced budgets, created good paying jobs, and held the line on spending. It's one thing to talk about these issues, but I have a proven record of accomplishing them," said Pauls, who noted that the threat of a North Jersey casino jeopardizes the future for hardworking, middle class families in Atlantic County.
"Chris Brown gets it," he said of the incumbent Republican assemblyman in LD2. "We can't build a better future for the working families of Atlantic County if North Jersey casinos become a reality while we're fighting to save Atlantic City. We have to protect the American Dream, where our children and grandchildren can have the opportunity to do better."
At his kickoff, Pauls went after incumbent Assemblyman Vince Mazzeo (D-2), arguing that the Democrat has not fought hard enough against the possibility of a North Jersey casino.
"Since Mazzeo says he's over worrying about a North Jersey casino, it's time to tell Mazzeo we're over him," Pauls said. "Mazzeo would rather cut a deal than stand up for Atlantic County. There is NO deal from a North Jersey casino that will benefit Atlantic County."
Pauls said he looks forward to joining Brown on the ticket.  "Chris Brown should not have to be the only legislator from this district fighting for what's right," the GOP candidate said.