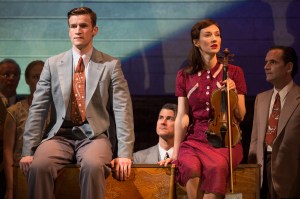 He and his instruments are back! John Doyle is the Scottish theatre director and designer known for re-imagining classic musicals — often with actors playing all the instruments, like Stephen Sondheim's Sweeney Todd (with Patti Lupone in 2005) and Company (with Raul Esparza in 2006). Now, he brings a fresh look to Rodgers & Hammerstein's rarely produced 1947 morality tale Allegro, at Classic Stage Company through December 14th.
The story tells of the life from birth of the son of a country doctor (an earnest and fresh-scrubbed Claybourne Elder) who follows his father (Malcolm Gets of TV's Caroline in the City) into medicine, but winds up in a fancy-schmancy practice in Chicago to appease his ambitious wife (Elizabeth A. Davis, a Tony-nominee for Broadway's Once). As he faces the dilemma of whether to take a top administrative job at a hospital in the city or return to assist his father's modest, but soul-satisfying practice in the boonies, the cast is fiddling and strumming and plucking and tooting all around him.
Sondheim spoke to Frank Rich of the Times in 2000 about his early musical mentor Oscar Hammerstein III's following up the enormous success of that man's first two shows, Oklahoma! and Carousal with the innovative Allegro, which featured a Greek Chorus in the original production, but seeming topheavy and dated, has rarely been remounted.
"What few people understand is that Oscar's big contribution to the theater was as a theoretician,… as an innovator," Sondheim noted. "People don't understand how experimental Show Boat and Oklahoma! felt at the time they were done. Oscar is not about the 'lark that is learning to pray'" — a cutesy lyric from The Sound of Music — "that's easy to make fun of. He's about Allegro."
That production, directed and choreographed by Agnes De Mille, was innovative, yes, but also bloated with 41 actors, 100 dancers and over 500 lighting cues, a record at the time.
Doyle has paired down the cast to 12 and also the length, presenting Allegro in about 90 intermissionless minutes on a bare set of wooden planks in front of a wainscotted back wall painted to look like waving fields of wheat. The barn-raising setting as well as the folksy instruments should translate to more heart and soul than this production whips up. It feels like the proficient and multi-talented cast, including an under-utilized Alma Cuervo as a wise granny, never gets to really stretch their wings and sing like that lark.
Malcolm Gets underplays Dr. Dad in harmony with the scaled-down production and manages to convey the modest good heart of a man committed to serving the community he knows best. Overall, however, Allegro remains harnessed by antiquated theatrical conventions a la Our Town and a moralistic sensibility.