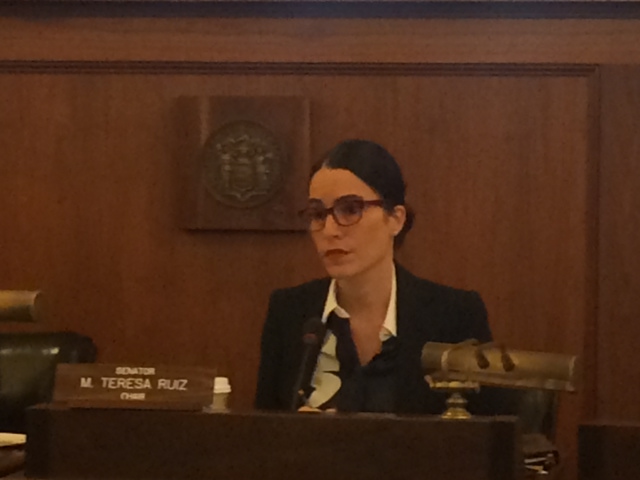 TRENTON – State Sen. M. Teresa Ruiz (D-29) made it clear that if there is a primary challenge in her 29th Legislative District in 2015, she will stand firmly behind her legislative colleagues, Democratic Assemblywomen Eliana Pintor Marin and L. Grace Spencer.
"To talk about a primary race now is not something that I am focused on, except to say that I 150,000 percent support these two dynamic women in my district, who are focused on doing good government work," Ruiz told PolitickerNJ on Thursday after a Senate education committee meeting.
Sources have told PolitickerNJ that increased fundraising efforts by Newark Mayor Ras Baraka and his allies indicate that a primary fight might be looming in LD 29 against Spencer and Pintor Marin. The LD 29 assemblywomen would reportedly be challenged by Alturrick Kenney and Patrick Council, sources stated.
A looming LD 29 fight would highlight the struggle for Essex County dominance between Democrats Baraka and Essex County Executive Joe DiVincenzo.
DiVincenzo backs the reelection of Spencer and Pintor Marin, and sources have told PolitickerNJ that Essex County Democratic Party Chairman LeRoy Jones is inclined to stick with the LD 29 incumbents because Baraka already has steady allies in the other state legislative district that includes parts of Newark, Legislative District 28.
The LD 28 Assembly duo, Democrats Ralph Caputo and Cleopatra Tucker, backed Baraka early in the 2014 Newark mayoral race, and both reportedly remain acceptable to Jones.
Next year's Assembly races could also be a moment of both settling old scores and looking to the future for Baraka. Pintor Marin supported Baraka's rival, Shavar Jeffries, in last year's mayoral contest. Spencer, who was then Newark's municipal prosecutor, stayed out of the mayoral battle.
Ruiz lauded the respective records of Pintor Marin and Spencer.
"These women are stellar. [Pintor Marin] was a school board member and a community activist for a very long time, and [Spencer] has been in service for years," Ruiz said. "They have made a positive impact on District 29."
Ruiz acknowledged that while state Sen. Ron Rice (D-28) has a "great" relationship with Baraka, she also meets with the Newark mayor often about issues that affect New Jersey's largest city.
"Each one of us is committed to moving the city forward," said Ruiz, saying that it was "too early" to evaluate how Baraka is doing his job. "I have to be a partner with him to be sure to move the city and its residents forward."
Baraka told PolitickerNJ on Monday that no final decisions will be made about potential primary challenges until at least January.