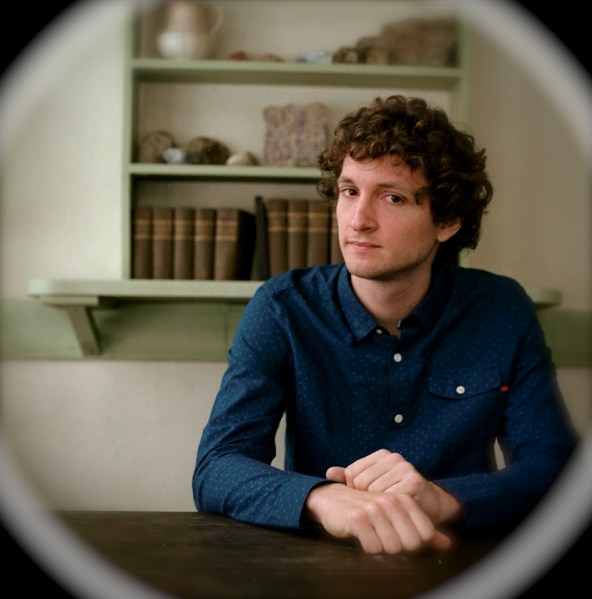 "The old, weird America." That's a phrase Greil Marcus coined to describe the moods evoked in Bob Dylan's Basement Tapes (released in their official entirety for the first time last week, just by coincidence). But it also fits perfectly when considering the work of another ear-catching artist: Vermont-raised singer, guitarist, fiddler, banjoist, and song compiler Sam Amidon. On his fifth album, Lily-O, Mr. Amidon reaches into the dark depths of American traditional music and pulls out 10 songs of entrancing, often disturbing beauty. Key topics include love, death, working on the railroad, and eating the brain of a groundhog.
Mr. Amidon approaches folk like a jazz improviser, taking a tune from here, borrowing a lyric from there, and reframing them all with his own surprising chord progressions and arrangements. So it somehow makes sense that on Lily-O he's teamed up with one of the world's greatest living jazzmen, guitarist Bill Frisell, who shares Mr. Amidon's fond attachment to all things weird, old and American. Bassist Shahzad Ismaily and drummer Chris Vatalaro round out the formidable band, which reportedly cut most of the album tracks live, with few if any subsequent overdubs.
What stands out especially is how often Mr. Amidon's unadorned, almost aggressively self-effacing singing (he sounds quiet even when he's loud) seems to inhabit a different rhythmic plane from the rest of the music—and how right he makes that floating quality feel. On the mournful "Down the Line," the band establishes a groove in 5/4, already a complex time signature. The long, arcing vocal line Mr. Amidon lays on top of that groove begins, pauses, and ends at unpredictable, apparently random moments. And yet those moments always intersect with the subtle changes in what Mr. Frisell and company are playing.
---

Mr. Amidon reaches into the dark depths of American traditional music and pulls out 10 songs of entrancing, often disturbing beauty.


---
On the title track, a cheery tale of a young woman who's stabbed to death by her brother because she forgot to ask for his permission to wed, Mr. Amidon creates a deeper sense of displacement. As the story builds in intensity, Mr. Frisell conjures black skies and roaring thunderclouds with help from his passel of effects. Then, just after the brother's knife reaches its mark, the band changes key, dropping down a whole step from E to D. Mr. Amidon, however, keeps singing in the old key, stretching out his notes to the point of discomfort. This shift into polytonality is almost painful in its abrasiveness. It's also exhilarating.
At a recent live show at the Music Hall of Williamsburg—joined by Messrs. Frisell and Ismaily, with cameos from frequent collaborators Thomas Bartlett and Nico Muhly—Mr. Amidon took things even further out. During "Lily-O" and a couple of other songs, he coaxed piercing bursts of distortion from Mr. Frisell, reminiscent of his unhinged playing on the 1987 Power Tools album Strange Meeting (an under recognized masterpiece that you should go here to learn more about). And he frequently proved himself a master of deadpan left-field wit, from the convoluted between-songs apology that Bruno Mars wasn't coming to the show to the solo ballad that suddenly turned into a platform for George Benson-style unison guitar-and-voice licks. "Bill Frisell isn't the only one around here who can play a guitar solo," he quipped mid-acrobatics with a straight face (of course). Ladies and gentlemen, I give you Sam Amidon: spokesman for the new, weird America.
[youtube https://www.youtube.com/watch?v=74bossGZ4GY&w=560&h=315]