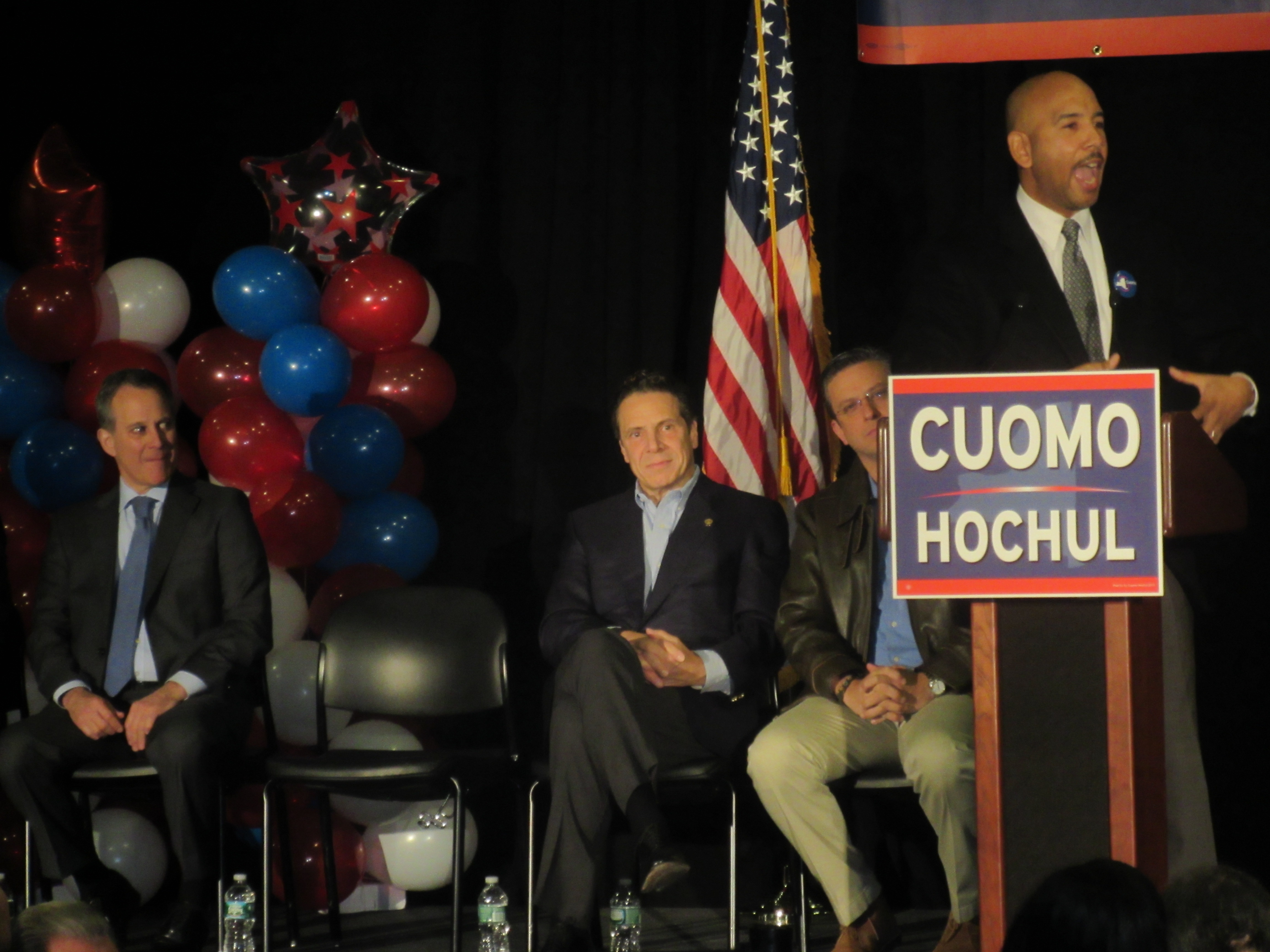 Gov. Andrew Cuomo and Attorney General Eric Schneiderman made a rare joint campaign stop together in the Bronx today, at a final-push event hosted by 1199 and 32BJ SEIU and the Hotel Trades Council, and studded with several prominent Hispanic pols.
The two statewide Democrats–not known for having an especially warm relationship–graced the stage at the Casita Maria Center in the impoverished Hunts Point-Longwood neighborhood alongside Bronx leaders like Borough President Ruben Diaz Jr., Assemblywoman Carmen Arroyo, Assemblyman Marcos Crespo and Congressman Jose Serrano and Puerto Rican Gov. Alejandro Garcia-Padilla, and in front of an undulating ocean of union placards. After a rousing musical number from the Mambo Legends, the politicians proclaimed their supposedly unified record of moving the state in a more liberal direction.
"We can see the Democratic vision in this state for going forward: equal justice for all!" Mr. Schneiderman said.
It was a message Mr. Diaz Jr.–a co-chair of Mr. Cuomo's campaign–reiterated to overwhelming applause from the mostly black and Hispanic audience.
"Who's the one who gave us the increase on the minimum wage? Andrew Cuomo. Who gave us marriage equality? Andrew Cuomo. Who brought, helped finance the produce market at Hunts Point, and the Greenmarket, and bring produce to the Bronx? Andrew Cuomo!" said Mr. Diaz Jr.–whose father, socially conservative Democratic State Senator Ruben Diaz Sr, is a backer of GOP gubernatorial contender Rob Astorino.
Chants from the crowd alternated between "four more years" and "cuatro años más."
Mr. Garcia-Padilla fondly recalled Mr. Cuomo's trip to Puerto Rico, which he claimed was a sign of the New York governor's high regard for Hispanics.
"For the Puerto Ricans and the Dominicans and all the Latinos, he showed respect for our community," said Mr. Garcia-Padilla, arguing that Mr. Astorino's criticism of the trip constituted an attack on the U.S. territory. "You don't mess with Puerto Rico!"
Before taking the podium, Mr. Cuomo made a great show of trading his blazer for the leather coat of Mr. Garcia-Padilla, who said that he misunderstood what Mr. Cuomo's handlers meant when they recommended wearing a jacket. Mr. Cuomo professed he was "jealous" of his counterpart.
"Not because he's younger than I am. It's not because he's better-looking than I am. Not because of his cool jacket. I'm jealous because he is the only person who represents more Puerto Ricans than I do!" Mr. Cuomo said to riotous cheering.
The governor also had some praise for Mr. Schneiderman, who succeeded Mr. Cuomo as attorney general and who some see as a potential future rival. The two have feuded publicly over who should control the massive settlements Mr. Schneiderman's litigation has exacted from large financial firms connected to the 2008 market collapse.
"It's a job I know something about, I was attorney general before I was governor. He has done a fantastic job, he is the voice of justice!" Mr. Cuomo said.