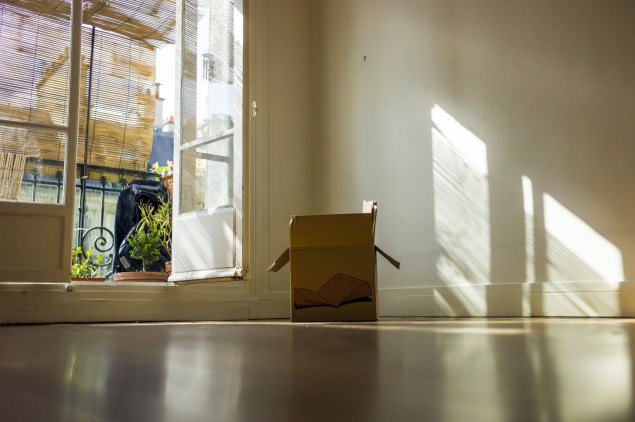 When Jill Goldstein moved from the Upper West Side to Murray Hill in 2009, there was a slew of matters that needed attending: china to be bubble-wrapped, clothing to be folded, books to be sorted into boxes, furniture to be transferred to the abyss that is a New York storage unit and, as with every move, the difficult task of managing all of this chaos.
Some weeks after all of the sorting and packaging, Ms. Goldstein was unpacking the physical boxes only to realize that not all of the metaphorical boxes had been checked. It seemed "The Silent Time," a painting by her uncle, American artist Jules Kirschenbaum, was missing.
"I thought maybe the movers might have misplaced it," she said. "Maybe I had left it behind and the super found it. Maybe it got left it in the hallway of the new place and the super found it. Maybe it had been at my sister's."
The painting, a slightly moody watercolor and ink scene set on a rooftop, has influences of cubism and surrealism and features snippets of a figure, doorway and windows—the representative elements characteristic of Kirschenbaum's mid-century art.
After noticing the work had gone missing, however, there was little Ms. Goldstein could do. She had received the painting along with another by Kirschenbaum, as a wedding gift in 1991, which left her without a bill of sale or any proof of provenance in the form of a letter from the artist. And, in the time between the wedding and the move, Mr. Kirschenbaum had passed away, thus unable to vouch for the gift.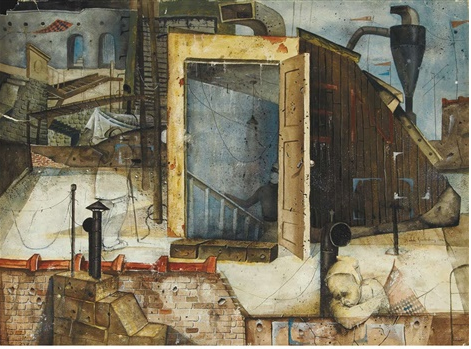 And, to make matters worse, the couple had not gotten it insured—"I just didn't think about that"—leaving a few photos and an exhibition catalogue as the only proof Ms. Goldstein ever owned the piece.
In yet another uncertainty, Ms. Goldstein was never able to confirm the exact time or place of the disappearance, just that it occurred during the muddle of the move.
"There was a lot of stuff and furniture—you know how it is with moves," Ms. Goldstein said. The art had been rolled up in one of many tubes, making it easy for the package to fly under her radar. "I figured I'd just slowly go through everything and put stuff away. [There was] no hurry."
All of this left her without the necessary information to file a police report when she brought the issue to the local precinct. The moving company claimed it could not be legally held responsible and denied any involvement. All inquiries to building management personnel—who may have seen the work in the hallway or in transit—proved moot, and, for years, nothing transpired regarding the situation.
And while traumatic for Ms. Goldstein, the case is far from unique.
"There is some thought that art crime ranks behind only drugs and arms in terms of the size of the criminal trade," said Jordan Arnold, who is well-versed in the multi-billion dollar problem. Mr. Arnold, who is now a managing director at K2 Intelligence, a risk and investigative consultancy, worked as an assistant district attorney in Manhattan from 2000-2013, working with the NYPD's major case squad.
"The thing with moving is that anytime you place your items in the hands of a third party, there's a certain vulnerability by definition," he said. Mr. Arnold recommends hiring a separate moving service that specializes in valuables, such as fine art and jewelry. "You don't necessarily want the same crew who is moving your couch to move your Monet," he added.
Though he has not dealt with cases involving art theft during moves or transport, there are other known incidents. In a high-profile 2006 case, a Francisco de Goya work was stolen right off an unattended truck that was stopped alongside a highway.
---

Mr. Arnold recommends hiring a separate moving service that specializes in valuables, such as fine art and jewelry. "You don't necessarily want the same crew who is moving your couch to move your Monet," he added.

---
And the Observer previously reported on another prominent and similar case when, in 2006, a mover walked away from the job with much more that the $700 he was paid. While transporting the belondings of the late writer Susan Sontag and her husband, Philip Reiff, from storage units in Kingston and Rhinebeck to one in Manhattan, the mover, Charles W. Hofmann, scooped up a painting by the artist Allan Ramsay. Mr. Hofmann later sold the work at Sotheby's for $47,000, but did not plead guilty until 2011.
According to New York state law, movers are not liable for the value of lost items.
The state's Department of Transportation, which deals with moving, suggests checking for all items, particularly valuables, before signing off with the movers. And if something is noted to be gone, it is best one marks it at the time of delivery. To file a claim after the act, one must have proof that the mover caused the loss—something that Ms. Goldstein did not have.
Ms. Goldstein, having not followed most of these precautions, considered the work all but lost for good, though a glimmer of hope remained.
"That was it. There was nothing I could do," she said. "But I would look on the Internet every so often. You never know, right?"
Finally, earlier this year, the browsing came to fruition: Ms. Goldstein noticed her uncle's painting had been auctioned as "Untitled" at the prominent Doyle New York auction house in 2012.
"I was angry in some way that it actually survived, that it wasn't some tragic mistake and destroyed by accident … and there wasn't anything I can do, 6,000 miles away," said Ms. Goldstein, who is currently living in Italy.
Despite the auction house's estimate that the work would go for $1,000 to $1,500, it sold for $6,250. The painting is currently owned by the Forum Gallery, the midtown, contemporary gallery that represented the artist during his lifetime. Rober Fishko, Forum's director, partnered with Franklin Riehlman, another art dealer, to purchase the painting from Doyle, according to Mr. Fishko, who declined to comment further. As recently as August, the work was presented on the gallery's website under its original name and offered for $15,000—which is higher than any other works have gone for in his scarce auction record. But since then, the gallery has removed the work from its website.
After locating the work, Ms. Goldstein was finally able to file a formal police report in April when she was in New York for a visit. The case was assigned to Detective Mark Fishstein, the New York Police Department's only detective dedicated to stolen art, who declined to comment for this story.
"He clearly knows his beat," Ms. Goldstein said of Detective Fishstein. "He's a very busy person, but he took the time to even pursue this very small New York story."
A pursuit of the work followed, with Ms. Goldstein attempting to use the law to prove the painting was properly hers. But timing proved an issue. A statute of limitations requires a report to be filed within three years from the theft in order to pursue the case criminally—a period of time that had long passed for Ms. Goldstein.
Additionally—and according to Mr. Arnold, more significantly—the detective could find no evidence that any of the work's sellers, including Doyle and Forum, had sold or bought the painting in anything but good faith.
Mr. Fishstein was unable to get in touch with the earliest seller that he could identify, but the man, whose name the police would not disclose to Ms. Goldstein, had no record and was thought to have purchased the work innocently.
"Whoever gave it to (Doyle) had no idea what it was or where it came from," Ms. Goldstein said, citing the work being listed as "Untitled." "I'm not blaming anybody on the other end, the galleries or even the person who sold it to them."
---

"I just assume it's gone," Ms. Goldstein lamented. "We know where the painting is, but I'm not going to get it back."

---
"At the end of the day, her biggest problem is that she can't say for sure whether or not it was actually stolen (as opposed to left behind), and thus any effort to prove that the current possessor is knowingly possessing stolen property simply isn't feasible," said Mr. Arnold.
Doyle routinely checks the Art Loss Register database to ensure it isn't holding stolen property, but " I didn't know that they had these art-tracking organizations and art register," Ms. Goldstein said, explaining why she never filed the work as missing.
This left Ms. Goldstein with few options: Because the details of a statute of limitations are different for civil cases, she could pursue one, as these cases are known to have a lower threshold for evidence and do not require unanimity on the jury. But that would require a good deal of time and money.
Detective Fishstein also suggested she could simply purchase the painting from the gallery, "which seemed to me outrageous," she said.
"I just assume it's gone," she lamented. "We know where the painting is, but I'm not going to get it back.
But Ms. Goldstein's hopeless denouement need not always be the case, as Mr. Arnold made clear. For when the proper precautions are taken, art can be retrieved and cases be closed as success stories.
Last March, Norman Rockwell's "Sport," worth over $1 million and belonging to a private collector, was found months after it went missing from a storage facility in Queens. Discovered in Ohio after being registered with the Art Loss Register, Mr. Rockwell's gloomy, rainy scene proves that there is a possibility for sun, but only if one packs an umbrella, just in case.