Thanks to Solange Knowles, we all learned a very important PR lesson this weekend: an incredibly chic wedding is all it takes to make bad publicity surrounding a domestic dispute vanish into thin air.
Yes, it's easier said than done. But in this case, it was highly effective, thanks to the younger Knowles sister's always-on-point eye for fashion.
Her wedding photos, which have been shared all over the Internet since hitting Vogue.com yesterday, were shot by Rog Walker, who is one half of an über-fashionable couple himself. Mr. Walker was reportedly inspired by the human still life work of Vanessa Beecroft. This resulted in a wedding portrait that is less warm and fuzzy and more high-fashion editorial.
But Solange already did the grip-and-grin photos and the generic ivory tube top dress at her first wedding. She also managed to wrangle Beyoncé into a matching, floral, pink satin bridesmaid dress — talk about a power move. This weekend's wedding was in the style stratosphere compared to her 2004 nuptials.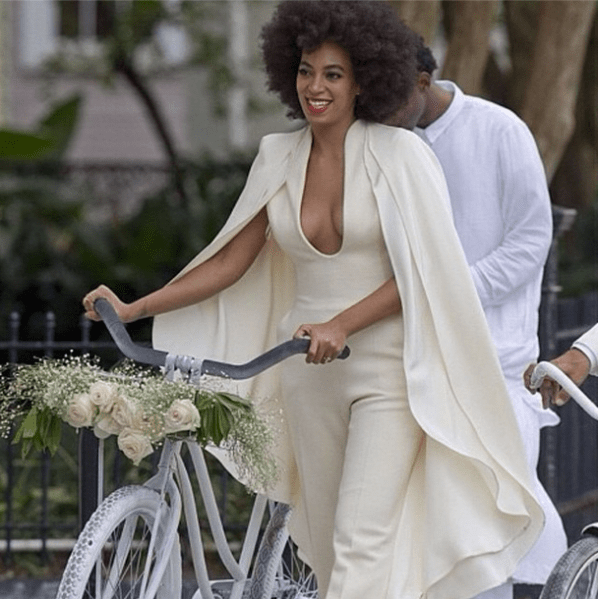 It's been a busy year for Solange, publicity-wise. Many wondered if the Knowles-Carter family's reputation would survive the Elevator Incident back when Ms. Knowles was recorded attacking her brother-in-law, Jay Z, back in September. But last night, social media was all "elevator who?" as photos of Solange's epic wedding outfits hit the Internet.
The online hoopla also bizarrely led people to draw comparisons between Solange and Kim Kardashian, whose nude Paper magazine outwardly tried and failed to "Break the Internet" last week. It's difficult to say which famous woman prevailed in this farcically made-up battle, but we will say one thing: Solange's wedding deserves to stand alone as its own style moment, and Kim deserves to pose however she pleases without it turning into a contest with someone who has nothing to do with her.
Ms. Knowles wore a cream pantsuit by Stéphane Rolland to bike over to the wedding, calling to mind Amal Clooney's flawless homage to Bianca Jagger at her wedding in Italy. Beyoncé and Jay Z reportedly rolled up 15 minutes after the bride: the first sign that all bets were off at this wedding, etiquette-wise.
Exhibit B: the mother of the bride and all of Solange's attendants wore white. This is normally a wedding faux pas because wearing white makes it look like you're trying to upstage the bride. There was no upstaging of any kind at this wedding, though, even though the presumptive maid of honor, Beyoncé, manages to steal the spotlight just by showing up at an event.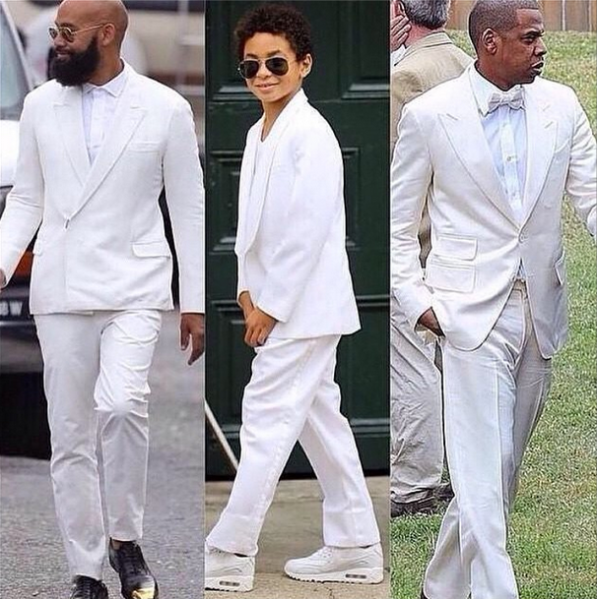 No, all eyes were on Solange when she changed into a caped, white gown designed by Humberto Leon for Kenzo. Her widely worshiped sis looked like a mere mortal next to Solange's ethereal and powerful presence.
The evening wasn't all stoic posing and dead-serious Fashion Moments, though. Below, see an endearing video of the bride performing a choregraphed dance to "No Flex Zone" with her 10-year-old son, Julez. Just imagine the two of them rehearsing the moves together at home — too adorable.
[vimeo 112056887 w=500 h=281]