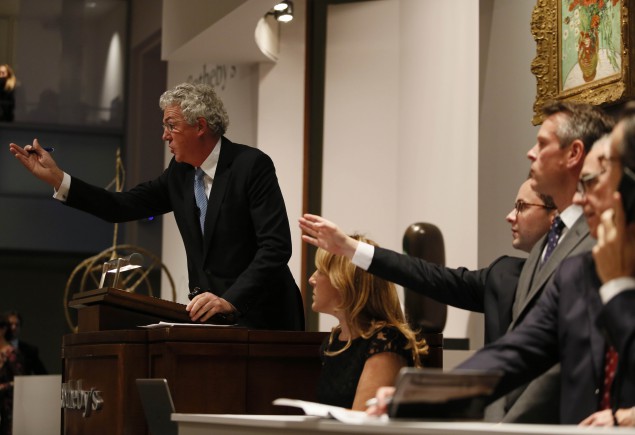 The telephone bidding started at $80 million. Soon it was up to $90 million and then it was done. Alberto Giacometti's majestic five-foot-tall bronze Chariot fetched $100.96 million at Sotheby's last night, including commission. It was something of an anticlimax, as Sotheby's had predicted the sculpture of a woman on a platform with two wheels "could sell for in excess of $100 million." "There wasn't a single bid in the room," said dealer David Nash as he exited the saleroom shortly before the two-hour Impressionist and Modern Art auction ended. "The estimate probably intimidated people."
The price fell short of Giacometti's Walking Man I, which in 2010 went for $104 million and broke the world record at the time for art sold at auction. "We're suddenly in a world where $90 million seems like a disappointment," Suzanne Gyorgy, Citibank's global head of art advisory and finance, said of the Chariot hammer price. "You get jaded."
The $422.1 million tally was Sotheby's biggest auction ever, though the total lagged the $424.9 million high estimate. (Final prices include commissions, estimates do not.) Of 73 lots, 58 found buyers, indicating a significant selectivity in a supposedly roaring market. But it was a solid start to the major November evening auctions that lost momentum after the Giacometti, lot 25.
Lot 7, Tete, an African-influenced limestone head by Amedeo Modigliani, made $70.7 million, a record for the artist. Three telephone bidders vigorously competed. Four years earlier at Christie's in Paris it fetched $53 million. Van Gogh's Still Life, Vase with Daisies and Poppies went for $61.8 million, above the $50 million high estimate. The buyer was an Asian collector bidding through Jen Hua, a Sotheby's staffer visiting from Hong Kong.
The auction was the first major New York evening sale since activist investor Daniel Loeb and two allies became Sotheby's directors. Sotheby's has increased use of guarantees, in which it guarantees a consignor a minimum price regardless of how artwork fares. When work sells above a set price, Sotheby's generally receives a share of excess proceeds. According to an Oct. 16 filing with the U.S. Securities and Exchange Commission, it had outstanding guarantees of $392.6 million, of which $35.4 million was reduced by risk sharing agreements. The Giacometti and Modigliani were guaranteed, according to the auction catalog.
Chariot was cast in 1952 and had been off the market since 1973. The Swiss sculptor was inspired to create it by a hospital stay back in 1938, as he marveled at nurses' pharmacy wagons. While Sotheby's staffers may have wished it had fetched more, Todd Levin, an art advisor and director of the Levin Art Group, said the universe of potential bidders for such a work is small. "At that level, how many people can raise their hands?"