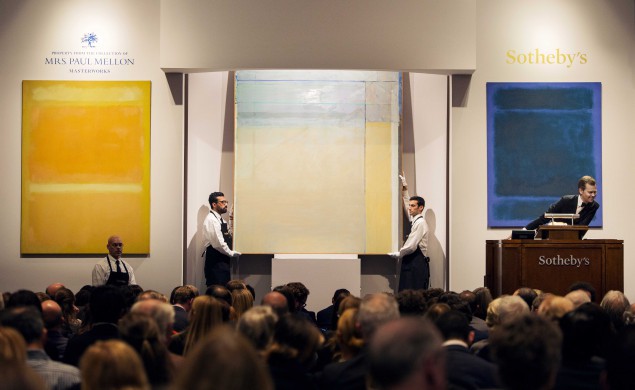 On Monday night the art world turned out their pockets at Sotheby's, leading to a rare "white glove" sale of curated selections from the collection of Rachel "Bunny" Lambert Mellon, wife of philanthropist Paul Mellon and a prolific and eclectic collector of fine art.
The sale totaled $158.7 million, surpassing its high estimate of $120.1 million, with bidders from 32 countries participating. It featured artworks spanning four centuries, and ranged from Old Masters such as Ambrosius Bosschaert the Elder's Still Life of Variegated Tulips, Roses, and Other Flowers in a Glass Vase which sold for $4.6 million to custom painted white Giacometti's like Table au dragon à l'oiseau which brought $1.7 million. In the end, two Rothkos topped the 43 lots on offer, achieving $39.9 million and $36.5 respectively, after fierce bidding wars for both.
We were there, live tweeting from the sidelines, and it was quite the scene. Here are some highlights, and if you'd like a full play-by-play recap check out our Twitter feed @ObserverArts for more.