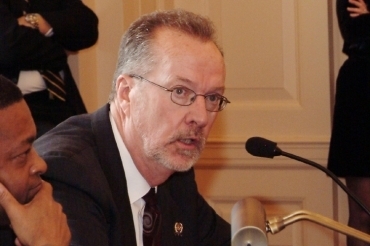 At today's Atlantic City summit, Gov. Chris Christie and veteran state Senator Jim Whelan (D-2) scrapped behind the scenes.
Someone in attendance referred to Atlantic City's history of "40 years of mismanagement."
Whelan objected.
The sitting District 2 senator was a mayor in the city – one of the only ones in recent memory who wasn't either led out in handcuffs or disgrace or drummed out of office by a Republican in the overwhelmingly Democratic town.
Whelan pointed out that under Christie's watch, United Airlines bailed on Atlantic City.
Christie struck back, pointing out to the senator that no one cares anymore whose watch was what, who was right and who was wrong at this point.
The city's broken now, "We're trying to fix it," Christie told the group, according to a source with knowledge of the meeting.