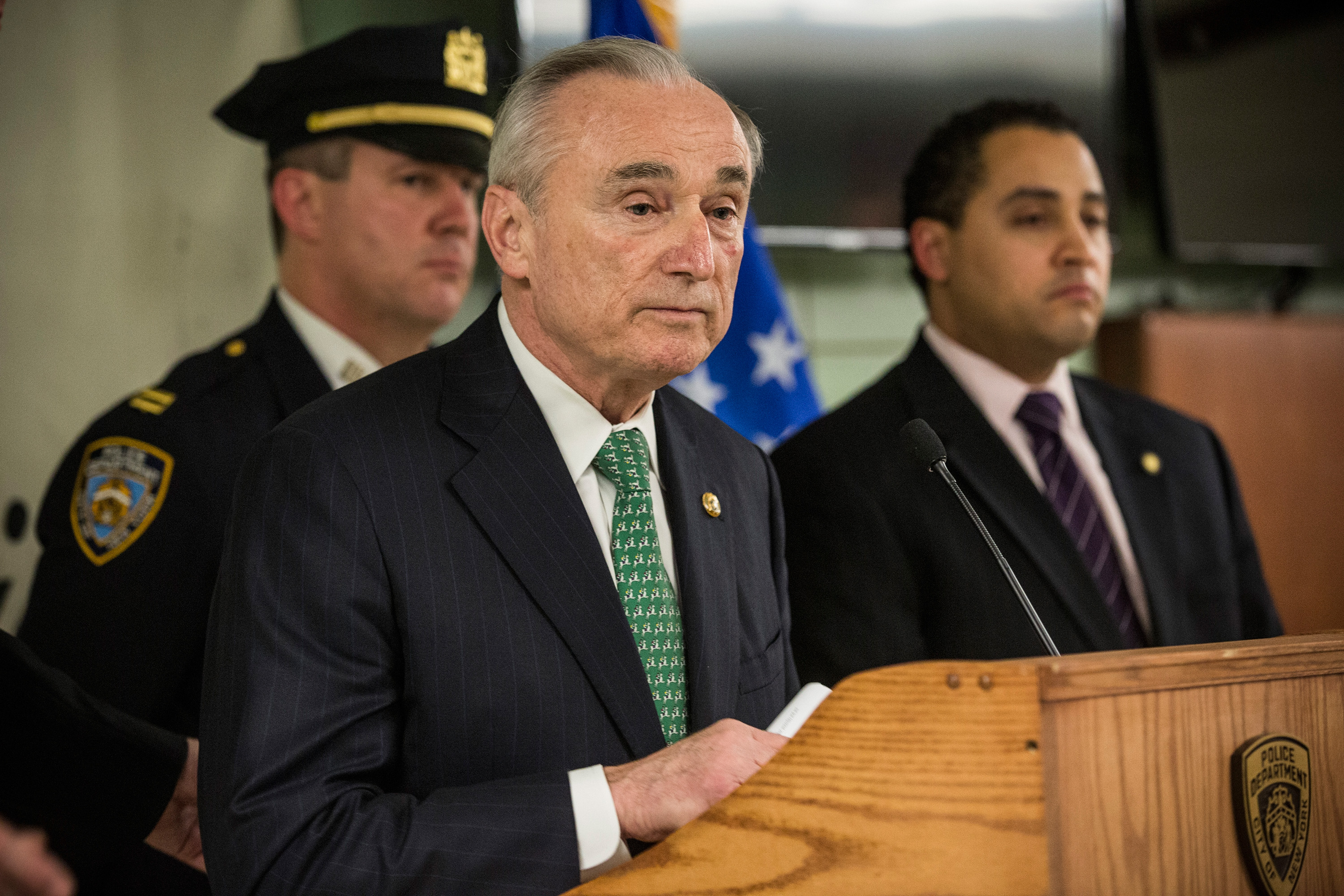 You can express your opinion, but you can't throw paint at the police commissioner.
That was the message from Mayor Bill de Blasio today as he blasted a protester's "cowardly act" of splashing red paint on Commissioner Bill Bratton at last night's demonstrations surrounding a police shooting in Ferguson, Mo.
"It was absolutely a cowardly and inappropriate act for anyone to assault a public servant who's–you know, any public servant, but particularly a public servant who's doing so much good–I found it fundamentally inappropriate," Mr. de Blasio told reporters at an unrelated press conference in the Bronx.
Police arrested Diego Ibanez of Brooklyn last night for throwing red paint striking Mr. Bratton and his security detail "in the face and body," according to the NYPD. Mr. Ibanez was among dozens protesting in the streets of New York following a decision from a Missouri grand jury not to indict police officer Darren Wilson for fatally shooting an unarmed black teenager, Michael Brown.
Mr. Ibanez was charged with assault on a police officer, criminal mischief, obstructing governmental administration, disorderly conduct, harassment, and reckless endangerment.
Mr. Bratton, who earlier in the night had been harangued by protesters at a speech he delivered at New York University Law School, was on the scene to monitor the protests firsthand. He was unfazed by the splash, Mr. de Blasio said.
"It's a measure of the leadership of Commissioner Bratton that he was at the site supervising the situation, and was absolutely unflappable throughout the whole thing," Mr. de Blasio said. "He called me afterwards, cool in the saddle as always, and I admire that."
Demonstrators are taking to the streets again tonight, beginning in Union Square.
"If anyone wants to express their opinions, they can — but that was a very cowardly act," the mayor said.