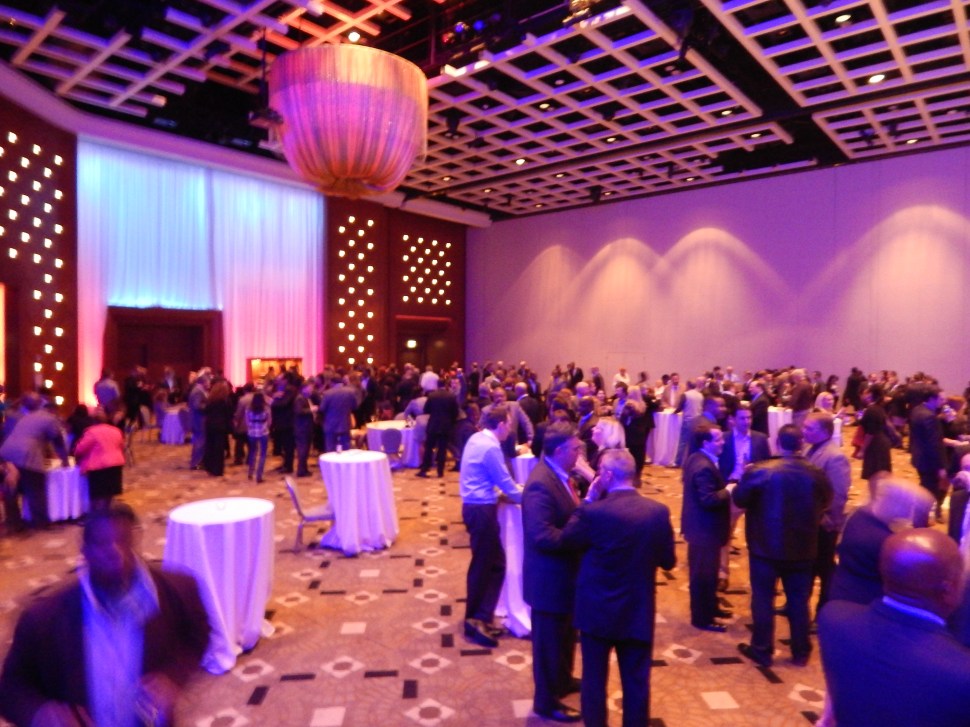 ATLANTIC CITY – His appearances at select League of Municipality cocktail parties may have the New Jersey political world abuzz this week, but Phil Murphy isn't budging when it comes to answering the question: will he run for governor?
"I'm still seriously thinking about it," Murphy told PolitickerNJ last night at the Borgata.
Murphy, who recently returned to the Garden State after stints abroad, first as the finance chair of the Democratic National Committee and more recently as a U.S. Ambassador to Germany, looks to be an early front-runner for the Democratic nomination in 2017's gubernatorial races. He's been a staple at gatherings during this year's annual League of Municipalities conference, appearing yesterday evening first at Assembly Majority leader Lou Greenwald's reception at One Atlantic, and later here, at a party sponsored by Union County Assemblyman Jerry Green and Woodbridge Mayor John McCormac.
He'll also be front and center at his own function tonight, where he'll appear alongside rock star and "personal friend" Jon Bon Jovi at Bally's ballroom.
Indeed, most agree the Democrat is trying to make a statement regarding his own political ambitions, given his sudden resurface onto the political scene. He recently launched his own non-profit, New Start New Jersey, a 501(c)(4) middle class advocacy organization, and he's minced no words admitting that he's considering a gubernatorial run. His presence in Atlantic City this week has only added to the chatter — both positive and negative.
"Some people think it's classy, other people think it's presumptuous," one insider told PolitickerNJ, referring to Murphy's appearances at Greenwald's and McCormac's events.
But for his part, Murphy said he's simply trying to "reconnect with friends" following his years working outside the state. He told PolitickerNJ that he and Greenwald had met originally in 2005, when he was chairing a pension and healthcare benefits task force under then Gov. Richard Codey. He said Greenwald was "one of the most impressive people" he worked with during that time.
As for the Green-McCormac event, which also co-hosted by Trenton Mayor Eric Jackson, he was there to glean insight from "guys who are close to the ground" for his future work with New Start New Jersey.
"So guys like John, guys who are close to the ground, who are running cities and running them without deficits and running them without tax rates, you want to know how those guys are doing," he said, adding that he's also "intrigued" by the way Jackson is dealing with his own city's problems.
Asked if he's given himself a deadline to declare a gubernatorial run, Murphy said it's still too early to think about.
"A lot of that has to do with the family clock, in terms of our own personal decisions, and part of it has to do with the timing of the elections," he said. "My guess is that the next governor is not putting his hand on the bible until January of 2018."