ELIZABETH – The Rocky theme music inevitably sounded from a wiseguy onlooker as Rafael Fajardo jogged up the steps of City Hall, a building that does, in fact, resemble the Philadelphia Art Museum.
But at the top of the stairs, Fajardo – literally running in today's Elizabeth Board of Education race – did the exact opposite of throwing up his hands and doing a victory dance as he turned and mugged for the camera, shrugging his shoulders in big exaggerated dismay at the sight of the sign: "Building Closed."
"Closed! Why?" he demanded.
He and BOE minder Don Goncalves concluded that the locked public building could mean but one thing: the concentration of city hall forces on the forward lines of Election Day, mobilized to take down Fajardo.
Running with a pair of teammates and concentrated on keeping control of the board in the face of an onslaught by state Sen. Ray Lesniak (D-20) and Mayor Chris Bollwage, Fajardo marched back down the steps and came face to face with a woman, Florida Torres, clutching a payment she had hoped to make at City Hall.
"Incredible," Fajardo announced. "This woman could not conduct public business at City Hall today."
He ran into a man in the street on a motorcycle with his paramour clutching the back of his neck.
"We wanted to get married," the man told Fajardo. "We can't."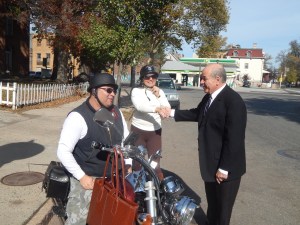 "You can't get married!" Fajardo repeated, appalled, before piling into Goncalves's SUV and heading to a local barbershop to grab a haircut.
"Getting a haircut on Election Day. It feels like New Hampshire," Goncalves deadpanned. "The road to the White House leads through Elizabeth, New Jersey."
"I can tell you this," Fajardo said. "The schools are not closed today."
A source connected to City Hall rolled his eyes.
"City Hall is always closed on Election Day," he grumbled.
They're feeling good today, bucked up by the presence of Republican U.S. Senate candidate Jeff Bell on the ballot, hardly the kind of threatening figure who might put U.S. Sen. Cory Booker (D-NJ) against the wall and activate a party establishment surge.
"It's quiet so far," said Tony Teixeira, Lesniak's chief of staff, noting morning turnout.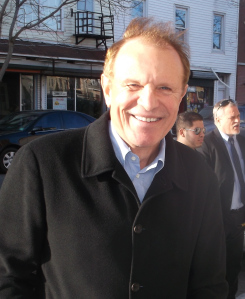 Both sides anticipate a late-in-the-day battle in the North end, in the Portuguese neighborhood where Councilman Manny Grova – a Bollwage/Lesniak ally – wants his charge – Maria Carvalho to win.
Fajardo's running mate Paul Perreira – also has Portuguese roots, and the opposing forces are mildly slapping at one another, each arguing a better claim on the community's vote.
Longtime Fajardo ally Tony Monteiro said he felt confident.
"I think what happened here is we woke Ray up in 2011 and he woke us up in 2013, and now we're in a good place and ready," said the veteran Elizabeth politico. "I am very happy with our vote by mail drive. It reflects an operation very much engaged."
Helping on that front, Oscar Ocasio hustled to and from Fajardo's real estate office.
"THE VBMs look very good," said Ocasio, who ran for mayor in 2012 and lost to Bollwage.
"Bollwage didn't beat me," Ocasio said. "Come on, Chris, that wasn't you – it was Obama. Obama was on the ballot. How was I supposed to compete with that?"
Running in November School Board elections, Fajardo and his allies went 2-1 in 2012, in a high turnout presidential year, and 1-2 last year.
Monteiro insisted that the 2013 wake-up call has motivated BOE members who see a different Obama on the national landscape than the one who ran for re-election in 2012, and again, a moribund U.S. Senate candidacy in Bell.
"Who is Jeff Bell?" Fajardo asked aloud, as he scrambled toward another outreached hand.