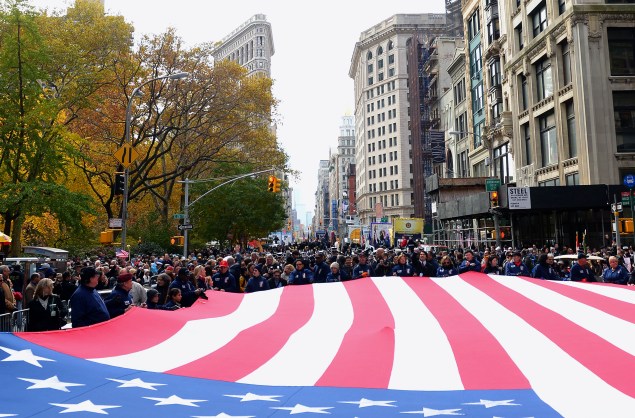 The nonprofit group that stages New York's Veterans Day Parade every November 11 is apparently marching in the wrong direction. Beset by a barrage of financial woes, the United War Veterans Council Inc. (U.W.V.C.) has been struggling to pull off the annual rite.
"I'm not sure they are going to be able to do [the parade] this year," Bill White, the organization's chief fundraiser told the Observer last month. "Donations are down, expenses are up, and I'm just not sure who is going to step up and close the funding gap."
At the time, Mr. White maintained that he was working every possible angle to save the parade, including calling the White House to get Marine Corps Commanding General Joseph Dunford excused from an official ceremony at Arlington National Cemetery to instead attend the New York event. The hope was that former Marines might write last-minute checks to support top brass in the parade.
Then, on October 29, just two weeks before the parade — ABOUT FACE! Mr. White, former president of the Intrepid Sea, Air & Space Museum, emailed the Observer with good news. The show will seemingly go on. Mr. White said he secured $150,000 from "two large, and several smaller donors," which he declined to name. The parade's rescuers apparently emerged from a pair of events he had organized, including a $25,000 per plate fund-raising dinner for Democratic candidates at his Chelsea brownstone that President Obama attended. Mr. White placed military service medallions on every place setting, including the president's table. When guests inquired about what they were, he steered the conversation toward the expense and sacrifice that returning (especially wounded) veterans must bear. He then was able to discuss the funding requirements needed to stage the parade.
Mission accomplished? Not so fast. The reasons why this year's parade, an event that typically draws more than 20,000 marchers, was in limbo shines an unflattering light on the nonprofit that stages the parade to honor our veterans. The Observer inspected the U.W.V.C.'s tax filings, and found many questionable expenses.
Expenses for the parade are way up, in large part because Mr. White and other leaders of the U.W.V.C. have been spending significantly more on fundraising than parade expenses.
A former president of the Intrepid Sea, Air & Space Museum, Bill White, 47, is indisputably one of the biggest fundraisers for veteran-related causes. New Yorkers, though, might recall him as one of many politically connected local lawyers and political players caught up in a recent Pay-to-Play Scandal.
In 2010, the attorney general's office entered into a $1 million agreement with Mr. White after an investigation revealed he brokered deals without a license and took undisclosed payments from companies seeking investments from the New York State Common Retirement Fund, controlled by then-former State Comptroller Alan Hevesi.
Before 1987, the American Legion organized the Veterans Day Parade, and the annual march was nothing compared to the Thanksgiving extravaganza sponsored by Macy's. As U.W.V.C. President Vincent McGowan, a Vietnam veteran, told Business Insider last year, the event amounted to "25 guys with a snare drum."
After the American Legion decided to stop organizing the parade, U.W.V.C. parachuted in. Mr. McGowan, a former Marine Corps sergeant who serves as president and Joseph Graham, an ex-Air Force military policeman who is the organization's secretary, sought to change how veterans groups interact with society.
Unlike the American Legion, which Mr. Graham said marginalized Vietnam-era veterans like himself, U.W.V.C. had only one question for prospective members: "Did you serve honorably?"
The group took over the parade and welcomed gay veterans and former soldiers of every conceivable view and background. They didn't distinguish between someone who survived the Battle of Fallujah or a 1970s peacetime veteran of the Coast Guard.
"More importantly, we sought to get any veteran all the information we could about public and private services available for them," said Mr. Graham by phone.
So the parade grew from a ragtag army to an estimated 25,000-strong force in 2013. Along the way, however, the group moved away from its roots as a lean operation and into a bloated fund-raising machine.
Military planners call that mission creep.
In 2004, according to U.W.V.C.'s annual IRS filings, it cost just $14,557 to get over 20,000 current and former military members down Fifth Avenue. The following year, the group raised just over $88,000 and drew more than 23,000 marchers, which cost less than $35,000.
Starting in 2011, though, U.W.V.C. rebranded the event as "America's Parade," the centerpiece of a weeklong veteran-centered celebration. Moreover, the parade was now broadcast live across the tri-state area.
Goodbye sub-$20,000 budgets, hello six-figure production deals with entertainment giant IMG and Fox Television. Buried in both the 2011 and 2012 filings were a pair of line-item expenses that merit attention: $776,372 for "ESP" and $538,263 to "H-Hour Productions"—event-planning companies owned by U.W.V.C.'s executive director Pat Gualtieri, along with deputy director Ryan Hegg.
Mr. Gualtieri, who advised Tom Cruise during the filming of Born on the Fourth of July, has only one other mention in recent U.W.V.C. filings — back in 2005, when he was paid a modest $8,955 for consulting.
Mr. White's fundraising contract cost the group $570,000 over two years. He raised $1.31 million, and kept 44 percent of what he brought in the door. For someone not doing direct marketing—i.e. not using banks of telemarketers and mailing out reams of printed solicitations—keeping that percentage of raised funds is high, even in the opaque world of non-profit funding.
In an email, Mr. White acknowledged having a contract that paid him $30,000 per month for most of 2011 and 2012, but described his contribution to U.W.V.C. in broader terms.
"It's not about the money—it never is," he said about a client of his that had essentially run out of money. "It's about the significant piece of the parade I bring to the table. The television platform, those are my relationships, longstanding ones with Rupert Murdoch and Roger Ailes."
Mr. White may well have strong personal relationships with Mr. Murdoch and Mr. Ailes—he sits on a News Corp. Global Diversity board—but in 2012 News Corp. still charged his client $200,000 for broadcasting the parade for a few hours locally on Channel 5.
Despite Mr. White's fundraising prowess, he can't seem to close an almost $330,000 gap in 2012, the last year in which the U.W.V.C. filed a 990.
In 2012, U.W.V.C. raised more than $4 million. Still, it reported a $329,000 loss. "It's just brutal out there right now for us," Mr. White said last month.
There are several head-scratching entries in U.W.V.C.'s previous filings. For instance, board member Philip Ragusa—the former Queens GOP chief who died this summer—had long provided free bookkeeping services, but suddenly billed the group $70,000 in 2012.
And board member Raymond J. Lustig, a lawyer from Douglaston, Queens, started drawing a $104,000 salary after several years of pro bono service. Contacted by the Observer, Mr. Lustig said he would love to talk, but was unable to obtain approval from U.W.V.C. to discuss his work with the organization.
Other U.W.V.C. board members, like Mr. McGowan and his son, Douglas, an ex-Marine and current Barclays' banker, along with Manhattan lawyer, Harvey Bagg, declined to be interviewed for the article.
A spokesperson for U.W.V.C., Pat Smith of Rubenstein Associates, declined to discuss specifics of the organization's fundraising practices.
"Through the generous support of individuals and businesses," Mr. Smith said in a statement, "and the tireless efforts of volunteers and staff, the United War Veterans Council has restored the New York City Veterans Day Parade from the edge of extinction, to where it is today – the largest celebration of service in America."
Whether the parade still remains on the "edge of extinction" is debatable. Mr. White for one disputes the notion that the U.W.V.C. leadership has let down veterans. "We, and especially myself," said Mr. White, "are doing everything we can to provide a parade for those who ensure that everyone else can have a parade."
This article has been corrected to characterize Mr. White's legal agreement with the attorney general's office more accurately.