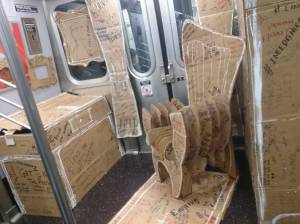 With the amount of time that millions of New Yorkers use the subway for their long daily commutes, many probably feel like they live on the subway. But probably not enough to construct a cardboard apartment set inside one of the trains.
According to Gothamist, someone went and did just that Tuesday morning. An enterprising New Yorker has created a cardboard living room, complete with an impressively constructed chair, rug, dresser, and even curtains, blocking off an entire seating section of the train. The set is covered in handwritten comments, such as "Empathy" and "You could be me," presumably intended to raise awareness for New York's homeless.
The MTA's head of External Communications, Adam Lisberg, stated to Gothamist: "I don't know what the heck it is, but if it impeded any of our 6 million daily customers from getting on a train or finding a seat, it never should have been there in the first place."
The subway has cleaners, who go through the trains at the end of each line to clean up any litter, have probably removed the installation by now. Mr. Lisberg told the Observer, "I would sure hope that whoever did this prank would have cleaned it up and took it away themselves because it's a really lousy thing to leave it on the train for our people to have to go through."
The MTA had no information on what line this assembly ran on, or whether it was there during this morning's rush hour. The photo originated on Reddit.
"I will make the assumption that it's not there anymore. We have bigger things to worry about," Mr. Lisberg said.