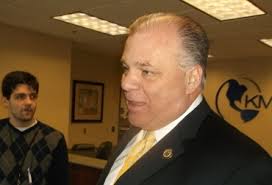 State Senate President Steve Sweeney (D-3) will meet with members of the New Jersey Urban Mayors Association next Wednesday, during the New Jersey League of Municipalities Annual Conference. The joint meeting/media briefing will focus on strategies to reduce crime and make improvements to the infrastructure of New Jersey's municipalities.
The briefing will take place in the Pearl Ballroom, located on the second floor of the Sheraton Atlantic City Convention Center Hotel in Atlantic City, on Wednesday, Nov. 19 at 9 a.m.
"This is another opportunity to engage in a direct discussion with the leaders of New Jersey's cities about their top concerns, including crime and transportation," said Sweeney, a potential 2017 Democratic gubernatorial candidate, in a written statement on Friday. "We need to work together to find ways to make our urban communities safer and to improve the roads, bridges and railways that are so important to the cities and the state. This will be a productive forum to better understand the challenges and the solutions."
"The idea here is to share best practices, create an open dialogue, giving an opportunity for our urban mayors to voice their concerns to Senate President Sweeney. I am confident that he is ready to listen and address the topics that mainly affect these urban communities," said Perth Amboy Mayor Wilda Diaz, President of the New Jersey Urban Mayors Association, in a written statement on Friday.
Mayors from several of New Jersey's cities and municipalities, including Asbury Park, Atlantic City, Bridgeton, Camden, Irvington, Paterson, Pleasantville, Rosedale, Trenton and Willingboro, are scheduled to attend.