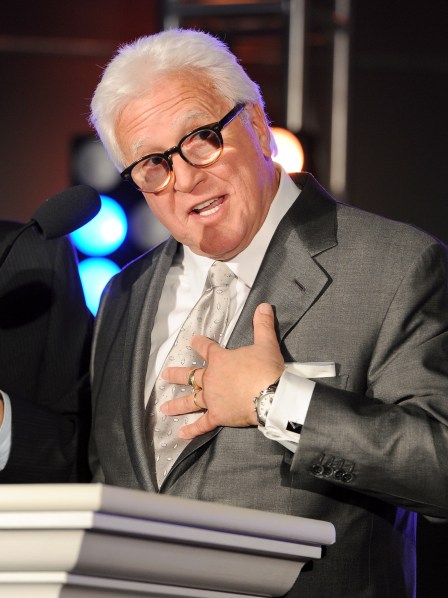 Who would have ever thought that in a television landscape peppered with the highest highs, the lowest lows, and more changes and "Golden Ages" than you can count, that one of the most solid mainstays of all time would be a show about people's home videos?
Well, maybe it's not that hard to imagine now, in a time when Vine's have shrunk our content to a mere six seconds and Youtube videos more than likely score higher viewings than most ABC comedies. But back in 1989, it was TV producer Vin Di Bona that thought of America's Funniest Home Videos, adapted from a Japanese variety show (also, by the way, the first time anyone did that as well.) Before, during and after AFV, Di Bona has been a television heavy weight, producing not only Funniest Videos but multiple spinoffs, Entertainment Tonight, and even MacGyver back in the day. The founder of both Vin Di Bona Productions and Fishbowl Worldwide Media, Di Bona has kept his name relevant in the television world largely by adapting to the times while others stayed stubborn.
And yes, like most things these days, this adaption involves GIFs. Recently, AFV inked a deal with image-hosting site IMGUR to feature classic Funniest Video's clips in looping GIF format.
I met up with Di Bona for coffee at the Regis Hotel in New York, while the long-time producer was in town to serve as keynote speaker for New York Television Week, and he was everything I expected. Flamboyant while remaining soft-spoken, the 70-year old answered every question with a full-blown story or memory, and dropped incredible names as easy as he sipped his coffee (incredible, whether my tiny millennial brain could recognize them or not.)
Yes, we discussed the IMGUR deal, and how the idea of internet GIFS and viral videos are all an off-spring of Funniest Videos in the first place. "The Average Joe has become the Hollywood Producer," Mr. Di Bona said.
But mostly, it was just fascinating to listen to the asides from a television personality that has basically met everyone there is to meet and done everything there is to do. Here are ten stories, memories and words of wisdom learned over breakfast with Vin Di Bona.
Mr. Di Bona began his career as a musician, recording his first album in Memphis with Elvis Presley's back-up singers and the man who invented heavy metal. 
"I was a ballad singer, and it had a bit of a country flavor. I had Floyd Kramer on the piano — but you probably don't even know who that is. And The Jordanaires and the Anita Kerr Singers, who used to back Presley. And a guy named Grady Martin, who created the fuzz sound on a guitar, which then basically became heavy metal 20 years later.  It was a mild hit on the east coast. Then about a year later, the Beatles hit and ballad singers were out."
Dick Clark gave him invaluable early career advice, because of course he did.
"I had a tape I made at Emerson [College], and a friend of a friend said if you go out to LA, you should meet with Dick Clark. So I did, and Dick looked at my tape and said 'You're very good. But here's the problem.' He said 'let's say CBS calls me and says Dick, we want to do a music special, and I say I have just the right guy. His name is Vin, he's from Boston,he's terrific.' And the show fails, and the network says to me, 'Dick, what the hell were you thinking?'

Dick said, 'If I hire Marty Pasetta, and the show fails, and they ask Dick, what happened? I get to say, I don't know, I hired Marty.' That's the dilemma. Once you understand that, then you go about getting work."
Mr. Di Bona then had advice for another upstart…the Observer reporter sitting across from him. 
"I have a philosophy about success. It may be right or it may be wrong. I think there's four elements. I think it's preparation. I think here's execution. There's expertise, and then there's luck."
Mr. Di Bona pitched the idea for Funniest Videos's predecessor, Animal Crack Ups, 136 times. AFV's pilot was picked up in four minutes, and orderd for a full season immediately afterwards. 
"The next day ABC called me in and said 'we want to order 11 shows, can you do that?' And I said 'Of course I can do that.' I walked out the door, and I said to my agent, 'Shit, no way can we do that.' So as early as four months ago,[Walt Disney Company CEO] Bob Iger told me, 'When you walked out the door that day, [previous ABC president] Ted Harbert turned to me and said that is never gonna happen.'"
ABC executives didn't know who Bob Saget was…while Bob Saget was hosting America's Funniest Home Videos.
"I'm the one that hired Bob saget, I liked him a lot and they didn't even know who he was. ABC said, 'whose Bob Saget?' And I was like 'he's on your show!'"
Sesame Street — yes, Sesame Street — is responsible for audience's demand for shorter content.
"I have a theory. In the 70s, late 60s early 70s, in the sitcom, you'd have maybe three jokes a minute. So you can set it up, you know, Bob Newhart, Dick van Dyke, Mary Tyler Moore, they'd set it up. You'd buy the premise, you'd buy the bit. Then Sesame Street comes along, and Sesame Street taught you how to count – 123456 10 – super fast. And I think people wanted more stuff in a shorter timeframe. I think that affected comedy writing, because those kids were growing up in the 80s, and I think that shift changed television, from Sesame Street. Only my humble theory."
Mr. Di Bona obviously understands the need for modern TV shows to have a "GIF-able moment," and he thinks Outlander is far and ahead doing it best. 
"I think GIFS and viral videos have generated from folks that crave short content. If I were doing something from a dramatic show, there's always the need for 'that moment.' Outlander, on Starz? When [Jonathan Randall] punched [Claire Frasier] in the stomach – that's a terrible moment, I would never do that , but that's the kind of moment you need to have."
Vin Di Bona was greatly effected by the (SPOILERS) death of Nucky Thompson on the Boardwalk Empire finale.
"I must tell you, the last episode of Boardwalk Empire…when he was shot I had such compassion for him. I thought about that shot for two days and I was talking to a friend of mine at a board meeting at Emerson, and I said 'I've been saddened by Nucky's demise for two days.' And I never expected that to happen. Oh my god."
The mantra for modern day content creation is comparable to the opinions of a sex-and-drugs tolerating old woman. 
"You know, I interviewed this little old lady once in Boston. She was about 5 feet tall, maybe 90, she was wearing this powder blue Chanel outfit, and I was doing this piece on students and sexuality and drugs. And this little old lady told me 'Oh, I love the students.' And I asked 'what about sex, and drugs?' And she said, 'Oh, well that's bound to happen. But if everything is done in moderation, everything will be fine.' That's kind of the mantra you can go with for television. If people are creating positive content, if people just use their friggen' brains, I think it's a big plus…in moderation."
New York City is on the rise in the television world, and it's effecting California.
"Well [New York] has all these great sanctions. I'm a member of the Hollywood Chamber of Commerce, and believe me we wish we could do what New York is doing. And it's hurtful to [LA], successful to you guys. I keep seeing these things, 'Come to New York and you won't pay taxes for ten years.' Whoa! That's amazing. I think what you're doing — I'm questionable about Taylor Swift — but I think you've done the right thing. The Tonight Show, that was such huge loss for us. It echoed down to the donut and coffee shops. It trickled down so much. It's become a challenge for us, and [New York] is ahead of the curve…You bastards."