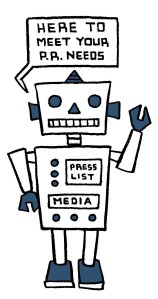 PR people, who needs you?
Robot services like San Francisco-based PressFriendly—touted as "Turbo Tax for PR"—claim to do PR grunt work like press releases and media lists. 
About the only thing they don't do is pick up the phone and pitch, but nobody still does that anyway.
But do they work? 
To find out, I took PressFriendly for a test run. 
I ran a trial for a fictional online fashion business. PressFriendly's "story wizard" asks the right questions: What's the elevator pitch for your business? What are the strongest story angles? What's the takeaway for media? 
But a start-up might not know the best answers, which is exactly why they'd pay a PR agency. My own experience has been that clients might know how to market, but they have no clue how to package stories. 
Since I didn't pay PressFriendly's $149 monthly fee, I didn't get to see a complete media list worked up to my specs. But PressFriendly did offer a peek at two of the 36 names it dredged up: Someone at 7 x 7, an irrelevant SF glossy, and PSFK.com, which appears to be the blog of a content company.
The first line of the robot-generated pitch was also not of the stop-the-presses variety: "I wanted to bring [my fake business] to your attention. We've got a company launch coming up that I think is a good match for you." As a former PR person, I think it's dull. As a working journalist now, I'd probably hit delete after the first 12 words.
Most of PressFriendly's 200 clients are tech start-ups with generally vertical needs, founder Joel Andren told me. They pay anywhere from $99 a month for a basic media list and formatted pitch note to about $1,000 a month, which includes 10 hours of counsel from a "PR Rep" along with the basics. 
And there's the rub: Even Andren acknowledges that his clients need help from a real, live PR person to make PressFriendly really work. 
"Our wizards can get them 85-90 percent of the way there. But campaigns still require an expert's touch," he admits. "There's always, obviously, a human element." One of Mr. Andren's two in-house rabbis worked at Best Buy's corporate PR; the other's an agency refugee from Publicis-owned MSL Group.
Let's just say that if you're a publicist and you're reading this, don't panic about your job. If you're a potential client, you might be better off with Mad Libs and a good intern.