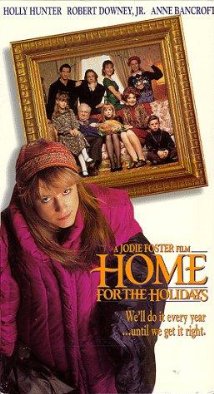 It's almost Thanksgiving, the one day a year where virtually every American will have the same basic dinner. And people have to talk about something over turkey and stuffing! But there are some topics that are best avoided while eating with extended family. Sure, there are those potentially fraught subjects, like politics or marriage status or lingering childhood resentment, that are wise to stay away from. But that's obvious. Or at least it should be. We've all seen Home for the Holidays, right?
But there are less obvious conversations that don't need to happen at a family dinner. These aren't the ones that will provoke arguments. They are the ones that cause blank stares and the realization that few people outside of media really understand all the things that we spend our days writing and talking about.
Remember, just because we spend our days tweeting about the media, it doesn't mean other people at the table do. So in the interest of a happy holiday, here's a (partial) list of subjects not to bring up.
Serial: Just because David Carr wrote that "people will gather around tables everywhere and, well, talk about how bummed they are that 'Serial,' the wildly popular podcast, is taking Thanksgiving off" doesn't mean it's true. (Note: Go ahead and ignore this advice if your family happens to include two or more public defenders, at least one podcast aficionado, or Ira Glass.)

Racket Teen: Your family doesn't know what a Tumblr is and doesn't want to hear about a website that didn't launch. A good rule of thumb is that if you find yourself about to say "Internet joke," just stop. Actually, if you find yourself referring to "The Internet" as a thing, it's probably a good time to put some mashed potatoes in your mouth.

#GamerGate: Duh. This should go with out saying.

The New York Times' Brooklyn coverage: Brooklyn? Fine, whatever, it's almost impossible to avoid. But whether The New York Times writes about Brooklyn too much? No. Your family probably likes those stories.

The Feud between Amazon and Hachette: If they ask, then you can bring it up. But really, only if they ask.

These words and phrases: native advertising, sponsored content, content, banner ads, Twitter feuds, user engagement, digital trends, pageviews, off the record, webisode, platform, platisher, trend stories, newsletter, mobile, Tweetstorm, Twitterverse, Twitter canoe, inside baseball, a source said …
So what should you talk about? Great question. Let us know if you figure it out.