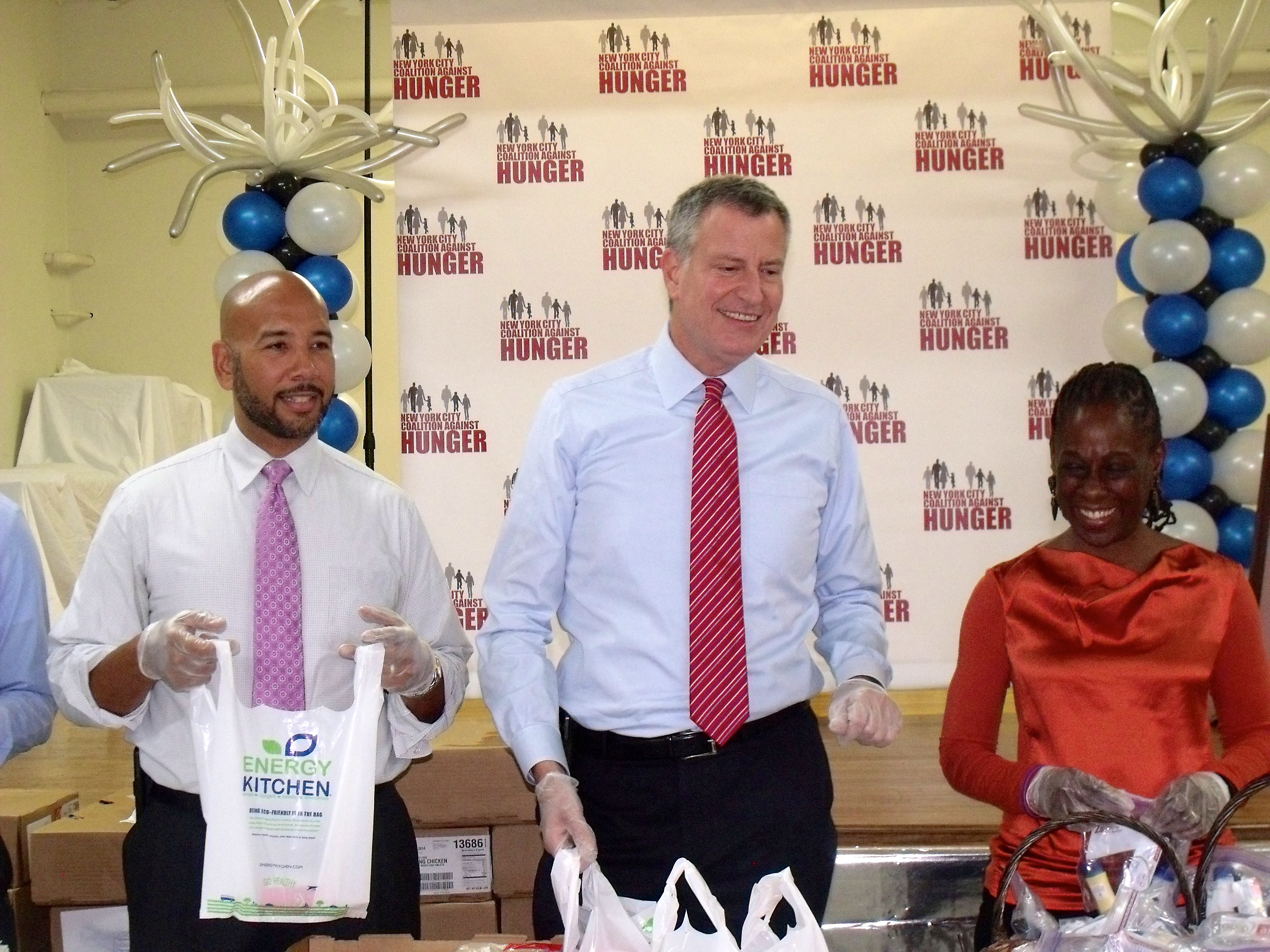 It's an issue that lacks the pizzaz of police reform, or the enthusiasm surrounding Ebola quarantines. But some 1.4 million New Yorkers are hungry, and Thanksgiving week is one of the few moments each year the issue is in the spotlight.
"We believe the job is not done until everyone has enough to eat. This will be a long road. That's the only standard that we can hold here," Mayor Bill de Blasio said after handing out groceries at a food pantry in the Bronx on Tuesday.
But even this time of year, the issue of hunger has competition for headlines — and the attention of elected officials. At an oversight hearing of the General Welfare Committee on hunger in the city, just one member — the chairman, Stephen Levin — was present to hear the city's Human Resources Administration commissioner testify, with another council member dropping in later on in the hearing.
"I don't think the problem is elected officials. I think as a society, we have to address this question more," Mr. Blasio told the Observer Tuesday at the Bronx food pantry press conference. "I think because of the sheer extent of the problem, it's hard for people to focus on. It's a painful reality."
Mr. Levin, who oversees the committee, didn't respond to a request for comment.
Mr. de Blasio pointed out he once chaired the general welfare committee, and said hunger is an issue he's "worked on for years." Joel Berg, executive director of the New York City Coalition Against Hunger, heaped praise on him for bringing a renewed focus to the problem since taking office. Mr. Berg called Mr. de Blasio's remarks on hunger — in which he outlined plans to combat income inequality and connect more New Yorkers with benefits like food stamps — the "first time a mayor has personally made a substantive policy announcement on hunger" in 20 years.
But Mr. de Blasio and others allowed that it's an issue that simply doesn't garner the same attention as others.
"When you think about a lot of the issues we focus on in public life – when you look at a lot of the issues that get talked about in the media – you know, we often want a problem that has already an immediate solution. It's a human tendency," Mr. de Blasio said. "This one is huge and complicated and deep-seated. So, I think a lot of people care. I don't think it gets enough examination in general, partly because it is so challenging with such a big fundamental challenge. But we're focused on it."
Mr. Berg was among those testifying at the sparsely attended Council hearing, and he too pointed out the press does not give much ink to issues of hunger and poverty.
"Not to say that politicians only do stuff that is covered by the media, but there is positive and negative reinforcement," he said.
At Mr. de Blasio's event Tuesday, there were few questions from reporters about the city's food pantries.
"You had the mayor of New York City make a substantive announcement — and the AP story on it focused on where he's eating Thanksgiving," Mr. Berg said.
Beau Heyen, chief operating officer of the Masbia Soup Kitchen Network, also testified at the hearing — and hastened to point out that it was a busy day for the Council. The committees on health and transportation were also meeting at the same time, and there had been a legislative breakfast about hunger that morning.
"This is an issue they talk about all the time, and they definitely are in conversations with us very often," Mr. Heyen said of many Council members.
Mr. Berg, too, said the City Council has been very supportive of the fight against hunger.
"I would say regardless of who showed up at a particular event, the truth is over the least 13 years I've been with this group, we've seen very, very strong support from the Council and the public advocates at the time," Mr. Berg said. "When the Bloomberg administration was hostile — or on a good day just ignored it — or denied it, they were really out there."
Still, Mr. Heyen noted the hearing offered valuable insights on how to make New York's own anti-hunger initiatives more efficient in the wake of federal cuts.
"Definitely, I want to see more of our representatives in meetings like that. I think it's just challenging in a week like that," he said, of the short Thanksgiving week front-loaded with Council meetings and constituent events.
The Council has provided a great deal of discretionary budget funding to help feed New Yorkers, he said, and the city's overall focus on curbing poverty was also welcome — and could lessen the strain on food pantries.
"The administration really has a 360-degree look at what causes poverty — the issue of a living wage, the issue of affordable housing, all comes into play," he said.
Still, Mr. Berg and Mr. Heyen remained hopeful the issue will get even more attention going forward — on bigger stages and on more days of the year.
"Do I want my elected officials to do more and better? Yes," Mr. Berg said. "But honestly the problem isn't New York City — it's the problem with the rest of the country."
Mr. Heyen said the city talks about hunger "in the week that it's cool to talk about hunger."
"This is isn't the only time of year to have this conversation," he said. "This is the easy time of year to have this conversation, because everyone identifies with it and everyone gets the warm fuzzies."