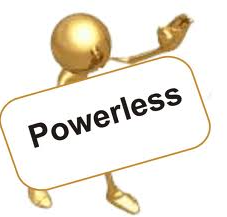 You may have noticed that this week PolitickerNJ again posted their own Power List ––answering the question on everybody's mind: Who are the most powerful and influential people in New Jersey politics?

And this year, it's just in time for Thanksgiving!  I'm sure that all of those on their list will sit around with families and friends knowing that this year they have something special to be thankful for.
Their list identifies New Jersey's 100 most influential people in politics––either through their personalities, their professions or their ability to Git-R-Done in Trenton. People whose phone calls get returned faster than the Governor can insult a teacher, head to Iowa or New Hampshire or block the GW Bridge. Someone whose advice people seek more than Doctor Phil's, whose Facebook friend you want to be, whose Tweets get re-Tweeted more than Lady Gaga's or Justin Bieber's.
People who get interviewed by CNN, Fox News, the Star-Ledger and News 12. People who get mentioned everyday in Paul Mulshine's columns. These are the people who award-winning political cartoonists Jimmy Margulies and Doug Sheneman  make sure they practice drawing juuuust right. The folks who not only have a seat at the Trenton power table, but they own all the chairs.
The Ultra-Movers. Uber-Shakers. the Super-Duper Politicos. Well, I'll have none of that for my Powerlessness List.
My list identifies the most politically non-influential personalities and people. We include anyone and everyone whose phone calls don't get returned; who never get invited anywhere anymore, ever. Those with whom photos would be a death knell in any election campaign.  Folks whose mere names elicit the response of "Who?"  in the halls of the State House. On my list, I don't worry about some arbitrary number like "100". While PolitickerNJ eliminated current office holders, former governors, former senators—we've eliminated no one.
If you no longer matter in New Jersey, you matter to me.

Once again, as opposed to the opinion–driven, rumor–mongering  method used by the folks at PolitickerNJ for their 2014 Power List, our method was scientific, empirical, data-driven, objective—and any other super-cool words used by Ben Dworkin, Patrick Murray or the rad dudes at Eagleton.
And while there are no right or wrong answers, this list does change from nano-second to nano-second—just like the flow of 'RealPolitik'. As a matter of fact, when you started reading this column, you were on the List. But because you have taken out time to read this very important stuff, you're now too important to be on the List. Puff, you're gone.
We welcome your comments. Contact me at joeynovick@gmail.com.  And if you're un-important and un-influential enough, I won't respond to your email.
New Jersey Powerlessness List 2014:

16-The Guy on Corzine's Staff who writes campaign checks to Democrats –Corzine is no longer sending regular checks to every Democratic candidate seeking any and all public office in New Jersey. The Corzine ATM is completely closed, and the guy who writes those checks for the very former governor is on the unemployment line with the rest of us.
15- Lieut. Gov. Kim Guadagno – it used to be back in the old days, that a lieutenant governor would be given the reins of power when the actual governor left the state. Not so anymore, when Chris Christie crosses New Jersey state line, or is under anesthetic due to Lap band surgery, apparently he can still run things using his iPhone, iPad or computer. As long as Christie's orders don't have more than 140 characters, he can even tweet out to staff what needs to be done – even if he's in Iowa or New Hampshire.
14- The Statue of Lou Costello in Paterson – This statue looks a lot like Governor Christie in size and girth, but unlike the governor cannot get anything done. Special note:  the cuts in the New Jersey state budget by the Governor's office sometimes do sound like a "Who's On First?" routine.
13- The Governor's Anger Management Coach – The Governor has taken on yelling and laughing at everyone from Tom Moran, to NJEA leaders, to teachers at every town meeting from Cape May to Fort Lee.  He has even taken his  "Anger Show 2014" on the road when stumping for Republican candidates around the country as the chair of the Republican Governors Association. Obviously, this anger management coach has no power whatsoever.  Special note: while the governor rejected the advice to repeat the phrase "Serenity now!"  He has taken to repeating the phrase, "This is who I am, this is who the people of New Jersey elected."
12- Solomon Dwek– In 2009, Solomon  (or Shlomo, as his  "friends" call him) was all the rage with the FBI.  His cell phone number was on the speed dial of every FBI agent assigned in Trenton.  What a difference a few years make! Now Dwek has lost his influence, and couldn't even get arrested in a New Jersey diner for stealing Splenda packets. What's on deck for Dwek?  Maybe a reality TV show on Bravo about political corruption: "Hey, I got Dwek'd!".
11-Wally Edge – It was revealed that former Livingston Mayor David Wildstein was the true identity of "Wally Edge",  the longtime editor and political commentator for PolitickerNJ.  Wildstein took a management position with the Port Authority of NY/NJ. And apparently because he needed closure, decided to close the GW Bridge. Special note: Wildstein's  payroll checks  at the Port Authority of NY/NJ  had to be written to "Wally Edge", apparently.
9- The average Democratic voter  in New Jersey – Complete loss of voting power.  We've got a Dem majority legislature and yet, our leaders couldn't come together to pass legislation that has been advocated by the Democratic Party for many years.  This gem from comedian Bill Maher:  "With stem cell research properly funded, scientists believe we could do everything from curing Parkinson's to regenerating spinal cord tissue in Democrats. …"
8- New York City bedbugs – One good thing about the blocking of the GW Bridge, is that New York City bedbugs, which have completely infested the Big Apple, have no way to get to New Jersey.  We are safe, at least for a while until they learn how to swim.
7-The entire Camden County Democratic Committee – Camden County has long been a bastion of Democratic majorities. Along with Essex County and Hudson County, Camden can be counted on to produce huge Democratic majorities that help get elect statewide Democratic candidates. But, George Norcross  maintains  such tight control everything that goes on in the county, the County Democratic Committee itself most likely does not wield much power on its own.
6-Campaign manager for Steve Lonegan – He has run for governor, senator and even traveled south to try and run for congress in the 3rd. Think he's run out of offices to run for? Think again: 2016 is just around the corner.
5- Owners of New Jersey diners -With many corrupt political officials  clearly in jail,  New Jersey diners are no longer the hip place to be  for FBI agents, informants like Solomon Dwek, and corrupt elected officials to meet over a cup of coffee  and exchange wads of cash in envelopes. Now this can be done much more easily over Facebook and PayPal.
4-Tom Anderson, the guy who founded MySpace– Facebook Founder Mark Zuckerberg was able to find $100 million to give to the city of Newark's school system  Anderson has not been as nearly as generous. The default friend of everybody on MySpace is now the proud founder of the very uncool social networking site.
3-The creative programming staff at NJTV: Because half the shows feature Steve Adubato, there is not much of a reason to schedule many other creative programs. One on One with Steve Adubato; Dancing with Steve Adubato; the Real Housewives of Adubato, Steve Adubato's Got Talent, and Last Adubato Standing are just a few of the shows to air on NJTV in 2015.
2- Chairman of the Essex, Camden Hudson County Republican Parties. Pathetic. Not even the Republican State Committee knows who these folks are. There's standing room only at the courtrooms where Democratic officeholders are being arraigned, and these guys can't even field a softball team let alone a slate of candidates. Sarah Palin wields more influence in New Jersey than this trifecta of Moe, Larry and Curley here.
But there is one person who is the least influential politico in New Jersey politics and that's…
1-Me -I'm in Hunterdon County. Getting candidates elected? I can't even predict who's gonna win on Dancing With The Stars. There's an old saying in politics. Those who can, do. Those who can't, write sarcastic blogs about those who can.