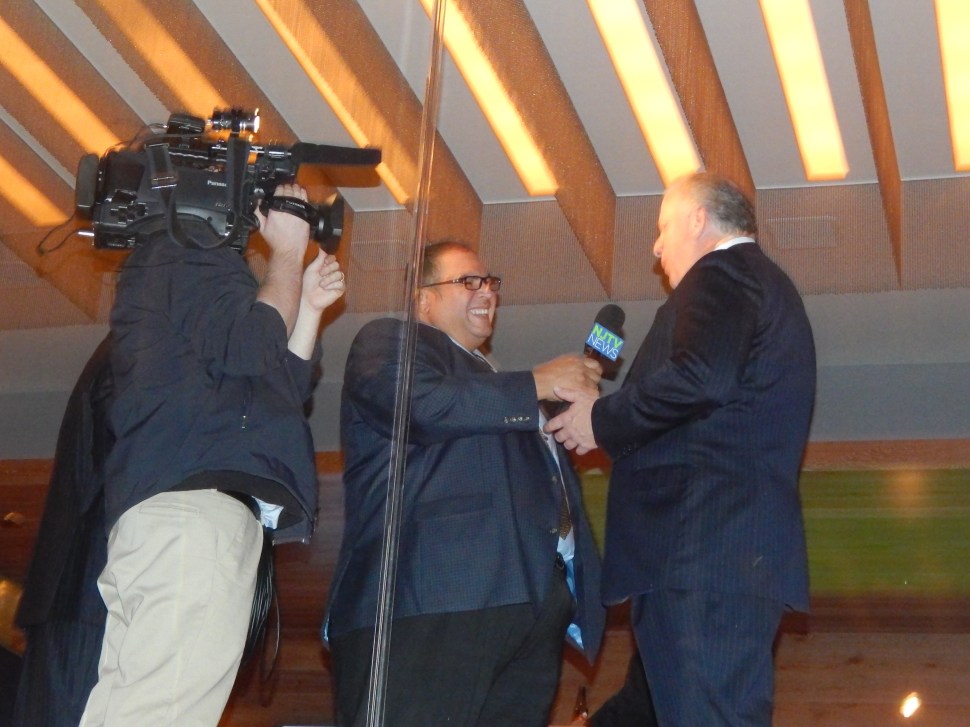 ATLANTIC CITY – A year ago it was Steve Sweeney versus Steven Fulop down here at the annual League of Municipalities Conference, but now a third wrestler has entered the statewide ring, and this one arrives with his very own rock star to combat the favorite line thrown out there by his competitors: that's he's another Jon Corzine.
That would be Phil Murphy, former U.S. Ambassador to Germany – and former Goldman Sachs prez – who will have his party tomorrow night in the company of perennial big-haired heartthrob Jon Bon Jovi.
This is progress for Murphy.
First he was Jon Corzine.
Then he was Jon Corzine with a personality.
And now he's Phil Murphy and Jon Bon Jovi.
No one else radiated rock star vibes to compete with the gesture of actually mustering a rock star.
Fulop had an early low-key Tuesday event at the Irish Pub with a smattering of political personalities basking beneath antique chandeliers, including attorney Donald Scarinci and some close-knit friends. Assemblyman Tom Giblin (D-34) appeared. Later that evening the mayor would hold his signature event at the Borgata.
There was some insider talk of Murphy as the personification of an incoming tidal wave.
"What you have to understand about Murphy," someone told PolitickerNJ, "is that from what I understand, he's not only super wealthy but super competitive. So this is not a question of him quietly entering the mix. He wants to come down to this thing this week and conquer Atlantic City – I'm going off what people have told me about him."
"It's a gimmick," another operative noted, with an edge, when asked about Bon Jovi.
Later Tuesday night and still in senate president mode, Sweeney drew a robust crowd to the pier at the end of Caesar's Palace.
Insiders abounded.
Senate Majority Leader Loretta Weinberg (D-37) turned up, and so did Assemblyman John Wisniewski (D-19). Senator Pete Barnes (D-18) was there. So were Assemblyman Wayne DeAngelo (D-14) and Assemblyman John Burzichelli (D-3).
AJ Sabath was in the room.
Essex County Clerk Chris Durkin was in the room.
It was a well-attended, packed even, and wholly professionally managed function.
"Here comes George Norcross," someone said absently near the escalators.
It wasn't Norcross, in this case.
It was actually former West New York Mayor Silverio "Sal" Vega, whose smiling face sharpened into view in the center of an entourage under a shock of white hair.
"It's the same crowd that was here last year, only older and heavier," deadpanned Jeff Tittel, chapter director of the New Jersey Sierra Club, as he nursed his drink.
Having just won the biggest race of his career as chairman with the Nov. 4th victory of Bergen County Executive-elect James Tedesco, Bergen County Democratic Chairman Lou Stellato entered the scene with a flourish and squeaking of shoe leather in the big hall.
If his political opposite existed here it was lame duck Hudson County Freeholder Jose Munoz from West New York, who was in Atlantic City specifically to attend the Sweeney event, which was co-hosted by Norcross and Hoboken Councilwoman Beth Mason.
Munoz beamed when PolitickerNJ asked him what he was doing there.
Presumably he was there trying to muster support for a commissioner's run next year against the slate of his old cyberspace nemesis incumbent Mayor Felix Roque.
Roque's aligned with the Hudson County Democratic Organization (HCDO).
Munoz is on the outside, scratching to get back in along with West New York Commissioner Count Wiley.
But these were small bore wars compared to the ongoing diatribes surrounding the Democratic Party gubernatorial drama unfolding toward 2017. And there was one enigmatic and emerging character again and again ahead of Wednesday.
"If Wiz gets in, that further fractures Middlesex County, which is already – as everyone knows – fractured," said a source, referring to Wisniewski's possible 2017 run for governor.
Yet there was another player more on the minds of those playing, and of those who played a year ago before having to change their perception of the game.
"Murphy, Murphy," baled one insider at Sweeney's party, almost unable to articulate beyond that single word his own political instinctive sense of incoming unrest.