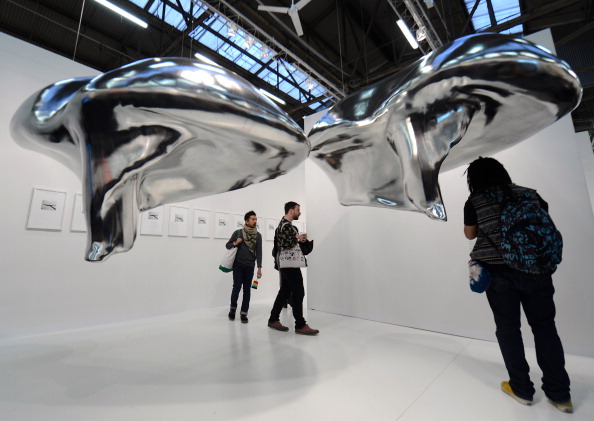 The Armory Show, the 17-year-old giant at the center of New York's own art fair week in March, has released the exhibitor list for its 2015 edition. This year's fair, directed by Noah Horowitz, will take place March 5-8 and features 197 galleries from 28 countries split between the "Modern" section on Pier 92 and "Contemporary" section on Pier 94.
On Pier 94 alone there were 141 galleries, with 105 included in the main section, 15 exhibition in "Armory Focus: Middle East, North Africa and the Mediterranean (MENAM)," curated by Omar Kholeif, and 21 galleries with the solo booth section titled "Armory Presents." "The Armory Show: Modern" on Pier 92 will sport a total of 56 galleries this year.
Some new faces this year on Pier 94 will be Cherry and Martin, Andrew Kreps gallery, Galerie Lelong, Metro Pictures, Regen Projects, and Rachel Uffner. On Pier 92, look out for newcomers Osborne Samuel Gallery, James Reinish & Associates, Inc., Shoichiro, and Zucker Art Books.
The fair will coincide with the New Museum's 2015 "Triennial: Surround Audience," which includes The Armory Show's commissioned artist Lawrence Abu Hamden.
Here is The Armory Show's complete list of 2015 exhibitors:
Pier 94: The Armory Show – Contemporary
1301PE, Los Angeles
Aanant & Zoo, Berlin
Andersen's Contemporary, Copenhagen
Albert Baronian, Brussels
Galleri Bo Bjerggaard, Copenhagen
Blain | Southern, London, Berlin
Peter Blum Gallery, New York
Marianne Boesky Gallery, New York
Galleri Brandstrup, Oslo
The Breeder, Athens
Luciana Brito Galeria, Sao Paulo
Ben Brown Fine Arts, London, Hong Kong
Buchmann Galerie, Berlin, Lugano
Cardi, Milan
Cherry and Martin, Los Angeles
James Cohan Gallery, New York, Shanghai
Galleria Monica De Cardenas, Milan, Zuoz
Massimo De Carlo, Milan, London
mfc-michèle didier, Paris
Dirimart, Istanbul
Eleven Rivington, New York
Ronald Feldman Fine Arts, New York
Zach Feuer Gallery, New York
Figge von Rosen Galerie, Cologne, Berlin
Galerie Forsblom, Helsinki
Honor Fraser, Los Angeles
Fredericks & Freiser, New York
Carl Freedman Gallery, London
Gallery Espace, New Delhi
Galerie Laurent Godin, Paris
GRIMM, Amsterdam
Kavi Gupta, Chicago, Berlin
Hales Gallery, London
James Harris Gallery, Seattle
Leila Heller Gallery, New York
Edwynn Houk Gallery, New York, Zurich
Pippy Houldsworth Gallery, London
i8 Gallery, Reykjavik
Ingleby Gallery, Edinburgh
Johnen Galerie, Berlin
Sean Kelly, New York
Kerlin Gallery, Dublin
Galerie Peter Kilchmann, Zurich
Tina Kim Gallery, New York
Kamel Mennour, Paris
Koenig & Clinton, New York
Kohn Gallery, Los Angeles
Johann König, Berlin
Andrew Kreps Gallery, New York
Kukje Gallery, Seoul
Lehmann Maupin, New York, Hong Kong
Galerie Lelong, New York, Paris
Josh Lilley, London
Lisson Gallery, London, New York, Milan
Galerie Ron Mandos, Amsterdam
Metro Pictures, New York
Yossi Milo Gallery, New York
Victoria Miro, London
Galerie Mitterrand, Paris
moniquemeloche, Chicago
Monitor, Rome, New York
mor charpentier, Paris
Mihai Nicodim Gallery, Los Angeles
Carolina Nitsch, New York
Galerie Nordenhake, Berlin, Stockholm
Galerie Nathalie Obadia, Paris, Brussels
OHWOW, Los Angeles
ONE AND J. Gallery, Seoul
GALLERIA LORCAN O'NEILL, Rome
Pace Prints, New York
Pierogi, Brooklyn
P.P.O.W, New York
PRAZ-DELAVALLADE, Paris
Galerie Eva Presenhuber, Zurich
Produzentengalerie Hamburg, Hamburg
Regen Projects, Los Angeles
Michel Rein, Paris, Brussels
Yancey Richardson Gallery, New York
Roberts & Tilton, Culver City
Galeria Nara Roesler, Sao Paulo, Rio de Janeiro
Galerie Thaddaeus Ropac, Paris, Salzburg
Galleria Lia Rumma, Milan, Naples
Aurel Scheibler, Berlin
Galerie Thomas Schulte, Berlin
Jack Shainman Gallery, New York
SKOPIA/P.-H. Jaccaud, Geneva
Sicardi Gallery, Houston
Sies + Höke, Dusseldorf
Bruce Silverstein, New York
Sprüth Magers, Berlin, London, Los Angeles
Galerie Micheline Szwajcer, Brussels
Tang Contemporary Art, Beijing
Richard Telles Fine Art, Los Angeles
Galerie Daniel Templon, Paris, Brussels
Tilton Gallery, New York
Two Palms, New York
Rachel Uffner Gallery, New York
Upstream Gallery, Amsterdam
Valentin, Paris
Galerie Georges-Philippe & Nathalie Vallois, Paris
Axel Vervoordt Gallery, Antwerp
Susanne Vielmetter Los Angeles Projects, Culver City
Max Wigram Gallery, London
Bryce Wolkowitz Gallery, New York
David Zwirner, New York, London
Pier 94: Armory Presents
Axel Vervoordt, Hong Kong: Joe Reihsen at Praz-Delavallade
Bischoff Projects, Frankfurt: Ben Thorp Brown
BolteLang, Zurich / Soy Capitán, Berlin: Henning Strassburger
Brennan & Griffin, New York: Guy Goodwin, Mary Weatherford
Galería Casado Santapau, Madrid: Ximena Garrido-Lecca, Bernd Ribbeck
C L E A R I N G, Brooklyn, Brussels: Aaron Aujla
Anat Ebgi, Los Angeles: Luke Diiorio
Edel Assanti, London: Noémie Goudal
James Fuentes, New York: Berta Fischer
Higher Pictures, New York: George Dureau
Galerie Andreas Huber, Vienna: Michael Part
M+B, Los Angeles: Jesse Stecklow
MadeIn Gallery, Shanghai: Ding Li, Xu Zhen
Galerie Max Mayer, Dusseldorf: Jan Paul Evers
Ani Molnár Gallery, Budapest: Szilárd Cseke, Péter Mátyási
Nicelle Beauchene, New York: Chris Wiley
On Stellar Rays, New York: Zipora Fried
Federica Schiavo Gallery, Rome: Andrea Sala
Sorry We're Closed, Brussels: Peter Schuyff
TORRI, Paris: Carlos Reyes
Various Small Fires (VSF), Los Angeles: Amir Nikravan
Pier 94: Armory Focus: Middle East, North Africa and the Mediterranean (MENAM)
Agial Art, Beirut: Saloua Raouda Choucair, Saba Innab, TANBAK
Alexander and Bonin, New York: Mona Hatoum
Athr Gallery, Jeddah: Ayman Yossri Daydban, Ahmed Mater
CRG Gallery, New York: Jumana Manna
EOA.Projects, London: Yazan Khalili
Galerist, Istanbul: Nil Yalter
Taymour Grahne, New York: Fayçal Baghriche, Lamia Joreige
Gypsum Gallery, Cairo: Doa Aly, Mona Marzouk, Setareh Shahbazi
Kalfayan Galleries, Athens, Thessaloniki: Adrian Paci, Hrair Sarkissian, Panos Tsagaris, Raed Yassin
Lawrie Shabibi, Dubai: Wafaa Bilal
Claude Lemand, Paris: Shafic Abboud, Dia Al-Azzawi
Lombard Freid Gallery, New York: Michael Rakowitz
Meem Gallery, Dubai: Marwan Kassab Bachi
Galeri NON, Istanbul: Lawrence Abu Hamdan, Meriç Algün Ringborg
Pi Artworks, Istanbul: Susan Hefuna
Pier 92: The Armory Show – Modern
James Barron Art, South Kent, Rome
Armand Bartos Fine Art, New York
BECK & EGGELING INTERNATIONAL FINE ART, Dusseldorf
Galeria Bergamin, Sao Paulo
John Berggruen, San Francisco
Jonathan Boos, New York, Bloomfield Village
Simon Capstick-Dale Fine Art, New York
Crane Kalman Gallery, London
Alan Cristea Gallery, London
Danese/Corey, New York
DC Moore Gallery, New York
Cecilia de Torres, Ltd., New York
Driscoll Babcock Galleries, New York
Andrew Edlin Gallery, New York
Elrick-Manley Fine Art, New York
Fleisher/Ollman, Philadelphia
Debra Force Fine Art, Inc., New York
James Goodman Gallery, New York
Howard Greenberg Gallery, New York
Hackett | Mill, San Francisco
Carl Hammer Gallery, Chicago
Antoine Helwaser Gallery, New York
Hill Gallery, Birmingham
Hirschl & Adler Modern, New York
Vivian Horan Fine Art, New York
David Klein Gallery, Birmingham
Alan Koppel Gallery, Chicago
Galleria d'Arte Maggiore G.A.M., Bologna
Marlborough Gallery, New York
Mayoral Galeria d'Art, Barcelona
Mazzoleni Galleria d'Arte, Turin, London
Moeller Fine Art, New York, Berlin
Osborne Samuel Gallery, London
James Reinish & Associates, Inc., New York
Gerald Peters Gallery, New York, Santa Fe
REPETTO GALLERY, London
Ricco/Maresca Gallery, New York
Michael Rosenfeld Gallery, New York
Galerie Michael Schultz, Berlin, Seoul, Beijing
Marc Selwyn Fine Art, Beverly Hills
Senior & Shopmaker Gallery, New York
Setareh Gallery, Dusseldorf
Susan Sheehan Gallery, New York
Shoichiro, Tokyo
Sims Reed Gallery, London
Leslie Smith Gallery, Amsterdam
Louis Stern Fine Arts, Los Angeles
Allan Stone Projects, New York
John Szoke, New York
Hollis Taggart Galleries, New York
Galerie Thomas Modern, Munich
Leon Tovar Gallery, New York
Wetterling Gallery, Stockholm
Whitestone Gallery, Tokyo
Amy Wolf Fine Art, New York
Zucker Art Books, New York