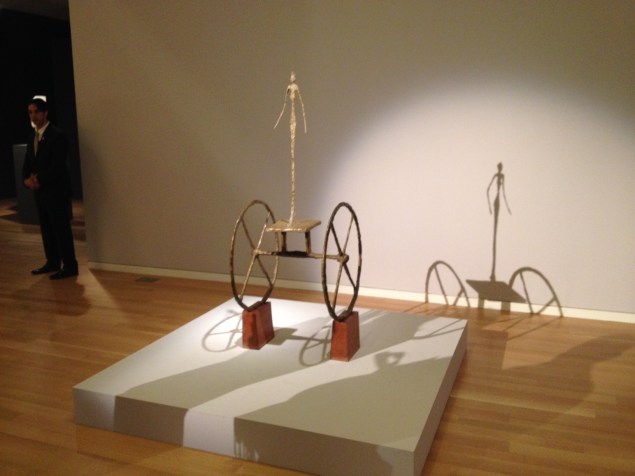 Auction houses aren't in the business of making modest, even-handed assessments of their wares. But the adjectives thrown around at Friday's preview of Sotheby's fall auctions —"extraordinary," "incredible," "record-breaking"—were perhaps justified.
"We're likely to set a new world record with sculpture" on Tuesday, Nov. 4, David C. Norman, co-chairman of Impressionist and Modern Art at Sotheby's, told the Observer, most likely with the sale of a striking Alberto Giacometti for a nine-figure bid.
In addition, several marquee pieces offered in the Sotheby's Contemporary Art sales next week haven't been up for auction in decades, like Andy Warhol's Liz #3 (Early Colored Liz),1963 and Mark Rothko's No. 21 (Red, Brown, Black and Orange), 1951. Sotheby's proactively sought to acquire pieces long held in private collections, said Simon Shaw, co-head of the auction house's Impressionist and Modern Art department. "There's a significant premium to be paid today for freshness," he said.
In some cases, the auction house has guaranteed sellers a minimum price, regardless of how much — or if — there are bidders, so the sales have an element of risk for the auctioneer, which thus has every motive to assign somewhat inflationary estimates. Competition for property with rival Christie's (its sales begin Nov. 5) also pushes up pre-sale estimates.
But auction sales have hit record highs in the past few years. Public contemporary art sales topped $2 billion for the first time last year, and Francis Bacon's Three Studies of Lucian Freud (1969) became the most expensive publicly auctioned piece of art to date when it sold for $142.4 million at Christie's Postwar and Contemporary Art Evening Sale last November.
"Demand for the very best works of art is exceptionally strong," said Shaw. "The problem is on the supply side."
Here are some of the pieces at Sotheby's to keep an eye on as the auction season heats up.
Claude Monet, Alice Hoschedé au jardin (1881)
Alice Hoschedé au jardin isn't just a pretty picture. It's also a testament to the interpersonal turmoil suffusing Monet's life in 1881. In 1877 the artist and his wife Camille moved in with his patron Ernst Hoschedé and his wife Alice in the Paris suburbs. Camille died in 1879, and Monet began an affair with Alice under her husband's nose.
In 1881 Monet and Alice moved out; the two were married after Ernst's death in 1892. They were together until Alice died in 1911. He painted Alice reclining in the garden not long before the pair decided to run away together. Sotheby's estimates it's now worth $25 million to $35 million. Scandal!
Alberto Giacometti, Chariot (1950)
Giacometti's Homme qui marchI1961 sold in 2010 for $104.3 million, and Sotheby's predicts Chariot (shown top of page) will sell for more than $100 million, too. Giacometti made six casts of his Chariot sculpture, a delicate yet imposing and memorable piece, and none of them have been at auction since 1984. The cast for sale this week has been privately owned for more than 40 years.
Amedeo Modigliani, Tête (1911-12)
Another notable 20th century sculpture for sale is one of Modigliani's goddess busts, carved out of stone the artist culled from Paris construction sites. It's never been sold at auction before, and Sotheby's estimates it will sell for $45 million.
Andy Warhol, Liz #3 (Early Colored Liz) 1963
Warhol's 40 inch-by-40 inch canvas captures Elizabeth Taylor as she made the professional transition from child star to sex symbol. In 1963, she was 31 and on her fourth marriage. Warhol was fascinated by her dramatic personal life, and that year he screen-printed six Liz paintings on jewel-toned backgrounds. The canvas for sale at the November 11 sale has been off the market since 1970.
"It was hidden away and lived a beautiful, quiet life in collectors' homes," said Alex Rotter, co-head of Contemporary Art at Sotheby's. It is one of many Warhols for sale by both auction houses this season.
Robert Ryman, Untitled (1961)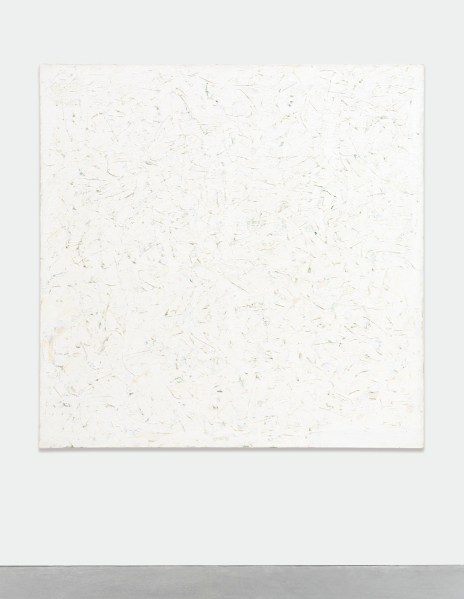 Sotheby's went out of its way to get Ryman's all-white painting out of a collector's hands and onto the auction block this season, as the Observer reported a few weeks ago.
"This differentiates us from our colleagues across the street," said Rotter at Friday's preview, alluding to competitor Christie's. "We went for specific, targeted items."
A monochromatic Ryman painting went for almost $10 million at Sotheby's in 2006, but the artist hasn't been a fixture at contemporary auctions otherwise. This Untitled painting is expected to sell for between $15 million and $20 million.
Mark Rothko, Untitled (Yellow, Orange, Yellow, Light Orange) (1955)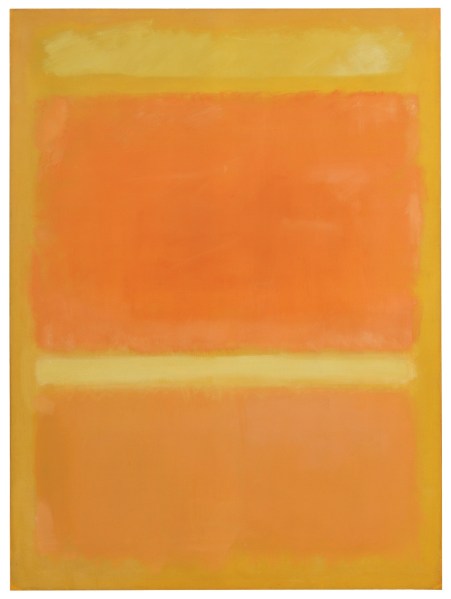 One of Sotheby's most buzzed-about upcoming auctions is its "Property from the Collection of Mrs. Paul Mellon: Masterworks" sale. The selection of Bunny Mellon's private fine art collection (wealth doesn't necessarily buy good taste, but they had both) will sell on November 10, led by Rothko's painting, valued at $20 million to $30 million. The dawn-inspired work is one of 22 the artist painted in 1955. More than half of those paintings now dwell in major museums.