At some point in your life, provided you're attractive, reasonably fit, and look good wearing one of those flimsy buffs as a tube top, you might find yourself on the cast of Survivor, shipped off to some distant island alongside 17 crazy strangers. Hey, it's not that unlikely — we're on the 29th season of this godforsaken show, after all. For your convenience, I've assembled nifty survival guides based on each week's episode, just in case a future season is calling your name.
When you've clearly established yourselves as the Resident Power Couple on campus:
DON'T: Wimp out, Jon. Come on!
On an emotional walk on the beach, Jon tells Jaclyn he's worried they're being too deceitful to everyone, and maybe they should, like totally pick a side because he feels like they're being kinda rude? NEWSFLASH, JON: SURVIVOR ISN'T ABOUT BEING NICE. Unless you're John Rocker. Then you should probably threaten to punch people less.
When the Reward Challenge involves picking teams, schoolyard-style:
DON'T: Be the one loser who doesn't get picked for either team, and is therefore completely ineligible to win a trip to Jeff Probst's sensational Survivor taco stand. Missy looks pretty pathetic sitting on the bench in her fringed bikini — particularly given the fact that old man Keith was chosen.
DON'T: Pick Baylor to be on your team, unless you like having someone yell "Push!" while you've already thrown your back out participating in this beyond-stupid challenge. Additionally, Baylor wastes all her energy screaming at everyone else, and her team ultimately loses. Baylor is kind of the worst.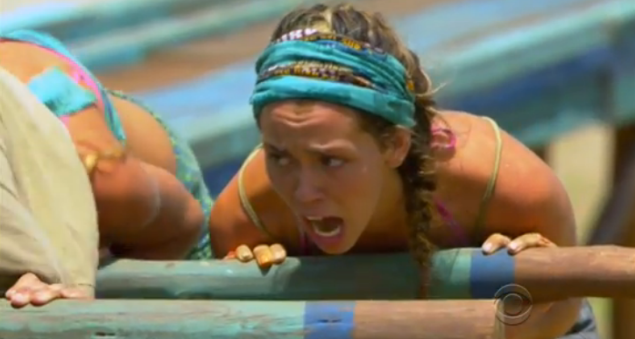 When you win the Reward Challenge and get to chow down at the Survivor taco stand (BTW, who are these random taco stand waiters?!):
DO: Have a polite, not-too-intense conversation about alliances while daintily munching a reasonably-sized portion of food.
DON'T: Eat yourself into gastrointestinal agony. "I just wish I had the willpower to control myself," Wes says, his face a troubling shade of green after consuming 864 burritos and three gallons of margaritas. "It was all fun and games until I felt like crap." I just hope he didn't vom on his fabulous blue cowboy boots.
But no, seriously, Wes looks like he's going to die at the Survivor taco stand. Imagine how terrible it'd be if the last thing you ever saw was the Survivor taco stand.
When you sense Baylor might be siding with her mom and voting against you:
DO: Maybe start to regret, just a liiiittle bit, all those times you voted against her and claimed there was a ~method to your madness~.
Josh tries to convince Baylor she "owes him one" and that she shouldn't vote for him, but Baylor says, in politer words, that she owes SHIT. Josh is so over Baylor, but I can't help but think he brought this upon himself, even though Baylor does suck.
When you're alone on Exile Island:
DO: Bring water shoes, apparently? Did Jon bring those shoes with them, or did CBS provide them specifically for activities involving Immunity-Idol-hunting amongst expanses of pointy rocks? Either way, those shoes are COOL, and I have to assume their fancy individual toe slots played an important role in Jon finding the idol on top of a pillar of rock.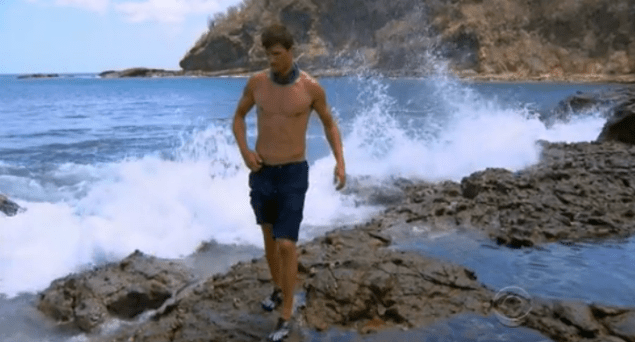 When a bunch of the men around camp are plagued by excessive gas:
DON'T: Purposely point your farts in the direction of the women. Actually, this is just a great general rule for life, and it shouldn't only apply to women — just don't intentionally shoot out fart gas in anyone's direction, ever.
But back to Survivor: Basically, Keith, Wes and Alec are acting like disgusting pigs around camp, and it's making the women mad.
DO: Band with your fellow women and have a feminist awakening worthy of a Women's Studies 101 class, wherein you realize, "Hey, maybe it isn't okay that the men only talk to us when they're ordering us around, or farting at us."
Jaclyn is especially pissed, and no longer wants to vote off Jeremy, who also thinks the other guys are gross.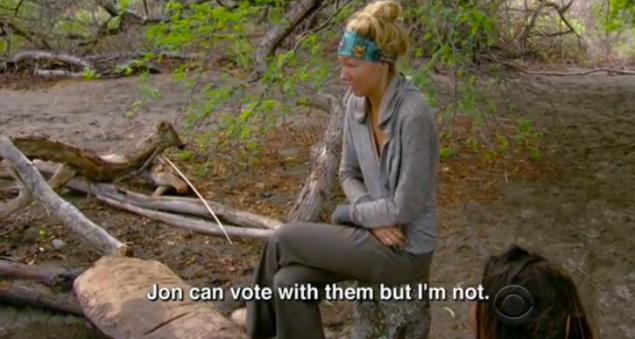 When the alliance of gas-afflicted men want to vote you off the island:
DO: Win the Immunity Challenge by being the only person on Hoyopa not to have the memory of a goldfish. Maybe it's just because I haven't been food-deprived for 19 days, but memorizing the order of Jeff Probst's stupid signs doesn't seem that hard. Still, Jeremy wins the challenge after a positively nail-biting two rounds.
When everyone's starting to realize that your whole Power Couple thing is actually pretty sneaky:
DON'T: Gripe, at Tribal Council, about how somehow everyone's come to think you have a "something painted" on you that says "talk to us and we might help you." YOU WANTED TO BE A POWER COUPLE, JON. DON'T WIMP OUT. OWN IT.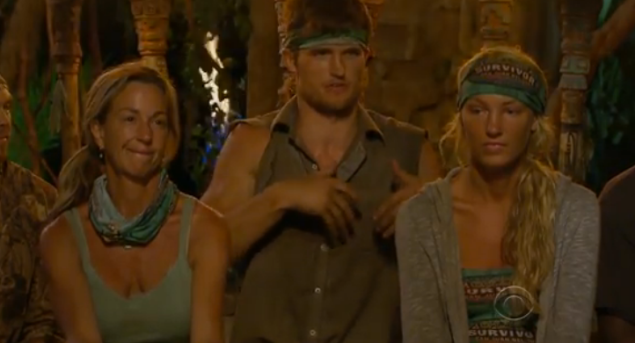 DO: Pick a side to vote with — even if that means voting off Josh, who seemed nice and really good at puzzles and dang, I'm honestly pretty sad that Josh is off the show, especially when it could've been Baylor.