It's easy to forget that before "Wall Street" became a metonym for all things investment banking-related, in the United States and beyond, it was merely a narrow east-west thoroughfare eight blocks long. It's still that, of course, in addition to all the rest, and other cities in other countries have their own Wall Streets, as well. Located in downtown Toronto, Bay Street represents Canada's equivalent, and among its most princely and flamboyant mascots is the former trader and current merchant banker Michael Wekerle, who recently joined the cast of the Canadian reality show Dragons' Den—our northern neighbors' version of Shark Tank, which actually predates the U.S. program. 
Obviously, Canadian kingpins need Manhattan property, too. But Mr. Wekerle has apparently tired of his 2,436 square-foot condo at 195 Hudson Street, in Tribeca, selling it off for $4.08 million, according to city records.
Mr. Wekerle, who has been CEO of Difference Capital Financial since 2012, is known for flash—crushed velvet suiting and floral blazers, longish, aging rock star-style hair—but his old condo, large and pricey as it is, also appears fairly nondescript. The listing held by Town Residential's Denise Thomopoulos trumpets the apartment's "PRIVATE INDOOR CAR PARKING SPOT!" [sic], which, fair enough, sounds like a nice convenience. Otherwise, though, things in the newly-renovated space are mostly luxuriously bland.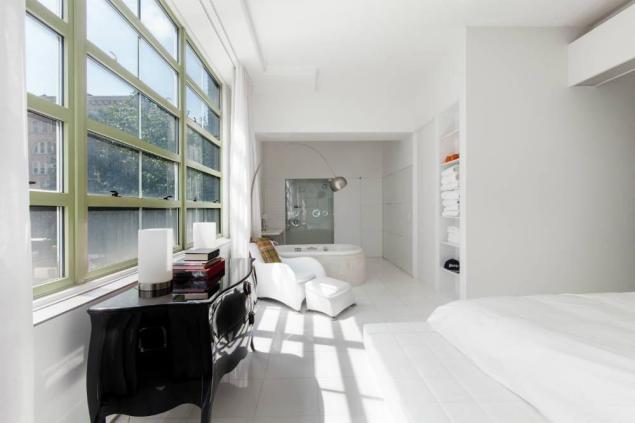 There are walnut floors and fancy finishes, high ceilings set up on "heroic" columns. Eastern exposure fill the apartment with early light, and a clean—or antiseptic, depending on your view—mostly white palette on the walls makes the place bright and welcoming. There are three bedrooms, a media center and a 100-bottle wine cave. (The latter might prove particularly useful in conjunction with that private parking space, lest the need for yet more wine induce owners to drink and drive.)
Mr. Wekerle evidently has something all new in mind for wherever he's headed next—his furniture, which looks quite new, is also available for purchase. But the buyer, Miro Khoudari, is CFO of Kassatex, Inc., a wholesale distributor of luxury bed and bath products. So we have to assume that he's got those rooms more or less covered, if not the rest.
Correction: A previous version of this post implied that the Canadian television show, "Dragons' Den," began broadcasting after the similar U.S. show, "Shark Tank". In fact, "Dragons' Den" came first. The Observer regrets the error.