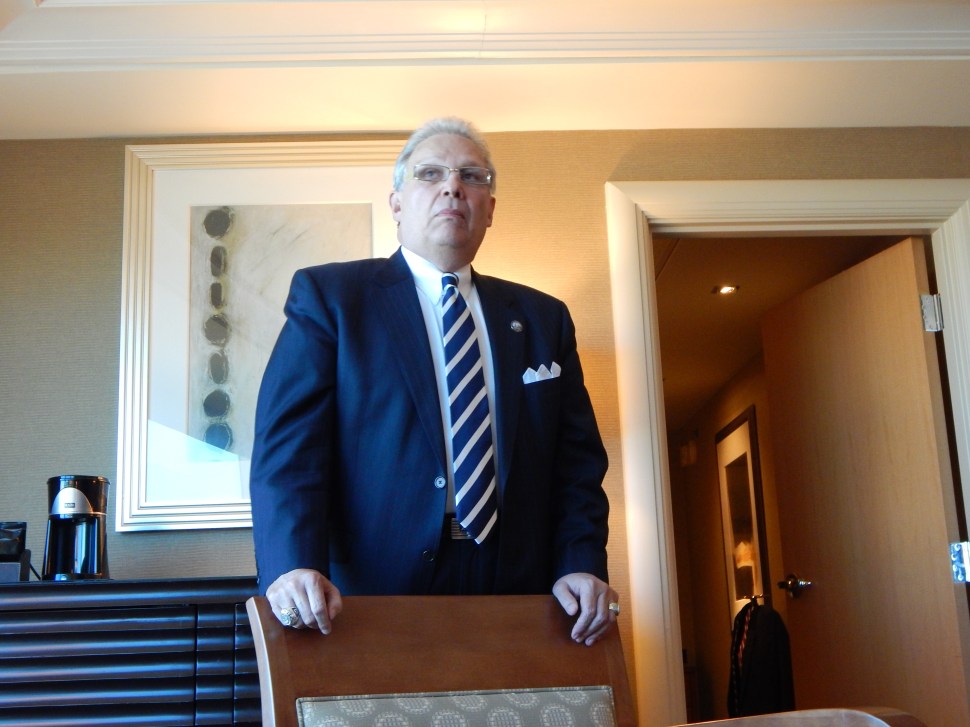 ATLANTIC CITY — Up three floors at the Borgata, at the end of the hall in a plush suite overlooking the skyline of this sprawling seaside city, Lou Stellato stood in front of a full length mirror, meticulously fixing a blue tie. Occasionally he'd stop to think deeply on a question, posed by these two reporters, or grab something from the bedroom. He was multitasking, as it were — no new thing for him — having graciously agreed to give the press a half hour of time he probably didn't have. Soon after, he would descend downstairs, an aide or two at his side, to a ballroom on the ground floor where Bergen County Democrats were toasting their newly-minted county executive, Jim Tedesco.
New Jersey's annual League of Municipalities conference, this year held two weeks after midterms, presents lawmakers and political insiders an opportunity to bask — or quietly wallow — in the the afterglow of those triumphs and tribulations that inevitably follow a hard-fought election season. It's a raucous affair, with two days and two nights of politicking at conference meetings and cocktail parties across A.C. There were the lobbyists and political consultants, tugging on the ears of legislators over policy matters. There were the state senators and assembly people, taking stock of the outcomes of this month's county and congressional races and planning for the future.
And then there were the three gubernatorial contenders, whose very public chest-thumping was among the most talked about dynamics this year.
But it was Stellato — beholden to few of those groups — who likely had the most reason to celebrate this week. As the chairman of the Bergen County Democratic Committee, the 65 year old funeral director is coming off what is probably one of the greatest successes of his political career, having led Tedesco — a little known freeholder at the time — and company to a stunning win over Republican incumbent Kathe Donovan in the Bergen County Exec's race. That race, while one of the more closely watched even before Nov. 4th, immediately launched Stellato and his team of Bergen Democrats to the fore of political chatter in the state, while at the same time also underscored the importance of New Jersey's most populous county in any statewide power scheme.
It also made Stellato, as he prepared himself in his hotel room for Tedesco's celebration party downstairs — which the former Lyndhurst mayor hosted himself — one of the most sought after players this week.
PolitickerNJ talked to Stellato before the party, quizzing him on a number of issues, from near- and far-reaching implications of the Bergen Exec's race to Gov. Chris Christie's future presidential ambitions to his own political philosophies gathered over a decades-long career. Below, a full transcript of the interview is included, featuring what amounted to a half hour question and answer with PNJ and the Democratic power player.
Editor's Note: These reporters' questions are set in bold and Stellato's answers in plain text. Also, Bergen County Democratic operative and close Stellato consultant Adam Silverstein sat in on the interview, adding insight from a comfy-looking chair nearby. His comments are denoted as such in the transcript.
Silverstein's own recent interview with PolitickerNJ can be found here.
PNJ: You're coming off huge wins in Bergen County, where Jim Tedesco beat Kathe Donovan for the exec's seat. But that wasn't always certain. You were riding high in April, then shot down in May. But look where you ended up — #7 on the Power List. Now, do you believe you make your own luck, or do you earn what you get, in this business?
STELLATO: It's a cumulative situation in that there surely is some luck, however it can't be all luck. People work hard, and good things happen to those folks. Where does the hard work come in? It comes in putting all the pieces together to make sure you have a good team of candidates, a good think tank, a good team of people who are going to plan the work, and work the plan. Where the luck comes in, is maybe it's a year where you have Bill Pascrell and Cory Booker both on the ballot at the same time. So, yes, there is a degree of luck, but it's a cumulative situation where it's a combination of luck and good, hard work.
I mean the Yankees people thought they were lucky because they always won. But they were good, too. So it's always a combination.
Right, but the Yankees had to be totally destroyed before they could get good again. Assemblywoman Holly Schepisi noted that Republicans in Bergen are not as unified as the Democrats, that they're fighting among themselves constantly. It's probably not the best idea to give advice to the Bergen GOP, but do they have to almost gut themselves to start over and start to challenge you effectively again?
In the perfect world you want complete and totally unity. That is difficult nigh onto impossible. However, there's a difference between unity and total splinter groups. I think, and I'm not here to analyze the GOP, but I think it's pretty evident that there's more than just not unity. You had a sheriff that had a problem, you've got a freeholder that didn't get endorsed last year by Donovan, so you have a number of situations that are, you know, too many personalities that are not in the same motion.
And one of those personalities would be chairman Bob Yudin. Does there have to be a change at the top?
Yes. Well, look. If Alex Rodriguez goes 0 for five, do you fire the manager? Maybe you bench him. The chairman of the party is the bus driver. He steers the ship, it's his job to raise the monies, his job is to get the best possible candidates. He's not setting policy, he's not in the trenches making the decisions. Now, he should be in a position to talk to their candidates and say, I'm hearing this on the street that this might not be the way to go — but by and large, to hold the chairperson responsible for any success or failure, soley, is just not the answer.
It's just like Lou Stellato did not get Jim Tedesco elected alone. It was done by a whole myriad of people, a plethora of people from Bergen County, from outside of Bergen County, people in the field operation, legislators from our districts, legislators from outside of our districts — you know, people helping people. Now, to a degree, credit has to go to the chairperson for putting those people together. It's an oversimplification, but that's pretty much the way it plays out.
Now, you're a funeral director. You're in a unique position. People are sadly always going to die. And that gives you a degree of independence. Do you think that gives you an advantage in this game, because you're not beholden to all these other political interests?
Well, my father was a laborer for general motors. And my mother was a garment worker. And I started this businesses and I'm very successful. And I'm bless to have children in this business who run the business. So I can thereby do this, chairmanship, 24/7. And yes, I'm not beholden to any private developer, I'm not an attorney, I'm not a lobbyist — there's nothing anybody can do to enhance my betterment.
Right, so you can play pure politics, and that's it.
That's it. That's it. And, you know, sometimes that's an advantage, because you can look at things a little differently. Because there's nothing going to affect your economic situation. You're looking at this solely from a point of what's best for all involved.
We're all talking about Phil Murphy. We were at the Fulop and Sweeney parties last night. Some say it's early days yet, who knows what's going to happen with the governor and his presidential ambitions. But do you have any inkling one way or the other?
I have maintained from the get-go, and I could be wrong, but on the record I can say I see no reason why Chris Christie would leave early. I've never bought into the thought that he's leaving next month.
Because he likes the job too much?
Well, I think for a number of reasons. From a strictly political standpoint, you need a base. You need to be somewhere. So it carries much more weight to be the governor of New Jersey than it does to be the guy who used to be the governor of New Jersey. That's number one. Number two, with all of the independent expenditures, super PACS and all today, I don't buy into the theory that you need to be out of the office to raise money. Money can be raised, by conservative groups, or moderate groups, depending on what party you are. It's too easy — that's not an issue.
So in my mind, the goal is to keep a majority on the freeholder board in 2015, and make sure that all of my legislators on the Assembly side get re-elected. Then you go into 2016, where you're concern is putting a Democrat into the White House. And then we talk about who the next governor is.
So you're saying, you want to do this in chronological order. You don't want to skip around.
No. There's no reason. Because in government, and in politics, three years is six lifetimes. I mean, who ever heard of Phil Murphy a year ago? So, I mean, you don't know.
Do you have an early inkling of who you might back?
No. Not at all. I think that we have a number of good candidates, we meaning the Democrats. You know, you've got Murphy and you've got Sweeney and you've got Fulop, and if you live and die by the polls, you've got Dick Codey who came out highest in the polls. You've got John Wisniewski, who has mentioned his desire of the feasibility of running. You know, and I'm sure there are other names that will come and will go. I think it's entirely too early to even extrapolate out and try and predict who might be the front runner.
Interestingly, as early as it is, you tossed out without even thinking five names for the Democratic nomination for governor. Why can't we do that with the Republicans?
Well, I don't think that they have five people. I mean, you could probably argue Jon Bramnick, Tom Kean, Jr. — Kim Guadagno has to be in the hunt. Kevin O'Toole is another name that I've heard. So there without thinking is four.
But the bench doesn't seem as deep. Why do you think that is?
Well, you know, it's an interesting phenomenon. But if you have a very dynamic leader, on one party or the other, and that person does there two term limit, that person has pretty much unified that party behind that one leader. So you kind of don't have that person going out there while you have a sitting governor saying, oh, by the way, I want your job. That's not going to fly or bode well. So, usually, not all the time, usually the incumbency brings that about. I mean, on a national level, you could talk about a number of feasible Republican candidates. But on the Democratic side, who do you really hear? You hear maybe Hillary Clinton or Joe Biden. But on the other side, you've got Rand Paul, you've got Bush — I mean, come on, we can go on and on.
So I think that's it's not uncommon to find in a situation where you have incumbency, that the incumbent makes it very difficult to have other people step up. Until, what's the magic thing, the beginning of the second year of the third term when the world knows the person is a lame duck.
Right, the gears shift.
Yeah, that person becomes yesterday's bread, and then the press and everybody else starts to look into formulating who the next candidate will be.
Turning back to the Bergen Exec's race, Donovan seemed pretty comfortable with resigning herself to executive duties and very little campaigning in the final days of the race. What happened? Did she just somehow not want this anymore?
Oh, I don't think that. I don't think anybody that runs for office thinks they're going to do a bad job, and I don't think anybody who runs for office is thinking that I'm just going to put my name up there and not going to win. I think maybe, just maybe, they thought that a person with a 25 or 30 year incumbency was almost to the point of being invincible — it was a great name and you couldn't beat her. But our philosophy was very simple: we had to win in South Bergen, because if you won in South Bergen, you've taken away her base. You can't build a house without a foundation. You can't win an election without a base.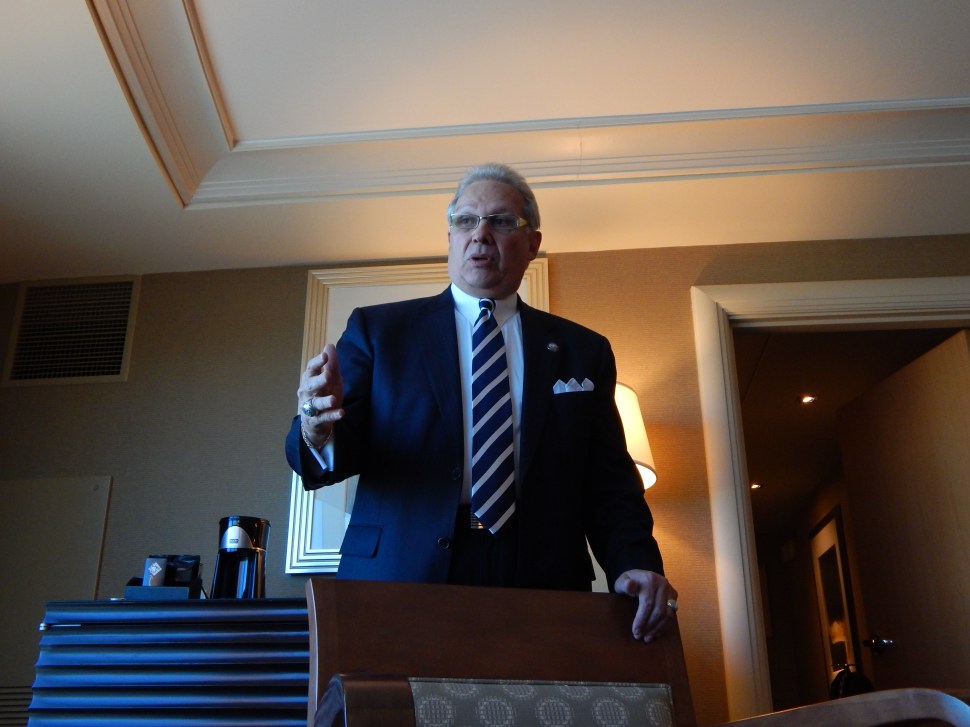 So if you take three of the larger towns, Lyndhurst, North Arlington and Rutherford, which is probably, off the top of my head, somewhere around 65,000 people, and you figure, well she was born and raised in Lyndhurst, she went to school in North Arlington, and over the last 20 or so years she's resided in Rutherford, and if you could keep that close, or even in the perfect storm beat her, then where do you go from there?
What was the deciding factor in those towns? Was it the ground game?
There were a lot of things that came to play there. Bill Pascrell is a very good congressman — different congressman than former U.S. Rep. Steve Rothman, runs a different kind of campaign than Rothman. So he was campaigning in South Bergen very, very hard. We had a headquarters in Lyndhurst. I was the mayor, I was in elected office for 25 years in Lyndhurst. We used our people in South Bergen as if we were running. Not that you don't do that other times, but you were able to work the phone lists and all just like an old fashioned campaign. This is nothing magical or mystical. It was just getting our vote out. We know if we could get 40 percent of the electorate out, we would win.
And so the game was to get the vote out. And we were close. We might have underperformed slightly and Republicans might have over performed, but the undeclared and independents, if they broke to the Republican side this might have been a much closer race, but they didn't, because there were a number of issues that made this a different campaign.
What, the lawsuits?
The lawsuits, the double-dipping, the merger.
SILVERSTEIN: When that double-dipping ad went up, in the two weeks between the polls — her negatives were at 22 in the poll before that started. In two weeks, her negatives went to 37 percent. So you take a place like South Bergen where she's been invincible, and all the sudden you see oh, she's not exactly who we thought she was. And then you have the chairman working Lyndhurst like he's running for Lyndurst, and now it's not putting an ask in, or talking about Kathe Donovan the patron-saint — it's like, well, maybe she's not really like that.
Right, take the gloss off. And who is going to replace Jim Tedesco on the freeholder board?
I have no idea. Believe me when I tell you, we haven't even gotten into that. We have a number of people whose names have come to fruition, they've come to me, or they've come to headquarters and dropped off resumes. There will be a convention in January and we will replace that person. But I don't know.
Names we've had out so far were Bergenfield councilman Chris Tully, former Democratic freeholder Bernadette McPherson, President of the Bergen branch of the NAACP  Anthony Cureton, Jennifer Holdsworth, the political director of the New Jersey State Democratic Committee, and CD5 candidate Roy Cho. Anyone else to add?
No, no I don't think so. That's pretty much about what we've heard.
Regardless the freeholder race though, what do you think is the overall future of Roy Cho for the Democrats?
Well Roy Cho is a sharp young man. I mean, I can see him virtually anywhere. Assuming that he still stays in Bergen County, which I have no reason to think that he would not, he could run for congress again, he could run for freeholder, he could run for local office in Hackensack. He can do anything — it's unlimited what he can do.
Would you help him?
Of course.
Why specifically?
Well because he's a good Democrat. He has shown that he can energize the base. Even though he lost, the numbers don't concern me. I saw a vision of hope, I saw a vision of the possibility of getting a Democrat congressman in the fifth district amongst the constituency there. When I went to rallies or when I went to meetings or when I made speeches up in Bergen County, I saw a fervor among those people, that they had hope, that he could get the job done. That they finally got what they thought was the chance to unseat a longtime incumbent.
And you see that fervor being transferred to another office?
Yeah. In other words, if you've got the fire in your belly, you're going to have it whether you're running for congress or senate or mayor or whatever it happens to be. You're that kind of person that people feel a comfort level with, you're the type of person that projects the issues — then you're the type of person that can win anywhere. I mean, look at Donovan.
You know, the first question I asked you was about the Power List, and everybody goes nuts over that. And the way this business is is that you're riding high in April, shot down in May. Right after the election, you shot back up. Right now, you're in a catbird seat. You're in a good position because of what's just happened. And we've got all these important races, Bergen County is always important, we've got a governor's race on the horizon. What do you want?
I want to make certain that we get the best possible Democratic candidate to run and win as the governor, or the president, or the freeholders. I think what this election has done, I think what our track record in the last three years has shown, is that all roads lead through Bergen County. I mean, it sounds like a sound bite, but I — and you know this just by talking to the Sweeney's and the Fulop's and the Murphy's of the world — know that they know that Bergen County exists, it's the largest county. And so if you put all those pieces together — number on it's the largest, number two we have a strong legislative body, number three we have a majority on the freeholder board, and number four we have a county executive. All of those things combined, you've got to get to Bergen County in order to win.
And based on the results of this election, how do you think you could best leverage those results to your advantage?
I've spent a great deal of time making amends and making amalgams to form a strong north Jersey coalition now, with Hudson, Passaic, and now LeRoy Jones in Essex coming into play. And I can foresee what started as just a highschool friendship between John Currie and I, and then Vinnie Prieto and LeRoy Jones, now maybe even going out to a couple of other or three more counties — and this is not, in anyway shape or form a battleground between north and south, that's not anywhere near what this is. This is just putting together Democrats who have similar philosophies, Democrats who have similar visions, and making those philosophies and visions come to fruition.
Last question. There's a cycle to things. Republicans are now saying, look at the Bergen Dems, they were unified. We're not. But five or ten years from now, you may be fractured all over again. Things happen sometimes that you can't anticipate. But what do you think you can do to maintain this unity for a longer term?
I live by an adage: that if you make good generals you never lose the war. So if we keep all of our good people at the table, and we make certain that they have a voice — whether it be an open convention, that was one of the first things that we did, whether it be chairman meetings, where they come to hear people from all over the state, whether it be opening the headquarters to any organization that wants to use it within the Democratic party. Whatever it happens to be, those things ring true to those hardworking people who have been shut out in the past. So as long as my job is to be the gatekeeper, be the shepherd of the flock — keep everybody energized, keep everybody pumped up and everybody with the same initiative and the same goal, then you're going to be fine.
Now there's always going to be different personalities, there's always going to be differences of opinion, but if you can keep those at a diminished value, then you overcome those things.