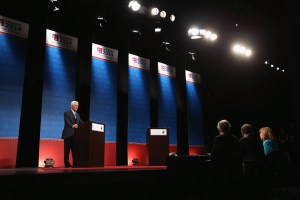 The Florida governor's race may end up as the last major race called on the East Coast tonight. With roughly 28 percent of the vote in, Democratic Challenger Charlie Crist currently leads Republican incumbent Rick Scott by one percentage point. Florida is a big state with a history of complicated elections, so it could be several hours before there is a clear winner.
This election is also very important as Florida is the only one of the country's four largest states that is still genuinely competitive between the two major parties. It will be difficult for any candidate from either party to win the White House in 2016 without carrying Florida. Bill Clinton in 1992 was the only candidate since 1960 to become President without winning the Sunshine State.
Florida will take a central role in 2016 long before November as there are two Republicans from that state, Senator Marco Rubio and former Governor Jeb Bush who are possible candidates for their party's nomination for President. Assuming only one of them runs, a strong ally in the governor's mansion could be very helpful. If, however, Charlie Crist wins, he could prove to be an asset to Democrats.
This is a race that will also provide valuable fodder for post election analysis that can be useful nationally for 2016. Questions such as whether or not Mr. Crist was able to mobilize a substantial African American vote, whether Mr. Scott could move significant numbers of Jewish voters into his column and how Florida's increasingly diverse Latino population voted will be very important.
Lincoln Mitchell is the national political correspondent for the Observer. Follow him on Twitter @LincolnMitchell.