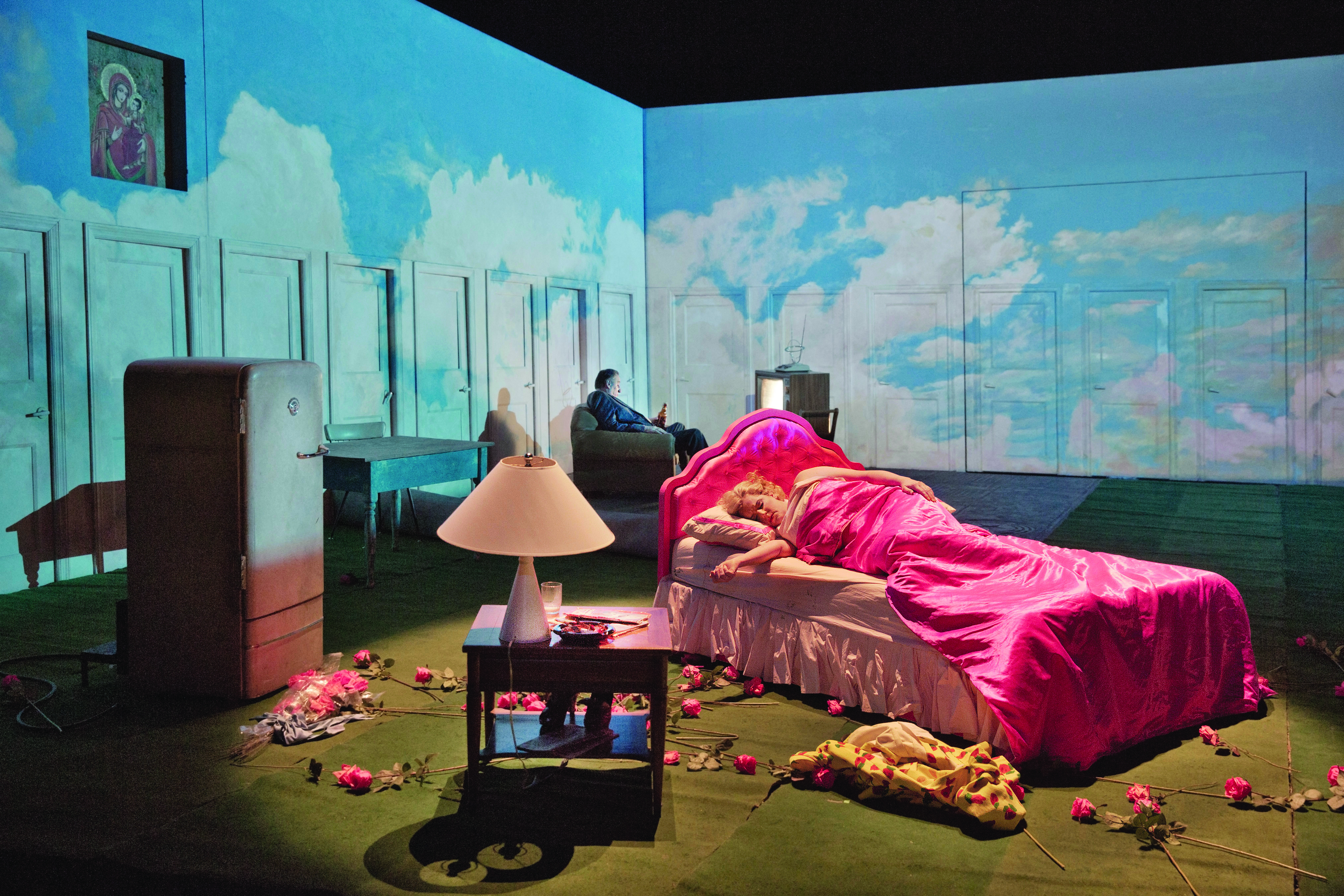 Not so very long ago as operatic history goes, the Met was what is known as a "grand opera" house, specializing in expensive, starry presentations of the bread-and-butter standards of the repertoire. Aïda, La Bohème and Carmen head the list of most-performed operas there, followed by equally familiar works by Verdi, Puccini, Wagner, Mozart and the usual suspects.
Those "ABC" titles have fallen into a slump lately, though, with unusual titles coming to the fore. So far this season, the Met's two undisputed successes have included the controversial 20th century work The Death of Klinghoffer and a revival of Verdi's Macbeth showcasing Anna Netrebko's stunning first excursion into dramatic soprano repertoire. Now comes a third offbeat triumph, a long overdue return of Shostakovich's shocker Lady Macbeth of Mtsensk.
This 1934 Russian opera tells the seamy tale of provincial housewife Katerina, who drifts into an affair with Sergei, one of her husband's workers. As her adultery is discovered, Katerina commits a series of grisly murders, ending with suicide. The composer set this overripe saga with violently leaping vocal lines and lurid orchestrations, including a raucous brass interlude depicting Katerina and Sergei's first sexual encounter. The opera revolted the oppressive Soviet government of the time; after an unsigned review in Pravda denounced the work as "formalist," it disappeared from stages of the Soviet Union for nearly three decades.
Lady Macbeth didn't arrive at the Met until 1994, in an expressionistic production by Graham Vick that updates the action nearly a century to circa 1960. The excellence of this staging is undimmed in this revival. As bored Katerina daydreams, the many doors of Paul Brown's unit set fly open, revealing half-naked laborers performing a sort of primitive Chippendale's routine. In the lovemaking scene, Sergei mounts Katerina over an old-fashioned refrigerator; you can hear the beer bottles inside clinking. Nonstop movement—including a drunken wedding party under a gigantic mirror ball—seems to draw the audience in as co-conspirators to Katerina's crimes.
Even more electrifying is James Conlon's conducting of this monster score, powerful without every tipping over into vulgarity. On opening night (November 10), the Met's mighty brass section played some of the loudest fortissimos I've ever heard in this theater, but the tone amazingly remained pure: always music, never screaming. The Met chorus not only sang this music of vast range and rhythmic complexity with pinpoint accuracy, they were climbing walls and leaping on furniture, some of the men clad only in towels or tighty whities.
In the enormous central role of Katerina (she hardly leaves the stage), soprano Eva-Maria Westbroek poured out voluptuous tone, with only a hint of strain in the part's punishing high tessitura. Spilling out of a tight print housedress or black lingerie, she exuded sexual hunger as graphically as any Tennessee Williams heroine. If Brandon Jovanovich's tenor was a little generic in color, he had both the vocal clout and physical swagger for bad boy Sergei.
The utmost singing splendor, though, came from the cast's many basses: Anatoli Kotscherga as the snarling father-in-law, Mikhail Kolelishvili as a loony priest and Vladimir Ognovenko as a conniving police chief. Surpassing them all was Dmitry Belosselskiy, who unfurled the mournful ballad of the Old Convict with a distinctive, gorgeous tone and buttery legato. This is what a superstar sounds like.
Ironically, one of the Met's traditional "fail-safe" pieces, Il Barbiere di Siviglia, is the latest vehicle for a company that positions itself as a rebuttal to the Met. After a triumphant La Bohème in a Bushwick warehouse last winter, Brooklyn's LoftOpera has now landed in The Green Building, a former foundry on the bank of the Gowanus Canal. The atmosphere there is casually hip; a few of the lumbersexuals dotting the audience climbed onstage for a pre-show beard trim by an artisanal barber provided by the management.
During the performance, the crowd of around 300 flanked a narrow playing area, sipping beer and red wine while witnessing a lively, musically solid performance of the Rossini farce. If the staging tended to rollick a bit too much—from my front row seat I dodged a thrown beer can, a set of bunny ears and a somersaulting soprano singing a high C—the singers were clearly having a ton of fun, which the audience shared. Among a strong ensemble, the standout was José Adán Pérez as the barber Figaro, with a bright buzzy baritone and an innovative take on the character, here a middle-aged single dad.
In the performance of November 12, Jonathan Blalock took a scene or two for his light tenor to bloom as Count Almaviva—understandable, since he joined the production only a week before the opening. And yet he was physically ferocious in his character's various disguises, at one point ripping a shag carpet off the stage floor and sporting it as a cape.
The depth of casting was remarkable for a small company: In the bit part of Fiorello, baritone Joel Herold boasted the voice and personality of a Figaro, and the hilarious Michelle Trovato (as the harried housekeeper Berta) flaunted enough vocal virtuosity to cast a shadow over the nominal leading lady (Kristin Gornstein as Rosina).
If there was one reason for disappointment in this project, it was that the casting, admittedly excellent, looked not so different from what you might see in most American regional companies. This stands in contrast to that earlier Bohème, so richly and movingly diverse as to suggest all of 21st century New York could peacefully cohabitate in an unheated loft.
But when your only worry about an opera company is that it may become too mainstream, that suggests it's important and valid. LoftOpera is more than that: it's vital.
I wish I could say the same thing about Winterreisse on November 11 at Lincoln Center's White Light Festival. This sold-out single performance at Alice Tully Hall boasted the most glossy presentation imaginable: brooding baritone Matthias Goerne performed Schubert's eldritch song cycle before a backdrop of animated films by William Kentridge.
The execution was flawless, but the cold I felt was not the emotional malaise of the song "Der stürmische Morgen," but rather a chilly aesthetic distance. Mr. Goerne has every gift a Lieder singer might desire: a broad range from silvery piano top notes to a growling bass register, crystalline German diction and a hypnotically rapt stage presence. But his highly inflected singing, backed by the glassy, percussive piano playing of Markus Hinterhäuser, seemed more a dissertation on Schubert's music than anything so quotidian as a performance.
The light show by Mr. Kentridge didn't amplify the meaning of the songs consistently, though recurrent images of a middle-aged man staring into a bathroom mirror certainly felt melancholy enough. The program notes divulged that the artist did not create these short films as "settings" of the songs but rather he repurposed existing animations. The result felt utterly hermetic, like perusing a complete stranger's photo album, and therefore so emotionally blank it even took the edge off Mr. Goerne's intensity.
The audience for the tradition-bound art of classical vocal music had better prepare itself for a seismic shift. Operatic exotica at the Met, warhorses out in the boroughs, and, for the tragically well heeled, an annual festival at Lincoln Center consisting entirely of amuse-bouches: this is our future.