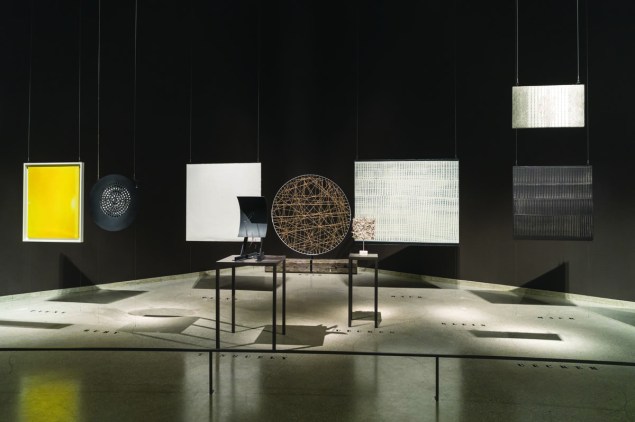 "I love Zero. Zero is beautiful. Dynamo dynamo dynamo," wrote the German members of Zero in a joint poem about their art movement in 1963. While the names Heinz Mack, Otto Piene and Günther Uecker might not be household names, the engaging yet enigmatic show "ZERO: Countdown to Tomorrow, 1950s-60s" at the Guggenheim Museum offers an immersive look at this lesser-known postwar experiment in art.
Restaging exhibitions in which kinetic metallic works vibrate and wacky monochromes engage Plexiglas, crystal and feathers, curator Valerie Hillings plunges us headlong into the freethinking experiments with form that marked Zero's almost psychedelic Minimalism. Never figurative, works are instead spiky, silly, perceptual takes on the new materials and modern experiences that greeted these young artists in 1960.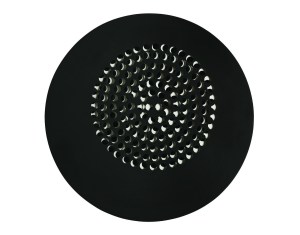 This show might sound high-minded, but, from what I saw, children seemed to love it, encountering increasingly startling new takes on the possibilities of painting. (Can you make a painting with bread? Candle soot? How about a sculpture of pure light?) Some works, like Uecker's nail-studded costume New York Dancer (1965) seem to celebrate modern man as a performative dynamo, but other works do their own performing, pulsing with hidden motors.
The show is paced like a fireworks display with increasingly spectacular and crowd-pleasing visual experiences in store on the upper spirals culminating in Otto Peine's Light Ballet. You might turn a corner and smile at a field of pure pigment, or laugh aloud at a gyrating Styrofoam structure. As you climb up the museum's ramp, the operative question is: What won't they try next? This may be a show that is better to see high.
Galleries like Dominique Lévy and David Zwirner have a strong commercial interest in promoting the careers of these particular German artists, having hit new records for sales of their works at fairs over the past five years. But at the Guggenheim, greater contextualizing scholarship would have helped the public better understand the art. I could not, for the life of me, suss out the politics behind all this optimism about new materials.
How did these artists feel about being German after World War II? How did they react to their American Pop and Minimalist counterparts? What should we make of the international networks implied by their close relationships with now better-known Japanese, Italian, French and Swiss artists including Yayoi Kusama, Lucio Fontana, Piero Manzoni, Yves Klein and Jean Tinguely? While the Guggenheim handled the politics of nationalism so thoughtfully with its recent "Italian Futurism, 1909-1944: Reconstructing the Universe" exhibition, this is not a sufficient reason for the puzzling Zero to get a free pass.
What we get with Zero is the fun of foreign, psychedelic, postwar Abstraction—but very few answers about its context or unique significance. The silvery-covered exhibition catalog contains just as few answers as the show, leaving this presentation of work as dynamic, stylish and enigmatic as a shiny new object for sale—one with the patina of history, yet seemingly unblemished by interpretation.
The exhibition runs through January 7, 2015.