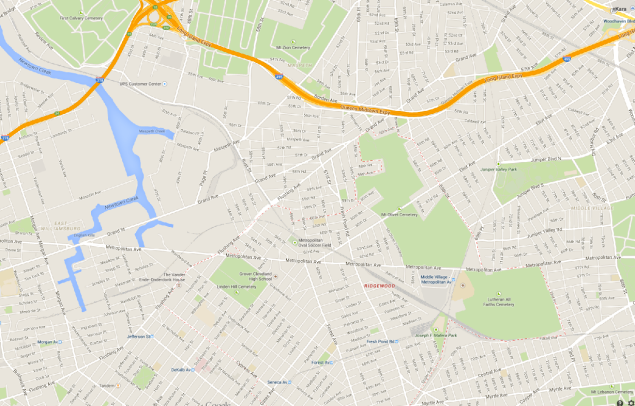 Is Queens the new Brooklyn? Is Ridgewood the new Williamsburg? Yes, if The New York Times has anything to say about it.
"A Touch of Brooklyn in…Ridgewood, Queens?" the Times wondered again this morning in the Style section. Writer Ben Detrick journeyed to that borderland between Brooklyn and Queens, where he found "artsy types in their 20s and 30s, wearing hoodies and black-frame glasses, huddled over mugs of Spaten" mingling with "German septuagenarians in suspenders and polka dots swayed beneath tiered chandeliers" at a 90-year-old German beer hall.
"Cafes with vegan muffins, yoga studios and destination pizzerias have (naturally) sprouted. Bars with names like Milo's Yard and Bierleichen are slated to open. Guitar cases, tote bags and shearling coats are increasingly frequent accessories on pedestrians," Mr. Detrick wrote.
If this sounds familiar, it is. Back in June, a restaurant review in the paper labeled the neighborhood "Quooklyn." The moniker was widely mocked, because Times trend stories are basically just trolling us now. But, according to today's story, both the earlier story and the ensuing backlash is just further evidence that Ridgewood is, indeed, a lot like Brooklyn.
"In a nod to Ridgewood's burgeoning trendiness, some are even calling it 'Quooklyn,' after a dining reporter for The New York Times coined the term in a June review of Houdini Pizza Laboratory. Though the term was met with derision and smirks (Gothamist.com joked that it was 'ridiculous, because everyone knows it's already Ridgewick'), it exemplified how this slab of Queens has been infused with Kings County DNA," the self-aware paper explained.
Gotta hand it to the Times—they have got the formula down. Label something a trend and watch the backlash. Then, a few months later, write another story about said trend and use the earlier story (and the reaction) to support the thesis for original story.