ELIZABETH – A prowl car with full lights and siren activated streaked up Elizabeth Avenue past a nondescript furniture store with darkness enveloping Election Day and uncertainty creasing the features of both city-bound camps.
At the top of the stairs in an office surrounded by young people on phones sat a goateed man in a baseball cap on his own well-worn cellphone.
It was Sean Caddle, executive director of the Committee for Economic Growth and Social Justice, the super PAC affiliated with state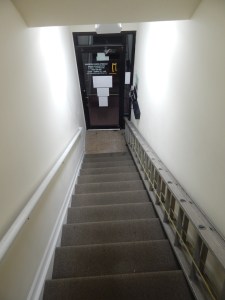 Sen. Ray Lesniak (D-20) that played successfully in the Newark mayor's race in May, in the Bayonne runoff election in June, and now here, in this control election where successive body blows have put the Elizabeth Board of Education in a defensive posture with leader Rafael Fajardo attempting to hold onto power.
Caddle told PolitickerNJ that he estimates the independent super PAC backing the three candidates of Mayor Chris Bollwage and Lesniak will spend north of $200,000 on this contest.
"I feel good right now," Caddle said. "The only way we can lose is vote by mail ballots."
Both sides were crammed over their phones late in the day trying to ascertain their advantage on that front.
Elizabeth BOE leader Tony Monteiro told PolitickerNJ that he is confident of his team's aggressive gathering of VBMs to offset line advantages by the Bollwage-backed challengers.
Trying to get an Election Day edge, Fajardo's team drilled rival Malik Jackson with a piece (pictured blow, left) focusing on the candidate's troubled past.
The opposition says it had the opposite effect.
"The Malik stuff got the black community fired up," Caddle said, who told PolitickerNJ that African American turnout was higher than expected.
Caddle said the negativity from the Fajardo camp went to a new level in this election cycle.
"I'm originally from Jersey City," he said. "I've worked all around the country. This dynamic of a school board that the mayor doesn't control is rare. Just look at Union City and North Bergen, where the mayors control both arms of government. That's different here, and I think what's happened is negative politics that just goes above and beyond what is necessary.
"If someone offered to pay me to do a negative piece like what they put out on Malik, I wouldn't do it," Caddle added.
But what about the negative impact of a super PAC on the democratic process, PolitickerNJ wanted to know.
What about the corrosive effect of a PAC that can distill and disperse monies from vendors and businesses that are not the public interest?
"I like to think we were ahead of the curve [with the formation of the Committee for Economic Growth and Social Justice]," Caddle said. "Agree or disagree, it's a legal entity and it's a force to be reckoned with.
"When I first met Ray, one of our first conversations was about the formation of a super PAC," he added. "We did blaze a trail and it's been effective. It is legal, and big money special interests were around long before super PACs. We spend a thousand of a sixteenth what the Koch Brothers spend, and we are effective. They don't get good results for the amount of money they put into them. We do.
"Of course, it helps to have good candidates," Caddle added.