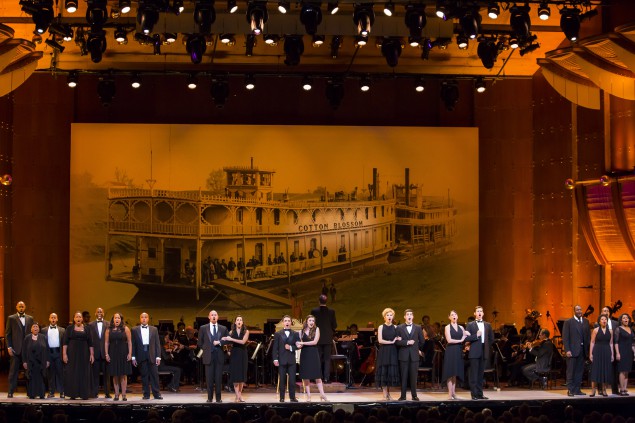 As Italo Calvino has been widely quoted, "A classic is a book that has never finished saying what it has to say." That's certainly true of a classic in non-literary form, the musical Show Boat, presented in concert format last week by the New York Philharmonic. Musical theater fans have lived with this show all their lives, and so have a couple of generations before them, but the piece continues to communicate, even in the less than perfect circumstances of this latest revival.
Ironically, the 1926 novel Show Boat by Edna Ferber can't really be called a classic: it's a well-crafted melodrama with a big romantic sweep. Novel and musical tell of four decades in the life of Magnolia Hawks, who grows up on the Cotton Blossom, a showboat cruising the Mississippi; her friendship with the actress Julie LaVerne, who is forced to leave the company when she is outed as biracial; Magnolia's marriage to the dashing gambler Gaylord Ravenal, who eventually goes broke and abandons her; and finally her successful career as a singer. In the libretto for the 1927 musical Oscar Hammerstein II softened Ferber's grim ending to include a quiet reconciliation for the estranged Ravenal couple. 
Almost all musicals date quickly. For instance, Jerry Herman's superbly crafted shows Hello, Dolly! and Mame, set respectively in the 1890s and 1920s, are instantly identifiable as products of the 1960s. But Jerome Kern's music and Hammerstein's lyrics for Show Boat seem untethered from time, sounding ancient and utterly modern at the same time. It's as grandly romantic as an opera, and, like the best operas, it grabs the heart as no other art form can.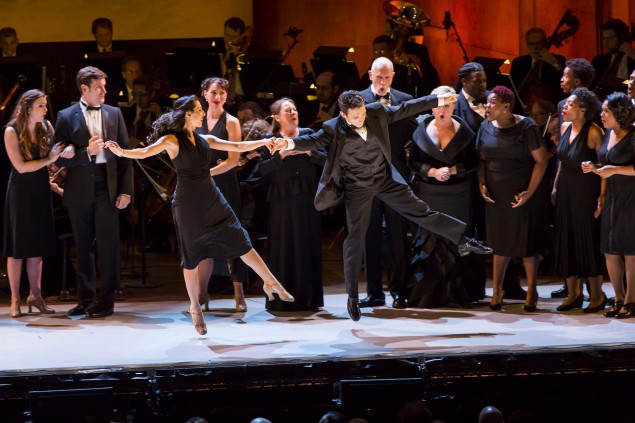 The New York Philharmonic has had a string of successes with concert versions of great musicals, most recently Sweeney Todd with a cast commingling stars of film and opera. Compared to these earlier presentations, this Show Boat, heard Friday night, lacked a measure of theatricality, not so much semi-staged as maybe one-eighth staged. Dance sequences in the show were severely truncated, and the dialogue was abridged to the segments to which Kern wrote underscoring. The second act, which leapfrogs from 1893 to 1927, felt like a film trailer, all highlights and no context. 
The tradeoff was that this superb orchestra, vividly conducted by Ted Sperling, could offer an unusually full version of the score, more music, in fact, than was presented back in 1927. Besides the show's familiar standards—"Make Believe," "Ol' Man River," "Can't Help Lovin' Dat Man," "Why Do I Love You?" and "Bill"—Mr. Sperling included numbers cut out of town and one song ("Ah Still Suits Me") written for a 1936 film adaptation.
The result was a show that felt majestic and sweeping but never long, not even in a concert setting. Curiously, it was not the performers of the nominal star roles—Magnolia, Ravenal and Julie—who made the strongest impression. The part of the showboat cook Queenie is an underwritten cliché, the sharp-tongued but devoted African-American servant, but NaTasha Yvette Williams was so electric you were left wondering where this vital character had been all these years. She benefited most from the expanded song stack, eerily moving in the dirge "Mis'ry's Comin' Round" and delightfully exasperated in the comic duet "Ah Still Suits Me" opposite Norm Lewis' Joe.
As Ellie and Frank, the showboat's comic dancing team, Alli Mauzey and Christopher Fitzgerald lit up the stage every time they appeared. Her voice is a perfect Broadway soubrette, easily shifting from high soprano to belt registers, and he succeeded in the daunting feat of depicting a lousy dancer through really excellent dancing.
Julian Ovenden (one of Lady Mary's suitors from Downton Abbey) revealed a pleasant, if small, high baritone and an easy sense of operetta style as Ravenal. It was a pleasure to hear the dashing "Till Good Luck Comes My Way" restored to the score since Mr. Ovenden put it over with panache and solid high B-flat. He lacked gravitas, though, looking callow even in the final scenes when he is supposed to be in his 60's.
The same problem beset the Magnolia, Lauren Worsham. (A Broadway star via A Gentlemen's Guide to Love and Murder.)  The voice is certainly authentic enough, a bright soprano with a fast, fluttery vibrato, but her singing felt faceless and stiff, without much charm. Most Magnolias look too old to play 17, but Ms. Worsham had the opposite problem: costumed in a lacy minidress, she seemed like she was on her way to a middle school dance.
In the short but grateful role of Julie, Vanessa Williams played the melodramatic moment when her mixed-race parentage is revealed quietly and simply, and her singing was well-tuned and pleasant. If "Can't Help Lovin' Dat Man" felt inconsequential in the low alto key she chose, she redeemed herself with a wistful, understated reading of "Bill."
The biggest disappointment was Mr. Lewis, utterly miscast as the stoic stevedore, Joe. There are lots of ways to sing "Ol' Man River," but all of them require solid low notes and a firm legato, neither of which Mr. Lewis could muster.  Also limp were the veteran performers Fred Willard and Jane Alexander as Magnolia's squabbling parents, Captain Andy and Parthy Hawks. He bumbled and she snarled, but they might as well have been in separate rooms, they had so little connection.
But Show Boat is a masterpiece, and masterpieces don't need perfect performances to reveal their marvels. Even tiny details felt earthshaking. In the final scene, when Ravenal and Magnolia meet again, she reintroduces him to his daughter, now an adult: "Look, Gay—there's Kim."  Usually this line is thrown away as Joe reprises "Ol' Man River" to bring down the curtain. This time, though, Mr. Ovenden turned to gaze at Kim with such a wrenching mixture of joy and regret that Joe's song took on a fresh meaning. The river goes on forever, he seemed to tell us, but life is finite. Don't waste it.
At the end of a show everybody knows, then, an all-new emotional beat. After nearly a century on stage, Show Boat still hasn't finished saying what it has to say.