When I first started writing about real estate several years ago, the components of the city's built (and constantly rebuilt) environment caught my eye in a way they never had before—demolition sites and rising towers, posted construction permits, cranes, sidewalk sheds, scaffolds and one small oddity that I always meant to one day investigate: the preponderance of pink lights glowing from construction sites around the city.
The lights, usually one per sidewalk shed, were surrounded by ones of the usual hue in the very same style—jelly jar models covered in a wire cage—and did not seem indicative, in any way, of an aesthetic agenda. And yet, there they were, incongruous and cheery against their utilitarian backdrops of painted plywood and metal poles.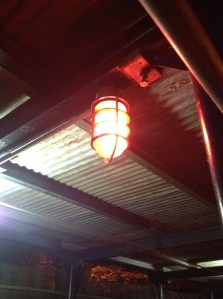 Given the ubiquity of the lights and the fact that contractors are not known for their whimsy, I assumed that such lights either owed their existence to a bizarre building code clause that mandated pink lights and/or a widely-used lighting supplier who, for some reason of historical accident manufactured scaffold lights in the strange color.
The verdict of the DOB: "The building code doesn't mandate the hue of the light—outside of a red light indicating where the standpipe fire connection is—only the level of illumination," a spokesman told me. He passed along the section of the building code that covers scaffolding and sidewalk shed illumination: "Siamese hose connections shall be kept free from obstruction and shall be marked by a metal sign reading, 'Standpipe Siamese Connection' and by a red light at night."
The lights were all over standpipes, I confirmed after a quick survey, though more than a few contractors had failed to comply with the signage requirements. Then the spokesman sent a photo: "These lights?"
The light in the photo was hot pink. I said as much. The spokesman agreed that the light was, indeed, pinkish, but assured me that such lights complied with the building code. He suggested I get in touch with a scaffolding company.
"We get them from our electrician. He probably buys them in bulk," a representative from one of the city's largest scaffolding company told me when I called. She suggested I call an electrical supply company.
"I can't say that I've ever noticed," said a manager at the first place I reached. "They use vapor-proof jelly jars with cages for scaffolding… as far as red, though, I don't know. If they're using fluorescents, it's true that it's hard to get a fire engine red."
There was only one manufacturer that he bought red lights from, he added, and they were more pink than red. The manufacturer was in China. Then he asked not to be quoted by name as he really had no idea.
"No, it's not hard to get a true red light," said Jeremiah Alley when we reached him at Cooper Electric Supply Company in New Jersey. "Maybe they're using metal halide bulbs, which give off a pink hue, though it's not by design, it's just a filament in the light."
The alternative, he said, would simply be to paint the jar.
We made another survey. The mystery of the pink light? Neither strange building code nor an accident of scaffolding company, electrical contractor or light supply chains. Just cheap red paint.