The Bergen County Executive's Race
It's too close to call, according to sources in both camps. Dynamics in incumbent Republican Kathe Donovan's favor include her longstanding name ID, Barack Obama fatigue, the haunted history of the

Bergen Democratic Party, key labor endorsements and a record. Advantages for Democratic challenger James Tedesco include a late money surge, endorsement by the Bergen Record, party organization and overlapping ballot buttressing by U.S. Rep. Bill Pascrell (D-9) and U.S. Sen. Cory Booker (D-NJ), an aggressive CD5 challenge by Democrat Roy Cho and a weak GOP candidate in U.S. Senate challenger Jeff Bell.
Outcome: Pick 'em.
The Bergen County Freeholder Race
Democratic incumbents David Ganz and Joan Voss have all the advantages of their running mate, Tedesco, except the Bergen Record endorsement. The Record preferred Donovan's opponents, Bernadette Walsh and Robert Avery.
Outcome: Pick 'em.
The Burlington County Freeholder Race
There are two seats at stake where Republicans control county government. If Democrats take one of them, they will seize control
of the county. Freeholder Director Bruce Garganio (pictured) – a carpenter by trade with the organizational backing of the powerful Carpenters' Union – is in a strong position to win re-election. Sources in both parties say the second seat is the one in question, where Democrat Mike Schmidt is in a dogfight with Garganio's running mate, former Freeholder Mary Ann O'Brien. Schmidt has the advantage of Booker v. Bell at the top of the ticket and Freeholder Aimee Belgard running to win her home county of Burlington in the CD3 race. Garganio and O'Brien have $1 million at their backs to catapult the GOP back into power.
Outcome: Pick 'em.
The Elizabeth Board of Education Race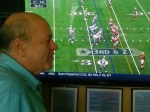 Veteran BOE leader Rafael Fajardo stepped up to run in place of a retiring board member, and now stands at the vanguard of his organization's ticket in a control election. If Fajardo and one of his two running mates lose, control of the school board – which Fajardo has had since 1996 – swings into the hands of powerful state Sen. Ray Lesniak (D-20) and Mayor Chris Bollwage. The presence in the contest of the PAC associated with Lesniak, the Committee for Economic Growth and Social Justice, puts Team Fajrdo at a monetary disadvantage as they fight to maintain of an embattled school district that has a record of scholastic achievement,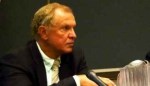 including three national blue ribbons.
The Lesniak/Bollwage Board of Education slate has the advantage of Line A, and the human insulation of U.S. Sen. Cory Booker and Sheriff's candidate Joe Cryan on the ticket.
Fajardo and his allies are hoping that a weak U.S. Senate challenge by Republican Jeff Bell will put theparty machine to sleep.
Outcome: Pick 'em.
The West Orange Mayor's Race
Pursuing a second term in office, incumbent Mayor Robert Parisi has an edge by virtue of the fact that three challengers are trying to take him on, including dedicated political enemy Councilman Joe Kravoviak. Parisi's allies trust that the presence in the contest of former Orange Mayor Eldridge Hawkins will add up to Hawkins and Krakoviak canceling each other and allowing the mayor to retain his City Hall throne. But Parisi never makes it easy.
Sources on the ground say Hawkins has run hard, and they refuse to discount his work rate.
Parisi has never been the most voracious campaigner, causing some close-quarters allies to question his hunger for a second term. But Parisi appeared calm in the face of his opposition four years ago and eked out a win. Now he has the added benefit of two fierce rivals chewing into each other.
Outcome: Edge Parisi.
Four County Chairs to Watch
Ocean: the single most powerful party chairman in the state, Republican George Gilmore wants to bump up big numbers in his home county for Republican Third Congressional District candidate Tom MacArthur. To that end, the organization has summed up voter irritation in one word: Obama. A MacArthur win with Gilmore at full tilt will send
Bergen: Democrat Lou Stellato. If Tedesco beats Donovan and pulls in Ganz and Voss, Stellato will be able to claim credit.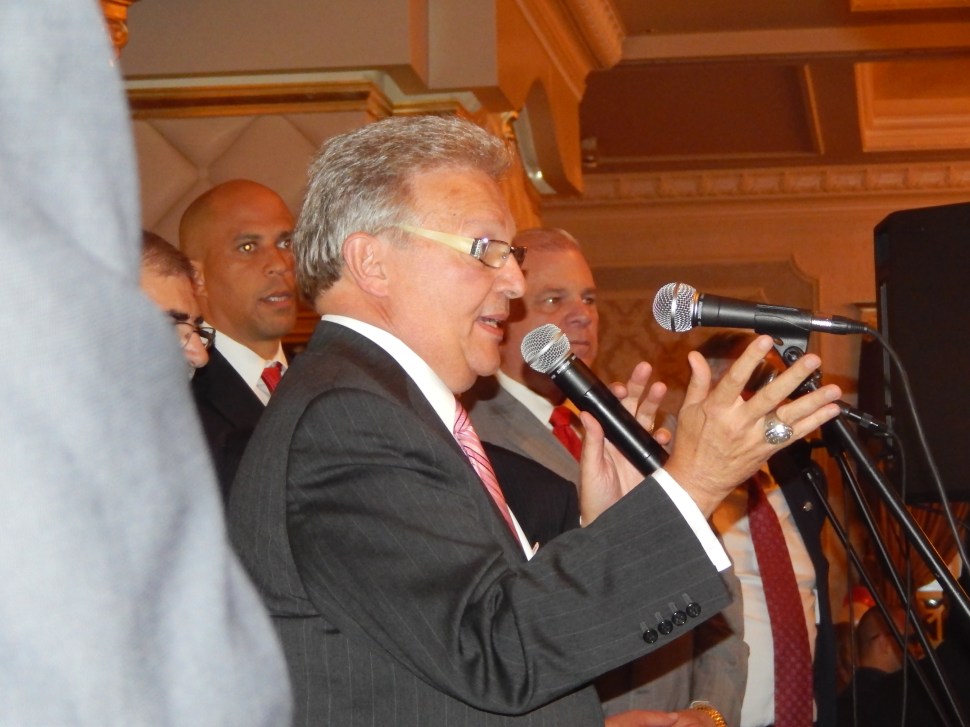 To date he has had success but failed to land a Holy Grail win. As Bergen struggles to augment its political importance alongside the patronage blockades of Essex of Hudson counties, Stellato solidifying power would instantly make the chairman an undisputed frontline player in the 2017 gubernatorial sweepstakes.
Burlington: Republican Bill Layton. The GOP has maintained control here dispute an unnerving, year-to-year pendulum ride for the party in charge. If Layton can hold on with Booker at the top of the opposition ticket, he stands a good chance of being able to pick off freeholder incumbents Aimee Belgard and Joanne Schwartz in 2015 and build a 5-0 majority in time to take a probable 2016 0-2 hit in a presidential year.
Monmouth: Republican Shaun Golden. The sheriff took charge of the Monmouth County GOP earlier this yer and now faces his first test: an aggressive challenge by politically savvy Monmouth County Democratic Chairman Vin Gopal. This is not a control election. Two seats are up on the five-member board. Golden has to hold both to prove he's in the game for the long haul.
Golden has a couple of advantages in a Republican County to offset Jeff Bell at the top of the ticket: Obama fatigue, and the presence on the ballot of popular incumbent U.S. Rep. Chris Smith (R-4), whose decidedly Monmouth-centric district now incorporates sections of what was once the 12th.
The result is numerous rising and established Republican Party stars from the Shore area are scrambling to show campaign trail hardiness.
Monmouth brand names state Sen. Jen Beck (R-11), Assemblywoman Caroline Casagrande (R-11), Assemblyman Sean Kean (R-30) or state Sen. Joe Kyrillos (R-13) are all in the mix to succeed Smith when the time comes.